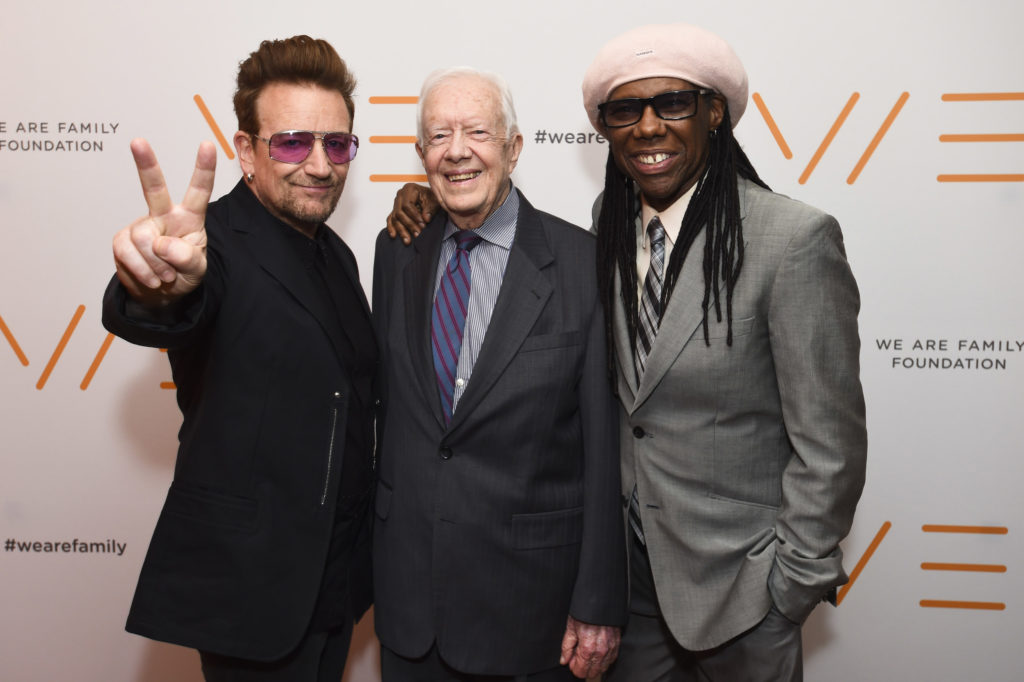 By Anne Brodie
Do you remember the old days when the US had Presidents of empathy and dignity, people we could look up to? Remember Jimmy Carter (1977 – 1981) who at 96, is still building houses with his wife for Habitat for Humanity as he's done for the last forty years? He was a gentle, wise man who grew up in the deeply rural and mostly Black Plains, Georgia and brought the lessons of living simply and equitably to his work. Mary Wharton's disarming doc Jimmy Carter: Rock & Roll President looks at his legacy and shows a side to that should be celebrated. He loved rock and roll. Bob Dylan speaks of his decades-long friendship with Carter, a "kindred spirit" he felt lucky to meet. Here are some of the interviewees and Carter friends who make appearances – the Allman Brothers who he claims helped him win the election, Willie Nelson, Aretha Franklin, Jimmy Buffett, Paul Simon, Johnny Cash, Jimmy Buffett, the wonderfully eloquent and descriptive Rosanne Cash, Bonnie Bramlett, Toots and the Maytalls, the Marshall Tucker Band, James Brown, John Wayne, John Lennon, Paul Newman, Bono, The Eagles, onetime Black Panther Nile Rogers, even Hunter S. Thompson. But it's Carter's personality that intrigues, the music lover and peacemaker. His politics are described as "Soft power using culture and music in a way to help politics, entertain Congress" which the doc notes had never been done before. Lynyrd Skynyrd's song A Simple Man is about him and there's more to learn and enjoy in this uplifting and fun film, a treat and reminder that good folks are out there in the world of politics. Don't give up yet. To watch, go to https://watch.eventive.org/filmswelike and select the cinema you wish to support and October 29, at Ted Rogers Hot Docs Cinema, In-Cinema + Virtual Cinema.
Another disarming documentary, this time from Chile, writer-director Maite Alberdi's documentary The Mole Agent takes us on an unexpectedly emotional ride. It looks like a slap-happy comedy about an elderly man hired to enter a nursing home for three months to get the dirt on how residents are treated. It's the real thing. He has trouble with the newfangled smartphone the detective agency gave him and nearly blows the deal by playing his boss' "secret" messages on speaker. He locates the "target" (the client's mother) and begins the investigation. He's a chick magnet, the ladies are smitten, one proposes, another follows him like a shadow. He's a sensation but he's guarding his mission which now includes alleviating loneliness via friendship and getting their families to visit them. Charismatic Sergio Chamy goes out if his way to make sure the residents are ok and gives them much needed boosts. It doesn't seem like a documentary – it's brilliantly executed and structured. How fortunate the filmmakers were to find Chamy. A completely original film experience. Subtitled. On-Demand.
Helen Shaver's Happy Place, available On Demand November 3rd takes place in a care home for women recovering from trauma who have attempted suicide.  Our focus is Samira (Clark Backo) who was raped for hours by a ca driver who'd just driven her home. She sleeps for days on end and says she is dead. Her fellow patients include Mildred (Mary Walsh), Nina (Liisa Repo-Martell), and Joyce (Shelia McCarthy) each with her own personal hell and history. Their interactions are fraught; it's an unusual setting and place, but they are there with hopes they'll recover and return to whatever is normal. Samira's trying to take the journey to wellness but suffers relentless nightmares and anxieties about the event and hits a roadblock when police tell her there is no DNA match for her attacker. Tight close-ups illustrate the claustrophobia of the place and the space in the women's minds that betrayed them. Shaver does precise work, enveloping the ward in a play of light and shadow and softness, which is interesting considering how tough they have had to be. It's a complete universe, a world of women where "when you laugh here no one thinks you're feeling better". Based on the play by adaptation of a play by Pamela Mala Sinha. Digital and On Demand.
OMG is David Tennant everywhere? His latest project is BritBox' There She Goes as the father of a severely learning-disabled daughter a comedy-drama series based on the real-life experiences of the show creator Shaun Pye, whose daughter was born in 2006 with an extremely rare and, to date, undiagnosed chromosomal disorder. The show focuses on 9-year-old Rosie, father Simon, mother Emily and brother Ben. Daily life with a daughter without social conventions or understanding of what is happening and what she is doing, creates chaos in the family home and out in public at the library, the store, the street. Her IQ is 47, "the lowest of the low", a monumental burden for the family, but one they willingly face. Emily is shocked when Rosie communicates through a digital board with a teacher at her day school, she doesn't communicate like that with her! The parents' backgrounds fill in some of the reasons for their reactions to Rosie's condition and how they're growing in doing the work. It could be an existential threat to the family itself, but they manage to pull back from the brink, on the regular, bound by love.
Simon Pegg and Nick Frost's sci-fi comedy series The Truth Seekers on Amazon Prime follows a group of ordinary folk, with jobs, who spend their time off and often on the job, looking for ghosts. Grown-ups. Armed with a passion for the supernatural, tin foil and forty-year-old radio/recorders, they find themselves in peculiar situations. A broadband installer (Frost) is called to the remote home of a little old lady who can't get a signal. It appears she cut the power cord – "lonely" the installer tells his intern Elton John (Samson Kayo). She speaks longingly of Pepper her dog who disappeared in the 60s. The men hear noises upstairs and investigate. The installer's recording and narrating the goings-on for his supernatural YouTube show and for good or evil gets plenty of material. Their next assignment is a haunted hotel with rooms named after classic horror films with suspiciously thin and angular ghouls appearing out of the numerous shadows. Elton's shoved through the locked door of a room that's off-limits to guests for the fright of his life. A pattern seems to emerge that may have huge implications. Meanwhile, broadband guy's Dad (Malcolm McDowell!!) snoops through his secret set of ghost-finding and fighting tools. Light, fun and easy to digest with a whopping side of nutty.
The 2020 edition of the Canadian independent horror film festival Blood in the Snow will be available on Super Channel Oct 28 – Nov 7, eleven nights of horror and sci-fi. 10 features and 4 shorts programs.
Sheila McCarthy and Julian Richings star in the opening nightery Anything for Jackson as elderly Satanists trying a reverse exorcism to resurrect their dead grandson in the body of an unborn child. He doesn't come alone. Amelia Moses' Bloodthirsty stars Lauren Beatty and Katharine King So as lovers stalked by a werewolf. And how close will is it? Hail to The Deadites from Steve Villeneuve stars Bruce Campbell and the cast of his iconic horror films in a tribute to the classic horror Evil Dead. Super Channel's running the original right after. Metis director Benjamin Ross Hayden's Parallel Minds, in the tech and tard of the Indigenous Futurist. Tommie-Amber Pirie races to destroy a supercomputer she helped create, as it plays mind games with its victims. For the full lineup, synopses and schedule, go to www.bloodinthesnow.ca or www.superchannel.ca/bits
And now we have a Hallowe'en treat for you, dear reader. My selection of films appropriate for this, the spookiest time of the year. Haunted Hallowe'en films must go a long way today to be fresh and exciting and new. They surpass the thousands of such films already in existence, a tall order. Look to the past. Here are a few classic choices.
Nosferatu
The Cabinet of Dr. Caligari
The Exorcist
The Omen
The Witch
The Shining
The Lighthouse
Carnival of Souls
Freaks
White Zombie
The Innocents
Psycho
Let the Right One In