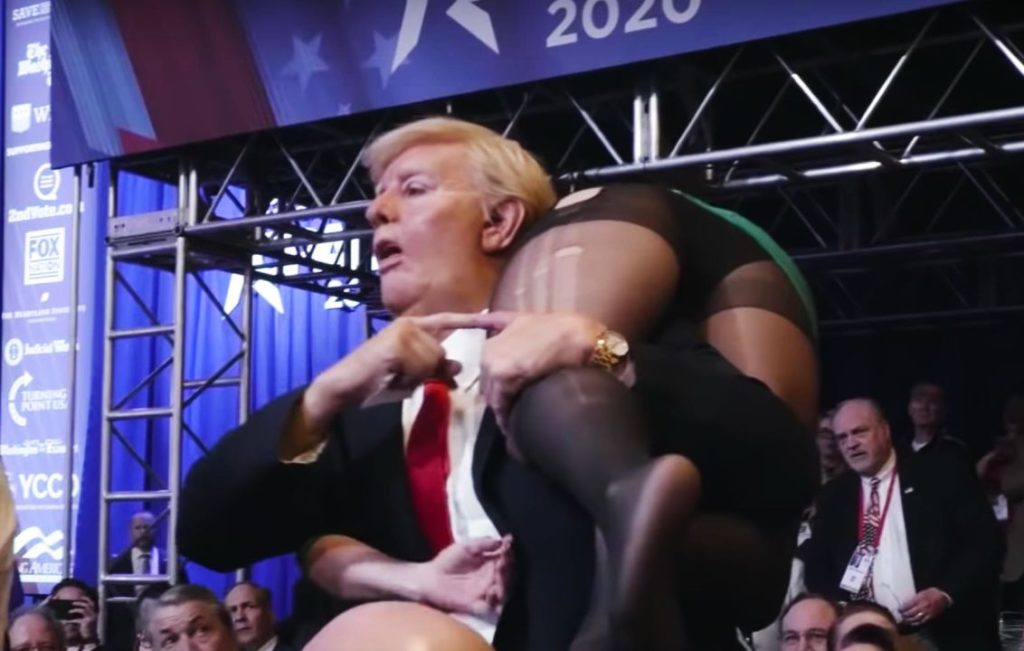 Borat Subsequent Moviefilm: Delivery of Prodigious Bribe to American Regime for Make Benefit Once Glorious Nation of Kazakhstan. It's hard to describe the second film from Borat, the Kazakh TV personality who graced us with his big-screen presence fourteen years ago but trust me, its pure iconoclastic joy. Watch Mike Pence' face as Borat crashes a rally disguised as Donald Trump with a blonde woman slung over his shoulder. Watch Rudy Giuliani go there – no excuses sir – and spend the night with a couple of rednecks who buy into the Clinton baby blood-drinking fever dream. Borat's in the US & A with his fifteen-year-old daughter (superbly comic Maria Bakalova) to deliver a woman to Mike Pence in return for a promise of help for his "diminishing" homeland. Their US & A odyssey includes a bloody appearance at the Macon GA Debutante Ball that will leave you gasping, he buys a cake that he has inscribed "The Jews will not replace us" and no eyebrows lift. Sacha Baron-Cohen, satirist par excellence, Borat and his creator, benefits from the times we live in, with its hot buttons, deep divides, and constant proximity to devastation. A couple of heroes stand out in the journey, but mostly it's a jaw-dropping portrait of a rabid America. And it has genius. Borat meets Tom Hanks in Australia before the latter's COVID diagnosis and it becomes a plot point. Caution: The film is "unsuitable for anyone under 3". Amazon Prime Video now.
Just four episodes in Season 3 of the Netflix series My Next Guest Needs No Introduction with David Letterman, and they're doozies. Oct 21 Kim Kardashian, Robert Downey, Jr, Dave Chapelle and Lizzo speak, shop, walk lamas and enter previously private territory. Letterman's experienced relaxed manner and the quality of his conversation aren't to be sneezed at; where else would these four appear for in-depth public analyses? Intriguing and international, each bringing some level of controversy. Kardashian refuses to answer just one question, and gives it all – family, Kanye, business, her apprentice-style law course, social media, and a chilling recollection of being robbed in a French hotel. Also, the mother of four hasn't been in a CVS for "a long time". Letterman seems mesmerized by her. Lizzo's more surface and fun, playing piano, flute, talking shrooms, recording a rap song with Dave and bridging the generational gap between them. But she does know who Neil Young is. Saving Chapelle and Downey for a rainy day.
Back in the twenties, radium was all the rage; Marie's newly discovered element seemed innocuous enough. It was widely used, on glow in the dark watch faces, as a "cure" for arthritis and cancer, in beauty products and the hot new drink Radium Water. Lydia Dean Pilcher's fact-based film Radium Girls follows two New Jersey sisters Bessie and Josephine who work at a watch factory painting radium on watches; they're instructed to lick their brushes to make a smoother image.  Josephine's teeth begin to fall out, and over time, her jaw disintegrates. Other factory girls are ill too. Bessie's told by the factory doctor it's "nothing" so finds local lawyers and activists and sues the American Radium corporation.  She agrees to the exhumation of her late elder sister who also painted watches American Radium Factory and finds her levels of radium are 100 x the safe amount. It's inspiring seeing the young and ill woman fighting for justice for all factory workers and expose the truth about toxic working conditions, corporate deceit and the deadly nature of radium.  The film also touches on the destruction of native lands, racism and other issues in play today.  It's engaging and interesting, a learning experience and a legal thriller worth the watch.  It stars Joey King and Abby Quinn and is executive produced by Lily Tomlin and her partner Jane Wagner. In virtual and physical cinemas.
Fishbowl is a superior and chilling character study of a family in mourning. Three perfect blonde sisters and their Bible thumping father live in a small Bible Belt town in isolation. They're caught in a codependent web that's veering into unsafe territory. Father is not handling things well and finds solace in a TV evangelical and controlling his girls. He prepares them for the coming Rapture limiting their freedoms even as the bank takes possession of the family home. They have nowhere to go and no money and share anxiety and Biblical nightmares. His solution is to put them on a seven day Save Me Now programme of fasting, celibacy, and foregoing stimulation of the arts, so they sneak out to an End of the World party. This simmering, seething study of paternal menace is unsettling as he drifts further and further from reason. The script is spare and the visuals rich as it goes its moody, otherworldly way. There's aching sadness and anxiety, reflected in a brief shot of a billboard heralding Y2K. Stars Rick Cain, Bell Shickel, Emily Peachy and Caroline Coleman. On VOD.
In 1872, the American merchant brigantine the Mary Celeste was discovered off the coast of Portugal in perfect shape but sans human life. One lifeboat was missing, and the ship was in disarray, but people's possessions were undisturbed. No one aboard was seen or heard from again. To this day the case is controversial. The Haunting of The Mary Celeste offers a theory in the minds of a small crew of researchers that makes its way to the site where the boat was found. It's the most famous missing persons case in marine history. The team leader (Emily Swallow) believes there was something supernatural afoot, that the crew were sucked into a rift between dimensions; she has video footage of a flying seagull that suddenly vanishes. The site is on the Azores Faultline that sounds like a "gunshot" when it shifts, and supposedly feeds off climate change and blowback, creating a tear in time and space. But that's the least of the problems as the creaky boat they've rented breaks down and crew members disappear. It's kind of entertaining in its own alarmist way. Hey, it's Hallowe'en, anything goes. Written and directed by Shana Betz, and co-starring Richard Roundtree, Alice Hunter, Dominic Devore, Pierre Adeli and Ava Acres. On VOD.
Real-life husband and wife Mark Webber and Teresa Palmer star along with their three-year-old boy Bodhi in the fantasy/reality drama The Place of No Words written and directed by Webber. It's set in a dual universe, a Viking father and his son roaming the mountains in a winter storm and a contemporary suburban husband and father, enjoying time with his son while his wife looks on. The structure is interesting and creates its own adventure, and a world of emotions in part due to the structure. The modern segments are real, every day and at first, ordinary, while the wilderness is filled with visions and monsters and big experiences, meant, it seems, to teach Bodhi to stand up for himself and push for experiences. Turns out there's good reason for this crash course in being a strong person. An interesting experience on many levels. On VOD
Ana Taylor-Joy is Beth, a girl of eight who witnesses the death of her mother driving their car off the road. That traumatic event landed her in an orphanage where cruelty and management by drugs was control. The Queen's Gambit on Netflix follows Beth from her love deprived start, to deprivation at the home and on to adoption into an unhappy family. What made her story different was Beth's incredible knack for chess. Part mental focus, part drug use and part inbred gifts she breaks into the male-only world of chess competition. Her cool distance from others is rarely breached so she is a perpetual alien in the world. However, with her success, drug induced ed as it is, she gains confidence and begins a new path. It's stylish, eerie and uneven and seems stretched at seven episodes. Co-stars Thomas Brodie-Sangster, Bill Camp, Moses Ingram, and the incredible Harry Melling. Co-written and directed by Scott Frank.
Alexandra Pelosi and Sheila Nevins' documentary American Selfie: One Nation Shoots Itself on Showtime Oct 23rd is a wide-ranging, freewheeling, alarmist look at just about every hot button US issue today. It careens wildly from subject to subject, each inflammatory as the doc interviewer baits her traps, asks leading questions and pushes her agenda on the people she meets. What issues you ask? The election, Donald Trump, extremist movements, the rising tide of civil rights protests and extreme conservative blowback, white supremacy, racism, narcissism, annoying selfie-takers, lineups to buy iPhones, climate change, refusal to admit climate change, public confrontations and fights, fires, immigration, lone wolf shootings, fear of public places, Black Friday consumerism, drag haters, Vegas showgirls' problems, addiction, you name it, it's here. This is a movie about the filmmakers' personal agendas, not a measured doc. It's exhausting, incoherent and muddled. On VOD.
For a good time, settle in for Year of the Goat on CBC Docs POV + CBC Gem, Oct 24. It's an udderly uplifting experience, following five Ontario families that raise goats. Writer-director Michael McNamara followed farmer parents and their children for a year as they prepared for the ultimate event, competition at the Royal Agricultural Fair in Toronto, the Oscars of goat excellence.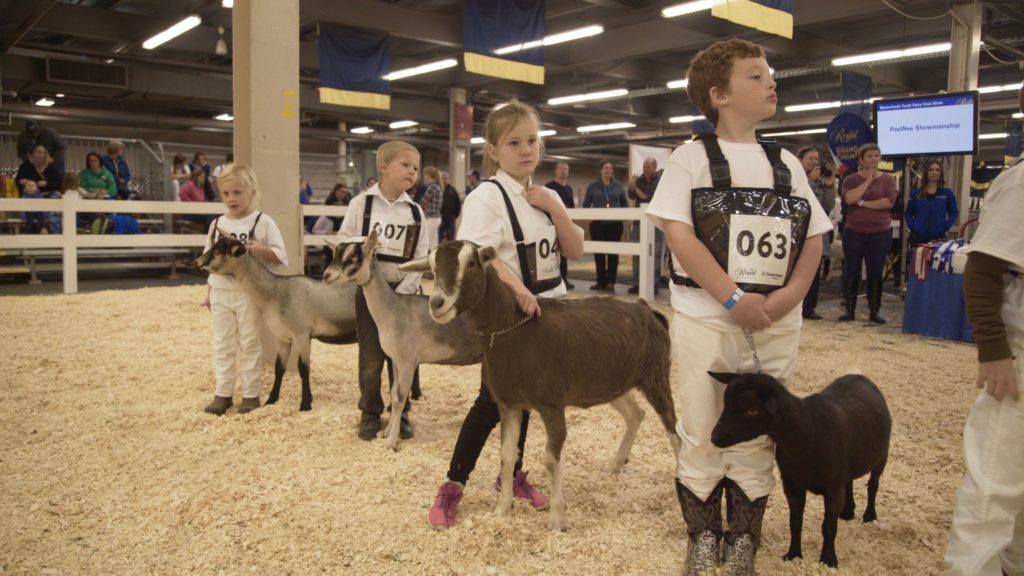 The Pee Wee contenders, 3-5 years of age are the youngest entrants, presenting the goats they've nurtured and trained, nervously parading their charges, as the judges watch. But the best is the home life segments, in which the goats display their varied personalities and interact with their humans with naughty glee. Goats matter, they provide us with healthy milk and cheese, they're cute and cuddly and provide inspiration for youngsters, as well as giving them a sense of responsibility and interaction. McNamara's musical choices are perfection itself for a movie about goats. What a joy!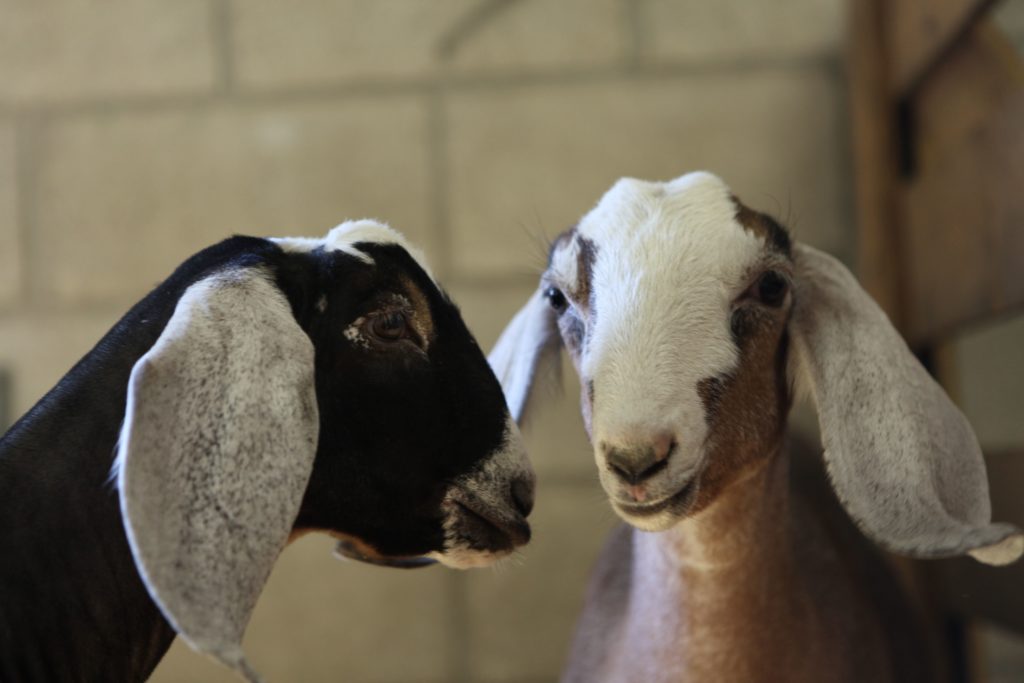 The Toronto Jewish Film Festival is underway online now until November. Special events include Sunday's Online Film Masterclass: Cinema with a Cause with Marc Lapadula at 4 p.m., examining the legacies of Jewish-American filmmakers such as Michael Curtiz, Sidney Lumet, William Wyler, and the late Carl Reiner.
Narrative films include the opening night selection Sublet from Director Eytan Fox. A boomer and a millennial walk and talk through the streets and beaches of Tel Aviv.
Anton (Antoh) based on Canadian author Dale Eisler's book, 'Anton: A Young Boy, His Friend & The Russian Revolution'.
Born in Jerusalem and Still Alive (Noladti Beyerushalayim Veani Adayin Chay)
Directors Yossi Atia and David Ofek
https://www.youtube.com/watch?v=qOpwzFuloVA
Minyan
Director Eric Steel and Canadian Author David Bezmozgis
When Hitler Stole Pink Rabbit (Als Hitler Das Rosa Kaninchen Stahl)
Director Caroline Link (Director of Academy-Award winning film, Nowhere in Africa)
Documentary Films include Army of Lovers in the Holy Land (Army of Lovers Beeretz Hakodesh) Director Asaf Galay, Army of Lovers' Band members Jean-Pierre Barda and Dominika Peczynski
Breaking Bread Jewish and Arab chefs brought together through food
The Crossing A ten-year-old girl and ger brother plan to save two Jewish children and return them to their parents.
If You See My Mother A love letter to mothers and sons everywhere.
How about one more Year of the Goat pic?