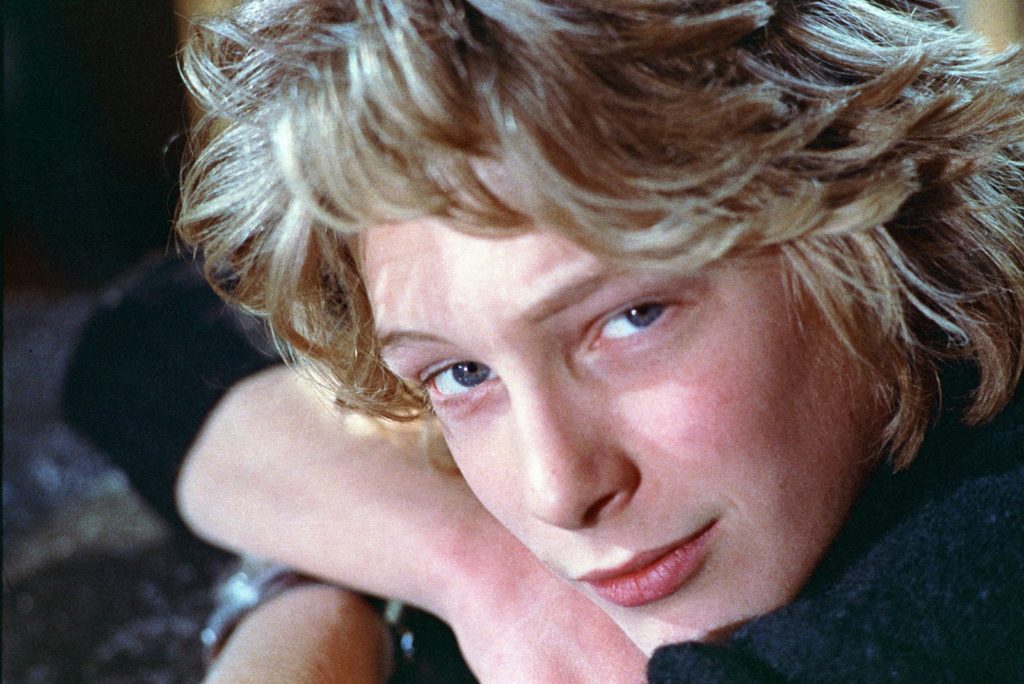 By Anne Brodie
One of my top #TIFF21 picks comes from the Lewis, Outer Hebrides of Scotland a wild, windswept, craggy place staring straight out into the Atlantic, the end of the world to some. Nobody Has to Know from writer, director and leading man Bouli Lanners is a moving study of love that comes too late. Phil (Lanners) is an islander, originally from Belgium, who enjoys the hard outdoor life. The locals are simple, religious, and plain-spoken. While walking alone on the cold beach he suffers a stroke; he loses his memory but makes a recovery. Millie played with tremendous intensity by Michelle Fairley, is a local woman assigned to take care of him; she tells him a lie, that they were secretly together before his stroke. Sublime moments of discovery and emotion are simple, Phil failing to recognise his tattoos after the stroke, Millie, gritting her teeth, feeling the greatest emotion she's likely felt in her life, blunt simple conversations between people whose families farmed there for hundreds of years, in their only place, a beloved dog handed down encapsulating the local ways. The gentleness of the lovers, the wild weather, acceptance of their lots in life. it's a stunning, almost foreign view of life in 2021.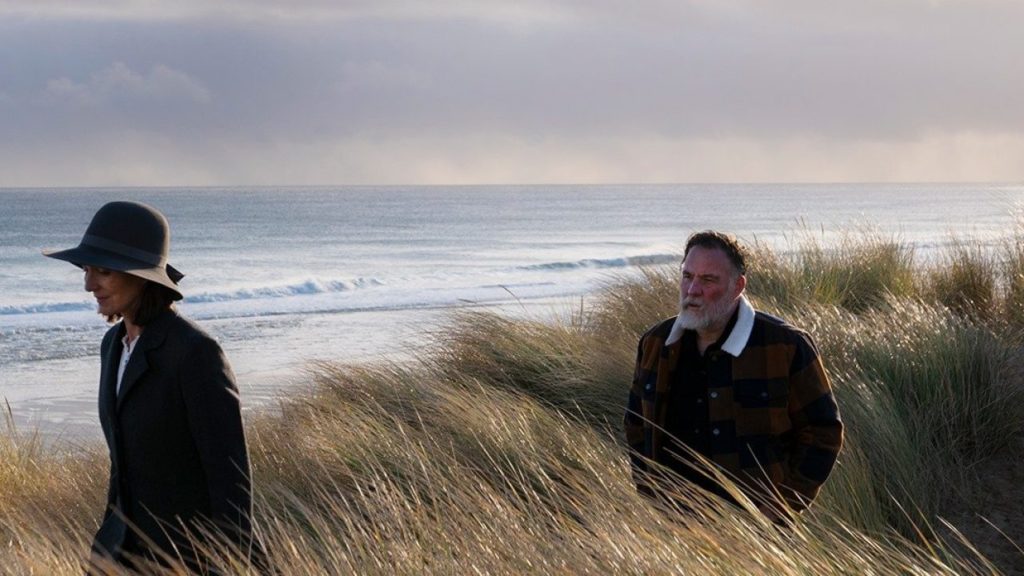 Also at TIFF and here for your future reference, Sigourney Weaver is a leading real estate agent in Wendover, Massachusetts (actually Lunenberg Nova Scotia) in The Good House. Her family's lived there since 1629 and her ancestor Sarah Good was hung in the infamous nearby Salem witch trials. She's Hildy and she drinks a bit. Hildy finances both her daughter's lives, out of guilt; they sent her to rehab. It didn't take. She says she was born three drinks less than comfortable, but she's a skilled, award-winning realtor but it's tough keeping up a sober false face. Kevin Kline is Frank, a "garbage man" and the town's wealthiest citizen through his canny business sense; they were once lovers. The attraction resurfaces. He tells her he likes her sober and she tries, but all roads lead to the case of wine in the basement. She's especially drunk one night and calls on him, he takes her keys, she sneaks back with her spares and hits something on the way home. Was it a missing child? How bad must things get before she commits to sobriety? This story about redemption and love and how bratty grown children can be is masterfully and Weaver's wonderful, speaking to us directly about her reality.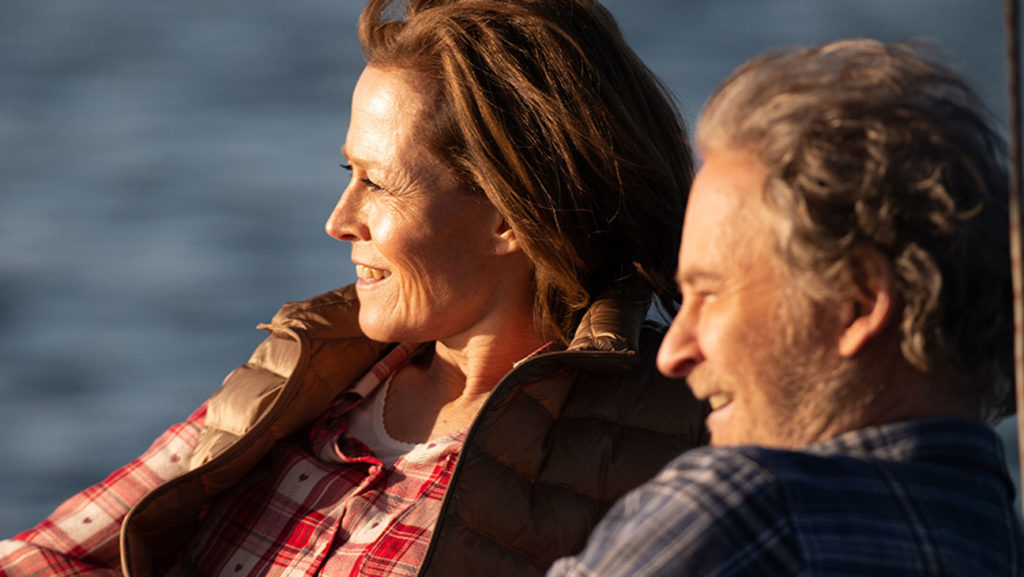 A charming and relevant comedy from Germany looks at the way things might be going sooner than later! TIFF's I'm Your Man from Maria Schrader is in theatres this week, starring Maren Eggert as Alma and Downton Abbey's Dan Stevens who apparently is fluent in German, as Tom the robot. In order to get funding to travel to Chicago for her research studies, Alama agrees to undergo a three-week test living with a robot who will be her partner, with the option of keeping him and then reporting to the ethics committee. He comes with all kinds of built-in qualities, kindness, manners, apparent interest in her, the ability to cook, he's interested, dresses well, he's entertaining but he's not human; she's acutely aware of it and feels embarrassed and disgusted. The woman at the robot place tells her she underestimates him, he's more than a machine. Turns out, she's a robot too. It's a rich story full of fun, wonder, lapses and questions about the ethics of robot love and partnership, big questions dealt with in sweet ways. In theatres in cities including Montreal and Ottawa now and on TVOD Oct. 12.
Remember Australian actor Naomi Watts spent the winter in North Bay, Ontario due to COVID? Well TIFF premiered the film she was making at the time, Phillip Noyce's family thriller Lakewood. Ironically, she plays a widowed mother in lockdown as a tragic event disturbs the peace and beauty of a small town set in a beautiful arboreal forest. She's on a long morning run in the bush when police cruisers wail by. She reads on her phone that something's happening at he son's school; she can't reach him and she's five miles away on foot. He's been uncommunicative lately and refused to get up and go that day. She calls a car shop where her parents' car is being fixed and the mechanic tells her that her son's truck is in the school parking lot and confirms something bad's going on. A 911 operator realises she's in a dark place and keeps her apprised of events, gently asking about her son. She fears the worst. Noyce paints a strong picture of crisis from the point of view of a mother who can't be there to help when it's most needed.
The Most Beautiful Boy in the World a sombre documentary by Kristina Lindström and Kristian Petri shows what happens when adults create child sex symbols in the entertainment industry. It happened with Brooke Sheilds, who thankfully survived and thrived and to various "baby" stars in the 20s and 30s whose lives were upended. In 1970, Luchino Visconti staged a European casting call and as it turns out, publicity manoeuvre, in search of a beautiful boy to star in his film adaptation of Thomas Mann's Death in Venice. Fifteen-year-old Björn Andrésen's grandmother, a big movie fan took him and he won the role. His mother had disappeared years earlier. Archival footage of Visconti slavering over the blonde beauty and asking him to take his shirt off is intensely uncomfortable. Andrésen made the film with Dirk Bogarde as the old man obsessed with him and was launched as an international sensation. Andrésen says he was objectified as "bats swarmed around me" and that he was considered "big game" on the gay social circuit. Today Andrésen is a troubled, sad senior, living in isolation and squalor in Stockholm, still trying to process the bomb that exploded his life. He reveals lifelong and unimaginable struggles in this sensitively made film. TVOD.
Tom Skerritt's profound, authentic performance as a widower with terminal cancer gives life in all its shades, to East Of The Mountains. Incredibly this is the 88-year old's first lead in a 59-year career in superlative supporting roles! He's Ben and Ben has decided to keep his health secret from his daughter (Mira Sorvino) and set out on foot to cross the Columbia River trail with his dog, Rex. He's living rough and remembering moments in his life, the loss of his wife, his estrangement from his daughter and how he will die. One night a collared dog viciously attacks Rex and Ben shoots it. The dog's owner takes Ben's rifle in retaliation and leaves him helpless in the wilderness helpless. He and Rex are short on food and water; he collapses but a stranger rescues them and takes them to a kind vet (Annie Gonzalez) where Rex is treated for life-threatening injuries. Ben begins to see things differently, becoming less embittered by the kindness he's seen. This superlative film, graced by Skerritt's work is a joy – a meditation on the important things, revisiting the past with kindness and reclaiming family. This is S.J. Chiro's adaptation of David Guterson's best-selling novel. TVOD.
Another story about seniors and their dogs navigating late chapters in the sweet British romantic comedy 23 Walks starring Alison Steadman and Dave Johns. They're Fern and Dave and the meeting while walking their dogs Henry and Tilly in a north London park. There's an immediate attraction and they bond over their dogs but she pulls back, having recently felt the sting of betrayal after a long marriage. They meet randomly again and decide to go for broke and meet on purpose. Fern tends to darkness and despair while there's no keeping Dave down. They share stories but she withholds and when he makes her a "romantic" dinner, she flees. He keeps trying and all is well until she discovers he's withheld – he has a wife in a psychiatric hospital. Off she goes. On paper these two work together, in reality, Fern's issues cloud her thinking. Can the dogs reunite them? From writer-director Paul Morrison on TVOD.
Well-known comedic and character actor Siobhan Fallon Hogan wrote, produced and stars in Rushed a psychological thriller about a mother's revenge following the frat house hazing murder of her college freshman son when the college and law enforcement fail to act. She gives no thought to her own safety because she's driven by grief and horror, but it soon becomes clear that corrupt forces are at work. The boy she believes is directly responsible for her son's murder is the son of a wealthy and influential Senator with ties to law enforcement; she crashes an event he's hosting and outs his son and crosses the country alone to prove the college's liability. Barbara interviews mothers who've lost their children in hazing deaths and finds little is done to combat them. She pretends to be a fundraiser to enter the Senator's house and meets his wife (Peri Gilpin) who is clearly abused. Women give powerful statements and then the final act. Hogan's characterisation of Barbara is memorable; she's the person you'd want on your side. Her passion, strength and fearlessness are inspiring. Co-stars Robert Patrick, Jake Weary, Peri Gilpin, and former NFL player Phil Villapiano. TVOD.
Ruth Platt's Martyr's Lane, an eerie fairytale about a family in crisis concerns Leah, a little girl living in a forested vicarage; her loving father is a parson but her mother is distant and icy prone to shutting her down. Leah's vivid imagination takes her to strange places she can't explain. A little winged girl shows up at her window one night and then on successive nights as they grow closer. The girl says she is an angel and offers respite from Leah's perpetually angry mother and bullying teenaged sister. She helps Leah cope with her terrifying nightmares but as time goes on and Leah does bad deeds, the angel transforms into something else. A lost button, a lock of blonde hair, a gold locket are keys to the secret the angel hides as the family verges on the edge of collapse. Moody, atmosphere, slow burn stuff, not for children. Even so, Kiera Thompson is a tiny miracle as Leah, carrying this intense psychological thriller on her wee shoulders. Sienna Saer, the angel/demon also handles the mature subject matter with ease. On Shudder now.
Two sisters in New Zealand inherit a funeral home in the Good Grief, a Sundance Now mini-comedy series launching Sept. 30. Ellie and Gwen Goode (Eve and Grace Palmer) are way over their heads. Ellie was a teacher fired for swearing at a child and Gwen is heading to DJ in Bali to what to do? They give it a good try – learning to prepare a corpse for public viewing and burial, greeting and comforting clients, learning the financial side, all the while ducking the staff they're keeping who lob insults at every opportunity. They attend random funerals to see what's actually done and attempting to dress bodies by pretending they are Barbies or Kens. There are unstoppable and deeply inappropriate giggle fits, too much fortifying wine and self-doubt and it looks like they're about to dash their grandfather's dream of keeping the place in the family. Fun, irreverent, with an occasional dark but funny in retrospect event, like the girls having a fistfight in front of a mourning family. This is truly a unique series.
The National Centre For Truth And Reconciliation announces a prime time broadcast special to mark the first National Day For Truth And Reconciliation on Sept. 30th on APTN, CBC, CBC Gem, ICI TÉLÉ, ICI TOU.TV. It's a collaboration between NCTR and First Nations, Inuit and Métis communities in partnership with APTN, CBC/Radio-Canada, Insight Productions and Canadian Heritage to mark the new federal statutory holiday, also known as Orange Shirt Day. The one-hour show, hosted by hosted by JUNO Award-winning artist Elisape addresses the harmful legacy of residential schools with musical tributes and ceremonies in Indigenous communities across Canada. Members of the community provided videos of their stories to augment the show and there will be remarks by Chiefs and Elders, Survivors, Knowledge Keepers, storytellers and musical artists with a focus on Sipekne'katik in Nova Scotia, Tk'emlúps te Secwépemc in Kamloops, Mani-Utenam in Quebec, Wanuskewin Heritage Park in Saskatoon, and Carcross, Yukon. The special will be broadcast in French, English and includes multiple Indigenous languages. Canadians are invited to wear Orange in support! Monika Ille, CEO, APTN says "It's been a painful year for Indigenous Peoples. In light of the recoveries of the unmarked graves, and in the pursuit of truth and reconciliation, we must take pause to honour the victims, the survivors, their families and communities. Education is key to reconciliation, and we will continue to be supportive of Indigenous initiatives that encourage truth and reconciliation. The National Day for Truth and Reconciliation is a day for survivors to be reaffirmed that they matter, and so do those that continue to be affected."