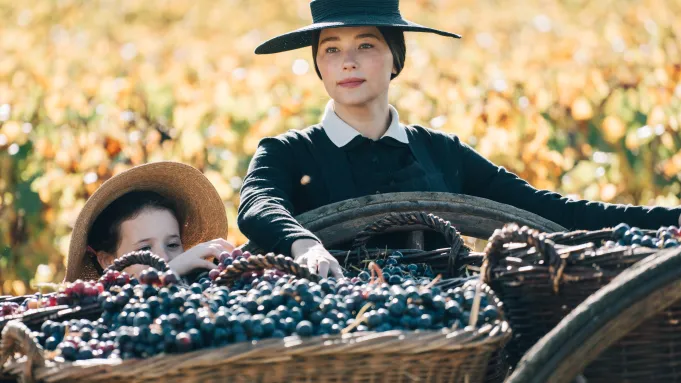 A radical feminist story is revealed in Widow Clicquot which took place in the early 1880s in the fertile Champagne region of France. Barbe-Nicole Ponsardin Clicquot, played with authority by Haley Bennett is married to François (Tom Sturridge) who owns a failing Champagne vineyard and suddenly dies leaving her a widow at 27 with a young daughter. She's immediately beset by local winemakers including neighbour M Moet who assume she'll sell the estate as women aren't allowed to own businesses under Napoleon unless a widow of an owner, but it's assumed she is female, therefore incapable. François was a drug addict who made bad business decisions that caused the ruin of the last vintage buying cheap glass for bottles that then exploded. Mme Clicquot had always been the heart and soul of the wine, an important "nose" and when in charge made far-ranging strategic changes that restored the vineyard and a chance to come out of financial ruin. It was a long, hard fight – hopeful buyers charged her with running a "criminal enterprise" for shipping cases around Napoleon's blockade – but she had a savvy friend (Sam Riley) who encouraged her and a young, loyal accountant who admired her instincts. Mme Clicquot dashed old-fashioned business practices for new, effective methods, including encouraging collaboration, and the brand she elevated lives on today. Given the rolling vineyards of France as a stunning locale, an exciting, Barry Lyndon-esque score, and Bennett's magnetic presence the TIFF favourite about early, dangerous feminism and the brave soul who abided is unusual and welcome. From director Thomas Napper and produced by Bennett and her husband Joe Wright.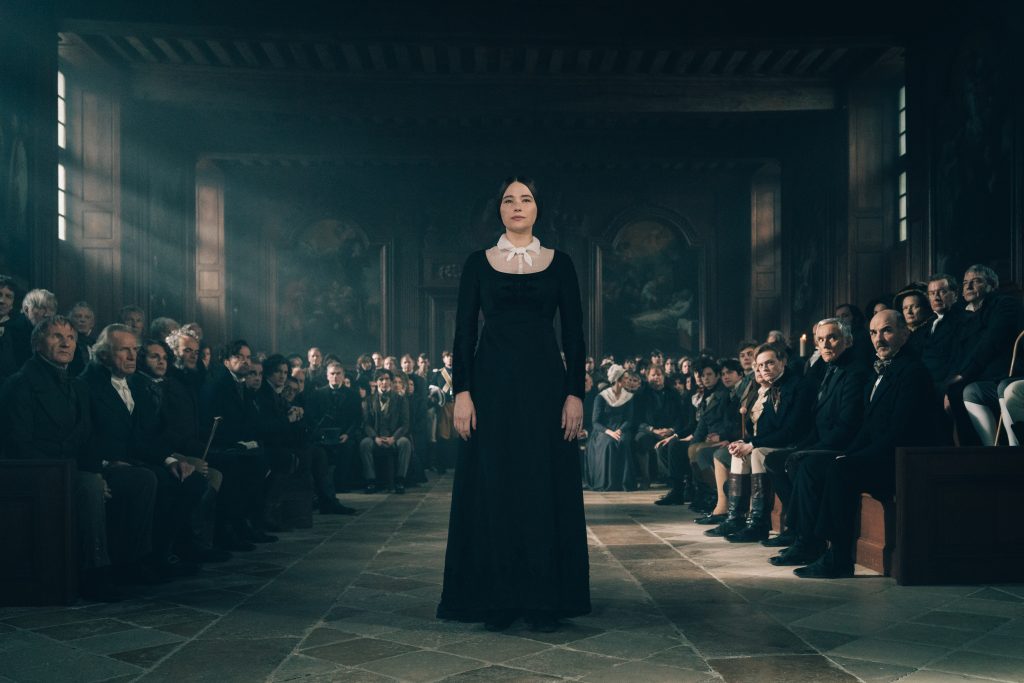 and as we were saying …
By Anne Brodie
Stevie Salas' Boil Alert is a stunning condemnation of big business in Canada and the US and its treatment of indigenous people who have suffered and died as a result of toxic industrial waste dumped on indigenous lands. Hardship, premature death, a litany of illness and generational hopelessness, suicide, and trauma have hurt communities robbed of clean drinking water, the fish they've relied on for millennia, and self-reliance. Some communities rely on water being flown in (in plastic bottles) because their water is toxic. Grassy Narrows, Ontario reserve is the site of an historic mercury spill has been under water boil alert for thirty years. The Navajo Nation in New Mexico has 500 toxic sites where uranium waste is buried. Wet'suwet'ens in B.C. endanger themselves by protesting an oil pipeline being built under their waters that will turn their resources toxic. It's a story we hear again and again, about shortened life spans, and widespread poisoning illnesses on indigenous territories. As an activist Layla Staats finds nothing is being done to clean these sites. It is a tragic state of affairs that costs the lives, well-being and futures of our original people. Actors Jessica Matten, Santee Smith, Michelle Thrush, and Autumn Peltier appear as land protectors. TIFF – Sept. 15 and 16 at Scotiabank. Check out my interview with Salas!
Pablo Larraín who gave us those unforgettable portraits of powerful tragic women Jackie and Spencer focuses his formidable imagination on the late Chilean dictator/butcher Augusto Pinochet (Alfredo Castro) Larrain's fantasy weaves that signature spell with haunting, nuanced, and gut-punch powerful cinematography with a touch of in the black-and-white dream world of El Conde. Narrated, perhaps via AI or Gillian Anderson, Pinochet's bosom buddy Margaret Thatcher, we follow The Count late in his tenure as President as things begin to implode. He is the undead, a vampire who has lived in violent sin for 250 years and wants to die. Now an old man who feels his 250 years, he is regretfully morose; his Greek chorus of adult children immediately huddles over carving up his vast, ill-gotten holdings while his ineffectual, amoral wife (Gloria Münchmeyer) looks for sex with her staff. Decay sets into the household as Pinochet looks for a way out, but he can't help himself, he keeps on attacking people and drinking their blood. What he is, is stronger than his death wish. Removing to the desert, the family has a huge and darkly beautiful black and white desert canvas to play out its historic tragedy; Pinochet's violent past including his part in the French Revolution, graverobbing, and crimes against humanity has ruined him. A dark comic thread runs through and the visuals are just superlative. El Conde premiered at the Venice Film Festival to high praise but bypassed TIFF to begin its Netflix run today.
Also on Netflix Haley Lu Richardson and Ben Hardy are accidental love interests in Love at First Sight, a twist on the rom-com based on Jennifer E. Smith's book. The cental idea is statstics. Yep. When Hadley misses her flight from the US to London for her father's second wedding by four minutes, it's just another disorganised day in her life. But waiting to board the next flight she meets Oliver, a Londoner headed home for a family event. Per romcom law they are immediately attracted to one another and bond on the flight. When it's time to disembark he puts his number in her phone but per Haldey law the phone battery is dead. so how to reach Oliver? As romcom co-incidences go, she overhears a guest at her father's wedding talking about the event Oliver's attending. Statistics, see? Oliver is a stats geek who reduces life events to numbers, the chances of meeting as they did, falling in love, sustaining a marriage, dying in a plane crash, etc. so will they be able to find each other? The very cool Dexter Fletcher and Miranda costar Sally Phillps play Oliver's parents so that's a treat. And a wonderful bit of business throughout the film is Jameela Jamil, our narrator who appears in many guises wherever the twosome go – as an airline host, ticket taker, cabbie, wedding guest, helpful pedestrian, bartender, and maybe more. It's sweet, optimistic, and a nice tramp through London.
Be inspired to be your best by the new doc Ahead Of Time: The Extraordinary Journey Of Ruth Gruber. She was an early feminist reporter who accessed areas of the world no other journo had, who studied women's issues before anyone had, and became "a case study in pioneering feminist courage, ambition and individualism". These are remarkable achievements, especially for the time and the legacy of Ruth Gruber. Born in Brooklyn NY in 1911, she launched herself on a career path open to few women after becoming at age 20, the youngest Ph.D. in the world and at 24, a foreign correspondent and photojournalist at the New York Herald Times. She'd witnessed the rise of Nazism firsthand, attending a Hitler rally in 1931, and heard him scream "Death to Jews" to an adoring crowd. In 1935 she went to the Soviet Arctic to study women's issues and in 1941 to Alaska as Special Assistant to the Secretary of the Interior for the Roosevelt administration. Her interviews circled the globe and won her the respect of the male-dominated news business and a loyal readership. "You have to understand the feelings of the person you are interviewing. Have compassion and understanding." Her book Exodus 1947 details what she saw when the British bombed a ship filled with Jewish immigrants in Haifa. It was banned for sixty years but she lived long enough to see it published. Ruth Gruber's stellar record of continuing excellence and sacrifice is exemplary and deeply inspiring and Robert Richman's doc does her great justice. Now on TVOD.
HBO's Donyale Luna: Supermodel on Crave is the story of the short, brilliant career of the first Black supermodel, and what a story! Born Peggy Anne Donyale Aragonea Peugot Luna Freeman into a turbulent Detroit home, at a young age it was clear she was astoundingly beautiful. By fourteen she was 6'2″ and pursued by photographers. She appears to have developed a persona to help her escape the violence at home and live a life of fantasy, including an accented, breathy vocal delivery, and calling herself Luna. "My name is Luna I am from the Moon" and claimed vastly multicultural ancestry. Three months after landing in New York, she was on the cover of Harper's Bazaar and became one of the world's best-known supermodels. She took New York, London, and Paris by storm in the early sixties enchanting renowned photographers with her long angles, pale blue eyes, and charisma. Magazine cover after cover! Except for Vogue, whose editor Diana Vreeland refused her saying "She's no one's idea of what anyone wants to look at. Too bizarre." Luna was stung by racist backlash in the US and lived exclusively in Europe, and by 1966 was dating Brian Jones and Klaus Kinski, and appearing in a cameo in Blow-Up, the first of five films. She moved to the country with her Italian photographer husband and had a baby, but there was more pain to come in her near-operatic life story. The jobs dried up; she was hurt and tried in the US again but lost interest, returning to the Italian countryside. Interviews with her husband Luigi Cazzaniga, her daughter Dream and her granddaughter, photographers including David Bailey, fashion world icons, and her Detroit family members make this a rich, intensely visual, sad story, beautifully executed by Nailah Jefferson.
Acorn springs another amateur British female detective who outfoxes the cops in Mrs. Sidhu Investigates, a new series launching Sept. 18. Meera Syal stars as the caterer and crime solver whose vocation takes her places where she can practice her avocation. It comes in handy when her late best friend's daughter Rani (Varada Sethu) gets a job as a masseuse at a high-end spa/exercise show studio. A popular coach is found stabbed to death, as is the janitor who found him, and as low gal on the job hierarchy totem pole, Rani finds herself the prime suspect because she and the coach were dating. Mrs. S happens to be catering an event that day. Depressed, this close-to-being-fired DCI Burton (Craig Parkinson) barrels into the scene, rebuffing what Mrs. S has already wisely figured out but over the course of the episode begins to trust and admire her. And hey presto – they're a team. Mrs. S also drops a bomb on a couple whose wedding she was to cater- she announces she wouldn't do it because there would be no wedding, listing the body language that gives the bride away. She knows people, speaks her mind and sets the pace, except with her wayward son. An unusual woman, able to meet a hardened veteran copper on his own turf, is a great role model – and there's plenty of fun to be had over five feature-length episodes.
One of my favourite recent Canadian films, Clement Virgo's family drama, Brother has landed on Crave TV. It is beautifully, thoughtfully realised and the performers give their all, giving us an exquisitely provocative, painful experience that cuts deep. Marsha (Marsha Stephanie Blake) and her sons Michael (Lamar Johnson) and Francis (Aaron Pierre) live in a housing project in Scarborough where mistrust and violence are common. Hostile white, armed police patrol the place constantly. The boys' father is long gone, and they know very little about him. Their mother who works grueling shifts has raised them well, they are considerate and respectful and she can trust them to be alone while she works. Michael is interested in his studies and has a literary bent while Francis works in a barbershop. Life isn't as well-ordered on the outside; armed gangs and shootings are realities. The Scarborough skyline gets in on the act, as does the familiar line of hydroelectric power transmitters the boys climb as Francis tests Michael's bravery. Time shifts reveal the boys and mom in happier times. The future lets them down – Marsha's debilitating cognitive problems, Francis' dashed hip-hop dreams, and Michael's interrupted education are painful. Michael looks after his mother while his friend, neighbour, and sometime lover Aisha (Kiana Madeira) travels the world as a tech wizard. Virgo creates a profound reality for them and paints a pretty picture with muted lighting, rich colour, and familiar details of the 1980s and 1990s – including a clip from Master T on MuchMusic. The heavy limitations of poverty missed opportunities and dashed hopes are staggering and Brother becomes an elegy. Adapted for the screen by Virgo from David Chariandy's prize-winning novel Brother.