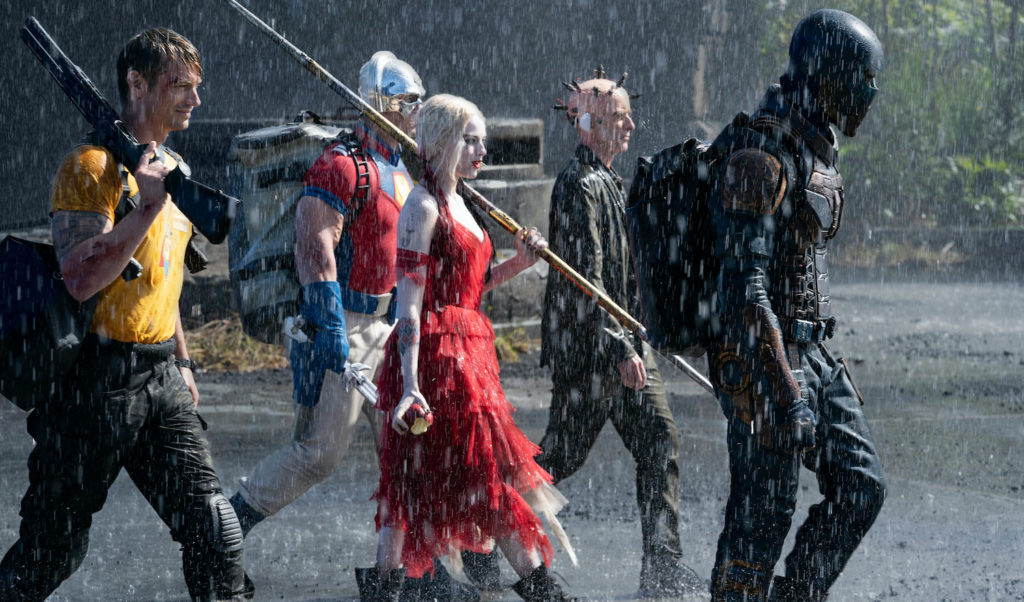 By Anne Brodie
David Cronenberg has begun principal photography on his latest feature and his first screenplay in 20 years, Crimes of the Future in Athens, Greece. And what a lineup of actors – Tanaya Beatty, Nadia Litz, Viggo Mortensen, Léa Seydoux, Kristen Stewart, Scott Speedman, Welket Bungué, Don McKellar, and Lihi Kornowski. Mortensen says of the shoot "…just two days into this new adventure with David Cronenberg, it feels like we've entered a story he collaborated on with Samuel Beckett and William Burroughs if that were possible. We're being pulled into a world that is not quite like this or any other, and yet is one that feels strangely familiar, immediate and quite credible. I can't wait to see where we end up." It's set in the not-so-distant future as people attempt to adapt to a synthetic environment outside their natural state that alters their biology. Pros and cons to this so-called "Accelerated Evolution Syndrome" – mind-bending. Yikes.
Clockwise from top left -Kristen Stewart, David Cronenberg, Léa Seydoux, Viggo Mortensen and Tanaya Beatty.
Profane, gorgeous, funny, ironic, anti-Millenial and boldly political – that's The Suicide Squad, the latest bloody funhouse ride from DC that opens with a tribute to the Belle Reve, a moody Johnny Cash singing Folsom Prison Blues. More great classics ahead like Jim Carroll's People That Died, and David Lee Roth's Just a Gigolo. Writer-director John Gunn certainly leaves a giant thumbprint on this merry 2-hour and 4-minute meatgrinder. Supervillains Peacemaker, Bloodsport, Harley Quinn, Rick Flag, Captain Boomerang, T.D.K., Mongal, Javelin, Savant, Nanaue, Ratcatcher 2, Polka-Dot Man, Weasel and Nanaue – a friendless shark voice by Sylvester Stallone are dispatched to the island of Corto Maltese. The squad kills Blackguard when he betrays their mission which is to destroy the old Jotunheim research tower where unthinkable abuses are taking place as research, and then kill dictator President Luna and his Starfish Project. Well maybe they've bitten off more than they can chew, but this is the bloody meat of the movie. Shot partly in Panama with investment from Quebec this is a travelogue/adventure harking back to fan fiction of the 1920s updated with multiple shots at Millenials, a strong acknowledgement of empowered women, some very cool outfits and psychiatric conditions. But what I find most interesting is its political weight, unapologetically and powerfully wagging a finger at America's foreign activities and bad acts. Check out the baddest character's colours in its final scenes. Stars Margot Robbie, Idris Elba, John Cena, Joel Kinnaman, Viola David, Jai Courtney, Peter Capaldi, Michael Rooker, Nathan Fillion, Pete Davidson. Two rats are credited, Jaws and Crisp Ratt both playing Sebastian Rat, dear pet of Ratcatcher 2 played by Daniela Melchior whose hordes help save the day. In theatres.
Leos Carax' extraordinary musical Anet / Annette which opened the Cannes Film Festival may star Marion Cotillard, Adam Driver and Simon Helberg but the film's screenwriters, musical arrangers and eminences grise, Russell Mael and Ron Mael's fingerprints are all over it. The Sparks Brothers and Carax consolidate one another's experimental, searching, artistry perfectly, creating a dark, glamourous, beautifully photographed and gorgeously eerie study of love and the death of love. Cotillard's Ann and Driver's Henry, a classical singer and stand-up comedian enjoying a good life, fame, money and each other. Ann gives birth to baby Annette and it's not long before the baby reveals a special ability. Her gift changes their lives – at first, there's amazement and wonder, then pride, and then greed and the inevitable moral decay. The swirling universe they inhabit seems always ready to collapse weighed down by pervasive terrors and bad deeds and swept up by hope and beauty, then dashed down again. It's a stunning piece and entirely original. It's a tad too long, and judicious editing would have made Annette very special indeed. In theatres August 6th and Amazon Prime August 20.
John And The Hole from Spanish director Pascual Sisto lifts the veil on what goes on between families when no one else is around and here, it's positively unspeakable. This startling emotional drama creeps so insidiously under the skin; it can't be called a thriller, because it unfolds naturally in a way that anticipates too wisely. It seems too real. Thirteen-year-old John (Charlie Shotwell) is powerless. His parents and older sister consider him a child, depriving him of agency. His verbally abusive teacher humiliates him in front of everyone. He goes where he's taken, does what he is told and they all miss the signs that he's angry. His beautiful glass family home in a rural wooded neighbourhood is isolated, cars are necessities. Properties are big and while exploring the one next door that's for sale, John stumbles across a hole in the ground, a bunker so deep, it would be impossible to climb out. He asks his parents about it and then, as usual, they brush him off. He stockpiles his sister's medications, and we look on in confusion one night as he removes her bedding and pillow while she's sleeping on them. Cut to too brilliant sunshine searing the family's eyes as they wake up in the hole, wrapped in their bedclothes, stunned. He's watching them with zero reaction. They can't get out. He tosses them a bag of food and a bottle of water and drives to the ATM and steals their money. It's not nice to be underestimated. This unique story is brill on its own, but Sisto's intimate authenticity raises it to a higher level where we are seriously morally challenged; he is aware that nature is everything. Go see it and parents, treat your kids right or sleep with one eye open. Shotwell is transcendent as this boy with the secret interior life and iron will. Also stars Michael C. Hall, Jennifer Ehle and Taissa Farmiga. Based on screenwriter Nicolás Giacobone's short story El Pozo. In select theatres and TVOD.
Luke Wilson, Martin Sheen and Robert Duvall headline the heartwarming, fact-based drama 12 Mighty Orphans but the stars are the real-life boys who formed a football team in their Forth Worth, Texas orphanage during the Great Depression. Ty Roberts's tribute to the boys and their captain, orphanage teacher Rusty Russell, warms the heart and sparks hope, dipping its toe into sentimentality. The boys are left alone after the combined tragedies of the Dust Bowl that destroyed farming and the Depression. Some parents were forced to surrender their children because they couldn't feed them, and some died, leaving babies to fend for themselves. These boys felt unloved and abandoned and now live at the whim of the corrupt administrator (Wayne Knight) who starves, tortures, and fails to educate the boys, and profits from their forced labour. New teacher Russell arrives, sees the problem and looks for solutions -like creating a sports team the Mighty Mites. The boys now have something to care about and work towards. They're exceptional, driven players, even without shoes or uniforms. Russell's loving kindness is new to them and they find a trusted ally and new meaning in life. True story, my friends. Theatres.
Welsh filmmaker Euros Lyn's Dream Horse, starring Toni Collette, Damian Lewis and Siân Phillips is rousingly uplifting, the true story of a group of villagers who buy a horse together to breed and race, and what do you know, the aptly named Dream Alliance is a champ. Collette in Jan, a pro-active woman if there ever was one, holding two jobs and caring for her burly and adorable husband Daisy and her failing parents decides there is more to life, she needs something to wake up for – and that's a racehorse. Their tiny home plot in the village houses all manner of farm animal, so what's a horse? It's a process, navigating the endeavour and dreaming of a successful outcome. Triumphs and tragedies pepper the story as Dream Alliance smashes all the records. Occasional close-ups of his gentle face are magnificent, revealing a sentient creature and confirming the ancient bond between humans and horses. For more info, there's a 2015 documentary called Dark Horse. In theatres.
Kelsey Grammer's on a streak, his second film in as many weeks, even as he works on a re-up of Frasier. His latest release is Charming the Hearts of Men, a sixties social justice romantic comedy. And it's not bad. Anna Friel plays a worldly New Yorker who returns home to a small town in the Deep South; her father dies and leaves her his mansion and as it happens, his debts. Grace is a proactive type and can adapt to just about anything, including running the enormous place and balancing the books. She goes to town to sell her extensive collection of jewels from multiple husbands. She's appalled at what she finds – overt, systemic racism and deep misogyny for women, people denied simple rights and freedoms, under the guise of southern tradition. Grace is fired up but must solve her problems, so she launches a charm offensive, looking for prospective husbands over candlelit dinners. She rejects them all until her old friend "the Congressman" (Grammer) shows up and there's a spark; which is reciprocated, as he says "You are the delicious escape". And he would be useful in her newfound social and political activism. Grace also inherited her father's beloved servants, a Black mother and daughter who keep her informed, fired up and fed. Grace and the Congressman are out to make change, because, as LBJ says on the B&W television "We've been talking equal rights for 100 years, it's time to write the next chapter in the books of law". It's satisfyingly executed and raises feminist, activist principles that must still be visited. Written and directed by S.E. DeRose, and also stars Sean Astin and Diane Ladd. TVOD.
Antoine Fuqua' Infinite based on the book The Reincarnationist Papers is a sci-fi actioner starring Mark Wahlberg, an actor with plenty of experience in both realms. Reincarnation is the lot of warrior protectors such as himself who can draw on double the resources in order to save humanity and the earth from destruction in war and environmental issues. He plays a schizophrenic alcoholic who doesn't trust himself or the hallucinations/messages/visions he's having. He needs certain medications to function but they're running out and his suppliers are holding out. Under questioning by an NYPD detective played by Chiwetel Ejiofor, he's asked if he remembers him from the Syracusa, in the Second Punic War (213- 212 BC). His hallucinations are memories. Toss in waterboarding in a cathedral, anti-matter battles, hanging from a plane a la Air Force One, a mysterious egg, an ancient sword he hangs on to for dear life. And if you understand any of it, please enlighten me, because I am in the dark. Also stars Sophie Cookson, Toby Jones, Tom Hughes Rupert Friend and Liz Carr. Paramount +.
What We Left Unfinished, from Brooklyn-born filmmaker Mariam Ghani, whose father is the President of Afghanistan, is a tribute to her dedication to preserving the country's cultural integrity and identity of the country's filmmakers pre the 1978 takeover of the government by Afghan Communists. The oppressive regime was backed by the Soviet Union which invaded the following year, imposing its dictates on Afghani citizens. Feature films being made by indigenous artists were destroyed. But Ghani has been able to source remnants of a handful and presents them in this exhaustive, well-made documentary. The April Revolution's dailies. An interviewee says as they shot the film, everything changed, one coup after another; much of the confusion is captured on what remains, including being fired upon by Russian missiles. Same with Wrong Way. There are dailies from Downfall which concerns the intelligence war against foreigners, which was 30% completed when the regime changed. It reveals the network of caves that have been used in wars for millennia and events that separated two lovers via clan wars, the mujahideen and government. Agent is a rough cut on the role of drug smuggling on both sides of the law, including the government, mafia and foreigners. And dailies from The Black Diamond concerns the people used in the heroin trade by the mujahideen. Interesting fact – the filmmakers used live ammunition because there were no blanks available, and there are plenty of live explosions. Sadly, all these years later and the song remains the same as Afghans are threatened by the Taliban. TVOD.
Joseph Gordon-Levitt created, wrote, directs, executive produced, composes and stars in the limited Apple TV+ ten-parter Mr. Corman. Joah has a fertile imagination. He creates dozens of personas and alternate realities for himself, but in the here and now, he's a grade 5 teacher in the San Fernando Valley. A frustrated musician forced to give up his dream for low-paying, time-consuming work, Josh judges himself harshly. He's a loser, a nobody, but his imagination tells us otherwise. Josh fantasizes about different lives he could have led, about floating through space, living a song 'n' dance life in a cartoon suburb, being a gay Russian living dangerously, not this anxiety-riddled, suicide pondering loser slapped by a woman he meets in a bar. He's recovering from a bad breakup with Megan (Juno Temple), he failed at music, his friend dies, his father steals his credit card and he's sure a meteor is heading for him. He sticks it to the US health care system when he thinks he's having a heart attack, and can't get a doctor's appointment. Josh lives several lives over the course of a day. It's tough for a sensitive person like himself; his only safety is the classroom; he loves teaching the kids. Mr. Corman is a complex character for American TV/streaming with a richly inquisitive mind. Also stars Arturo Castro, Debra Winger, Bobby Hall aka Logic, Alexander Jo, Juno Temple, Jamie Chung, Shannon Woodward and Hector Hernandez with guest appearances by Lucy Lawless as an addicted frump.
BritBox' second season of Bath UK detective series McDonald & Dodds, is even more fun than the first, I'm pleased to report. Tala Gouveia and Jason Watkins play chalk and cheese homicide detectives in three feature-length episodes. They come from different backgrounds, skill sets and experiences, but over season one and into the second, they fall in synch; their differences become advantages, and they become stalwart partners who have each other's backs despite the obstacles thrown in their paths – and there are many. The first episode launches with a hot air balloon mystery, five went up, four came down. The body of the fifth is found far off in the field, indicating he was murdered in the air and tossed out. The fours survivors were major celebrities in the 80s and 90s – nice casting – Rupert Graves, Patsy Kensit, Martin Kemp and Cathy Tyson – and have stuck together ever since, raising D&D's suspicions. Rob Bryden shows up as a meddling detective with an interest in the case. FUN! The second episode finds a group of Scottish girls weekending and Instagramming in Bath and attending a footie match. A married member of the party sneaks off with the match's star player who shows up dead on the train tracks, poisoned with Rohypnol. Was it the women's jealous husband who followed them to Bath, was it one of her friends? or did she do it? Turns out there's a lot of bad blood in the little troupe. The third eppie focuses on the murder of a social media influencer at a spa recording her nose job live for her fans to see. So who was she? Was she the super confident, beloved, well-to-do nearly perfect person on her accounts? D&D is a brilliantly balanced murder mystery, character study elevated with wit and humour, twists and turns, whodunnits breezy and realistic enough to keep things real. FUN.
Paris Hilton is forty now, and she has her own solo Netflix show. The heiress/reality star acknowledges right off the top of Cooking with Paris that she's not a trained chef but loves to cook. She sure isn't. Unsure of whats tongs, blenders or chives are, she is, however, an authority on sugary breakfast cereals. Follow her to the grocery store, in a pink satin and diamond evening gown with trains and stilettos as she shops to entertain her lifelong pal Kim Kardashian for breakfast. Her staff designs a cloud theme in the dining room, embroiders napkins, and strings a cloud cover of balloons to showcase Paris' breakfast. It is Sliving (Slaying and Living) Blue Marshmallows with Glitter, Frosted Flakes French Toast, and a frittata made with bacon that reminds Hilton of her late beloved pet pig. Kardashian, a mother of four, openly mocks Hilton's skills, laughing so hard her makeup runs. She's an easy target, let's face it, not sure what there will be in terms of learning in this series, but there are laughs and gasps aplenty. Hilton's always been in the business of playing the fool. Other guests include Demi Lovato, Nikki Glaser, Saweetie, Lele Pons and Nicky and Kathy Hilton.
Years ago I read Theodore Dreiser's An American Tragedy, on which George Stevens' 1951 six-Oscar-winning film A Place in the Sun was based. The book was a superior, spellbinding turn of the last century tale of a factory girl who has an affair with her boss' no-good nephew. She becomes pregnant just as he insinuates himself into the circle of a society girl and finds he likes wealth, and her, quite a bit. His back alley conquest begs him to stay and ultimately follows him to the rich girl's lakeside mansion to make a scene. He realises what's about to happen and takes her out in a rowboat. Problem solved. Early one morning, reading the final chapters which were structured in a nerve-shredding manner vastly different from the rest of the book, did me in. Had to call work to say I wouldn't be coming in. Later I saw a Place in the Sun on late-night TV starring Montgomery Clift, Shelley Winters as the scorned girl and Elizabeth Taylor as the rich one, wondering if any film could capture the book's emotional profundity. Stevens' film did, and then some. Two scenes, in particular, stand out that will take your breath away. Paramount reissues A Place in the Sun on Blu-ray, available Tuesday.