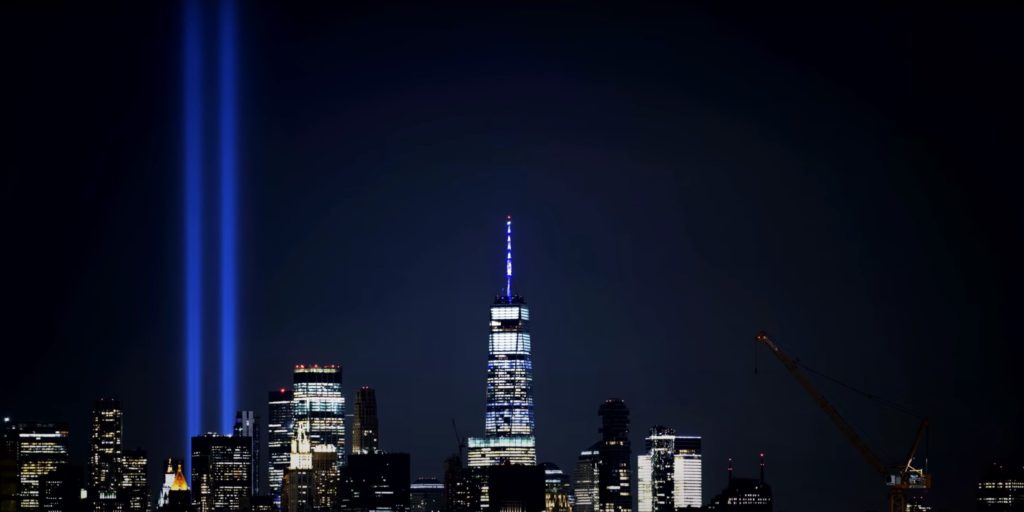 By Anne Brodie
Spike Lee does superb work in the four-part documentary series NYC EPICENTERS 9/11➔20211⁄2 on Crave / HBO. He gathers "witnesses" to speak their truths on events that shaped the city in the 21st century, the COVID-19 pandemic, the tragedy of 9/11 and continuing after-effects twenty years later, on citizens, responders and victims, the #Black LivesMatter movement, the (Canadian) Karen versus the birdwatcher and its deeply racist roots and the young girl who, when NYC was the world's virus epicentre, volunteered to run a makeshift freezer truck hospital morgue. Lee accessed film footage never seen by the public before, astonishing stuff taken on the ground, in the middle, and after. Two hundred witnesses – celebrities, politicians, firemen, hospital staff, historical figures, regular people turned inside out by tragedy in one of the most thorough, epic portraits of modern life in Lee's "greatest city on this God's earth." The 9/11 segments, hour by hour and year by year are illuminating and hopeful given the city's coming together in solidarity after the greatest terrorist event on US soil. Anger and protest swept the country after endless attacks by police on young Black men, the pain and shock are all there, and the voices raised, soon joined by global allies. Lee looks at the well-planned January 6th attack on the Capitol by delusional Trump followers, the election results deniers, sent by "President Agent Orange" to carry out what experts now believe was to be a coup and reveals that Mitch McConnell may have been aware. Alexandria Ocasio-Cortez, Ilhan Omar and Chuck Schumer reveal what happened while hiding from the mob and Capitol police how they were outnumbered and brutalised but never stopped protecting the government. Other witnesses include Jon Stewart, Rosie Perez, Jeffrey Wright, John Turturro, politicians, Bill De Blasio, Ron Kim, Dr. Anthony Fauci, NYFD members, machine operators from Ground Zero, engineers and architects, news anchors and reporters, and a host of citizens sharing stories, frontline workers who helped with the clean-up, and fireboat and ferry boat captains evacuated 500k out of Manhattan. Absolutely one of the great doc series but be warned that some may be triggered.
Cindy Adams, the most influential celebrity columnist of all time is still on the job at the New York Post. The former model who married professional MC and fifties man about town Joey Adams became a star in her own right, far outshining all comers, including her husband is the subject of Gossip, a four-part docuseries on Crave. In her decades on the job she's changed society, politics pilloried those who dare to fail to bow down and had her revenge. We get to see her good and bad sides as she threatens the documentary interviewer – a real hangover from New York's days as the toughest, headline screaming, reputation ruining, money sex and power-obsessed gossipuese. The Trump-loving precisely styled, high-heeled and bouffant'd columnist still plies her trade today at 91, still churning out news about others, wheeling and dealing, spending her nights on the town. Adams has power; she's been courted by world leaders, reviled by subjects of her sharp biting call-outs and she's held in awe by many, including her New York rivals. Four episodes of Adams spilling the beans or having her beans spilled is pretty addictive given the names, names, names, the moral questions, the dark partnerships, the mobsters, Gossip has changed in many ways but her style is forever, the righteous provocateur who will wait hours in the rain in a full-length fur to grab a quote. Talking about Cindy Adams leads to talking about Rupert Murdoch, Roy Cohn, Donald Trump, her champions in the well-off right. Adams doesn't admit to being mean, she says it's all fun and entertaining. Others may beg to differ and we hear from others, but there's no denying this lady is a phenomenon through dogged determination, stick-to-it-ivness and extraordinary verve. She singlehandedly saved the Post once by making a phone call. Incredible.
Nicole Kidman is a wraith and a devil in Hulu's limited series Nine Perfect Strangers, her character's cold, seductive and calculating presence hangs over it. She is Masha, a vaguely Eastern European owner of a remote paradise wellness retreat; she's positioned herself as an all-knowing, all-healing shaman, healing folks nine at a time. The current batch arrives for their shot at health, happiness and cures -Michael Shannon, Melissa McCarthy, Tiffany Boone, Regina Hall, Bobby Cannavale, Samara Weaving and Luke Evansey. Little do they know how tough a slog it is to become their best selves! There's deep, pre-existing antipathy between the guests and between the couples; a creepy vibe sets up immediately. Masha gives them daily pills of some sort and meets with her for individual therapy sessions in which they reveal more than they should or nothing at all. One guest admits she came to study Masha and become her. Another is convinced her nose has fallen off. The others expose their vulnerabilities under the influence of the supplements they're given; supplements at the heart of a lawsuit Masha faces. Shannon is Napoleon the most persuasive and complex character, who struggles and breaks down as they all will, dancing to Masha's tune. IIs the ultimate New Age mantra allowed to run its full course in isolation and anxiety under a deceptive leader, a criminal betrayal of the weak.
Netflix' The Chair is a comic, dramatic wagonload of social and cultural issues of the day in the halls of academia; a perfect storm of ambition, reputation, a rising new order with a generous side of personal struggles. Sandra Oh is Dr. Ji-Yoon Kim, the first female and first Asian Chair of the English Department at the prestigious but struggling Pembroke University. She realises that the department and university are falling behind, enrollment's dropping, aged professors (Holland Taylor as Professor Hambling, Bob Balaban as Professor Rentz, Nana Mensah as Professor McKay) are to be cut despite their accumulated knowledge and experience because they reject modern thinking 'and when told how to adjust, reject it. Professor Bill Dobson, a middle-aged professor (Jay Duplass) and Dr. Kim's part-time lover, is on thin ice because he's unreliable, lazy and oops – gets caught in a career-ending meme and is seen with a major donor's young daughter. Dr. Kim wants to keep everyone happy and micromanages it on top of her home and personal challenges. Do people care about Chaucer, T.S. Eliot, Ethnic Studies, Camus anymore? Because they're all endangered. The Dean's wife inveigles her way into a conversation, offering up her new bestie, the "very famous" guy she met at the market – David Duchovny – instead of an honoured academic. It's a study of intergenerational awkwardness, stifled desire and ambition and not having the lives we want. Not many comedies have been set in academia since Third Rock from the Sun and Grown-ish. Oh has a natural gift for comedy and watching her is a comic joy, ditto Holland Taylor as a professor on the chopping block whose office has been moved to the basement gym!
A devastating decades-long love story from writer-director Heidi Ewing sheds new light on the Mexico/US immigration crisis. I Carry You with Me starring Armando Espitia and Christian Vazquez follows a young man in Mexico City with a fiancee and son, who falls in love with a man. He faces life-changing consequences as a result, his fiancee leaves and bars him from seeing his baby boy, he's beaten and shamed. He's a talented cook but can't rise above lowly jobs in the only restaurant in the area. He decides to abandon his life there and head to New York City. His lover, a product of parental abuse for his homosexuality begs him to stay, but he won't hear it. He takes that dangerous walk across the border and to New York where over twenty years he rises through various kitchens, becomes a chef, opens his own restaurants, haunted all the while by dreams of his son, his lover and his mother. Ewing's sensitive naturalism gives this poignant story intense intimacy and universality, with haunting scenes crossing the night deserts, evading untold dangers, which have new urgency with what we know now. The New York cityscape and longing daydreams of love and memory are achingly moving.
Veteran comedy writing legend Charlie Burnz (Billy Crystal) is still the mainstay of a late-night network comedy show in New York; he started out on the Carol Burnett Show, and he's valued by the show's producer but the young writers, whose comedy takes the easy path of shock and expletives and uses for thumbs, say he's too old when he tells them their approach is wrong. It's frustrating to him but he makes a point of mentoring writers and he turns up a gem. Privately. Burnz is a widower and his grown children don't treat him well. He takes the same route to work every day and early on, police activity forces him to take another route. He's angry and lost because he's experiencing dementia. Yet on the show, he's fiercely mentally agile. The poignant title Here Today suggests what we all know – death lies ahead. The thing is to make one's time matter. And just in time, Emma (Tiffany Haffish) shows up. She's won dinner with him for charity and boom, they spark platonically. Her humour and warmth win him over – plus she has no idea he's a major celebrity. He provides her with wisdom and killer humour. They're not looking for sex, "I'd break your back, old man" she tells him, but they spoon at night. This story about unlikely friendships that cross generations is heartwarming, spiced with zingy wit and humour. Things get a bit mawkish towards the end but their bond is what remains. Also stars Chad Jennings, Dierdre Friel and Penn Badgley with cameos by Barry Levinson, Sharon Stone and Kevin Kline. Amazon Prime Video
The children's animated adventure PAW Patrol: the Movie is tonnes-o'-fun, an inclusive, wise, gorgeously rendered tale of pups on a mission. You may be familiar with the PAW Patrol franchise of videos and TV shows that have entertained kids and their caregivers since 2013. I was not, and am delighted by the artistry and content, which is aimed at children as entertainment and intended to reflect them. So the movie – Adventure City Mayor Humdinger, a narcissist is a bad 'un, prone to making decisions about their beloved city, taking away what's great about it and replacing it with what isn't, messing with the weather and nearly levelling the city with his fireworks display. He hates dogs and fills the city with cats, and newscaster Muckraker gleefully reports on his misdeeds. The Mayor refuses to listen to the citizens so the pups get busy. The PAW Patrol takes on a new ally in LIberty, a dachshund with a few ideas of her own who joins Ryder and Co. to put down the Humdinger Horror. Watch a tiny pup save a truck that's jackknifed over a bridge, as the Patrol assemble a massive collection of gizmos and gadgets that haven't been invented yet. It's a nailbiter and it's also really cute and sweet and energetic. And what a voice cats in addition to the original members we have Kim Kardashian, Randall Park, Tyler Perry, Jimmy Kimmel and our own Raoul Bhaneja, directed by Cal Brunker.
On August 25 Netflix launches Motel Makeover an unscripted series following young entrepreneurs April Brown and Sarah Sklash, creators of the internationally renowned June Hotel. These girls not only take us through the purchase, demo, reno and opening of their latest property The June Motel in Sauble Beach, they also provide design and strategy tips along the way. So how did they remodel a "gross" motel on Loyalist Parkway in chic Prince Edward County, doing much of the work themselves, overseeing contractors and outfitting via thrifting the existing motel that fetches $500 a night per room? Schitt's Creek notwithstanding, the girls had a vision for a relaxed, funky rural destination to attract cool city folks and they fulfilled it and then some. Well, take a look at Motel Makeover as to their iron will, the hours put in and that unstoppable dream, and dream along with them. They set out to create an "Instagrammable" spot under the June banner in Sauble Beach with a patio and pool, artisan food and a gorgeous colour palette. Watch April and Sarah share every creative, panicky, joyful and triumphant moment. A little vocal fry with that lobster roll?
Netflix has released Season 7 of Grace and Frankie, the epic Jane Fonda / Lily Tomlin comedy series about later life we discussed avidly over the watercooler (metaphor, kids!) since 2015. The crowded beach house is fraying nerves as Grace, Frankie, and exes Robert and Sol ( Martin Sheen and Sam Waterston) live together now – it's not pretty. Plus the FBI's snooping around, Nick's nicked, the money laundering scheme, a failed goodwill brunch and … see?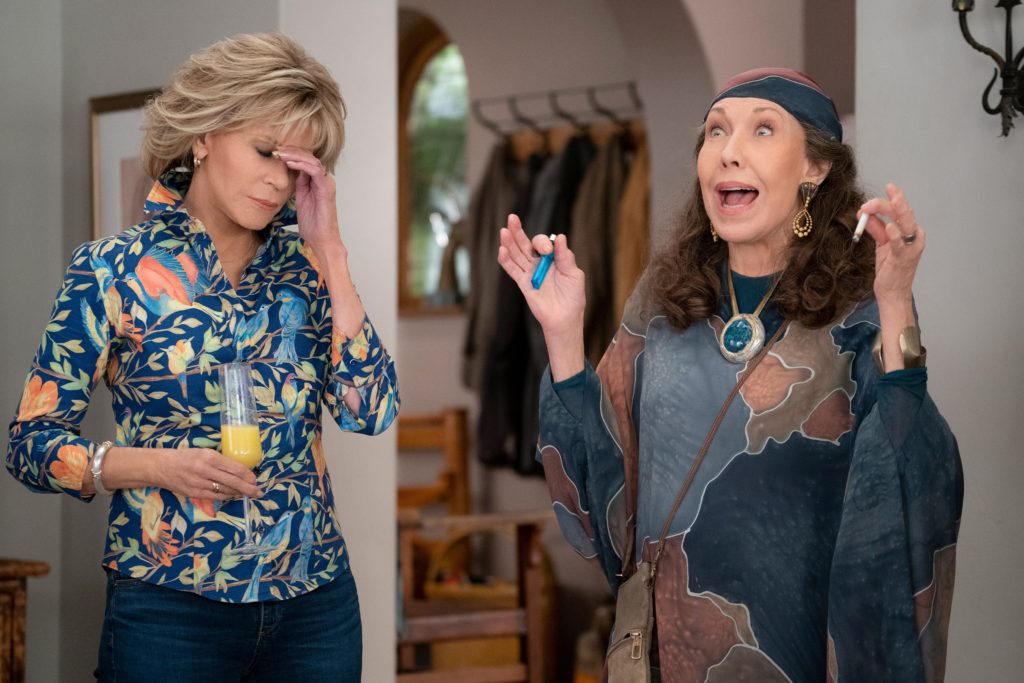 Reposting this review in light of events in Afghanistan.
What We Left Unfinished, from Brooklyn-born filmmaker Mariam Ghani, whose father is the President of Afghanistan, is a tribute to her dedication to preserving the country's cultural integrity and identity of the country's filmmakers pre the 1978 takeover of the government by Afghan Communists. The oppressive regime was backed by the Soviet Union which invaded the following year, imposing its dictates on Afghani citizens. Feature films being made by indigenous artists were destroyed. But Ghani has been able to source remnants of a handful and presents them in this exhaustive, well-made documentary. The April Revolution's dailies. An interviewee says as they shot the film, everything changed, one coup after another; much of the confusion is captured on what remains, including being fired upon by Russian missiles. Same with Wrong Way. There are dailies from Downfall which concerns the intelligence war against foreigners, which was 30% completed when the regime changed. It reveals the network of caves that have been used in wars for millennia and events that separated two lovers via clan wars, the mujahideen and government. Agent is a rough cut on the role of drug smuggling on both sides of the law, including the government, mafia and foreigners. And dailies from The Black Diamond concerns the people used in the heroin trade by the mujahideen. Interesting fact – the filmmakers used live ammunition because there were no blanks available, and there are plenty of live explosions. Sadly, all these years later and the song remains the same as Afghans are threatened by the Taliban. TVOD.