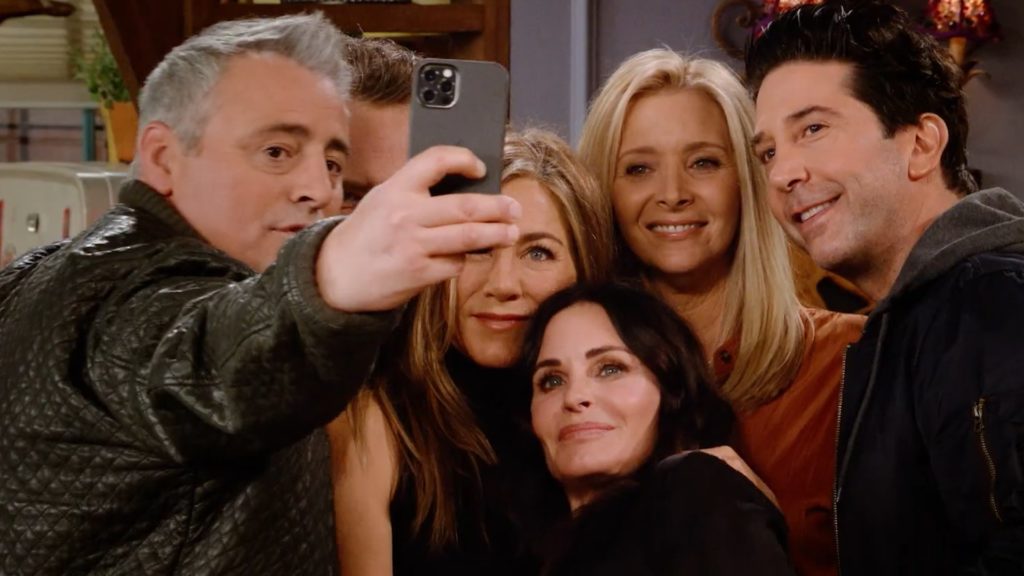 By Anne Brodie
In under a week, we will be reunited with Friends!! On TV, that is, on Crave, the long-awaited reunion special of the show that'll be there for you. Jennifer Aniston, Courteney Cox, Lisa Kudrow, Matt LeBlanc, Matthew Perry, and David Schwimmer get comfy on the couches at their old home Stage 24, on the Warner Bros. Studio lot and revisit those glory years. Friends: The Reunion promises to warm the heart, and make us laugh and drink up those familiar faces we love. It goes down Thursday, May 27th, but there's a full day of celebrations on the 26th including pre-show entertainment and outdoor screenings in two iconic locations – The Greens at Pier 17 in New York City, NY and at the Hollywood Forever Cemetery and online via #SuperFriendsFan UGC sweepstakes via HBOMax, HBOMaxPop and Friends social channels. Also, check out the #CentralPerkWatchParties hashtag, chat capabilities and a digital & the Social Red Carpet Wednesday, May 26th from 4:40 – 11:30 ET to 8:30 pm ET. There will be exclusive programming, guest-star appearances and live segments from the 'Friends Reunite for Friends' screening events in New York and Los Angeles leading up to the reunion special.
Oprah Winfrey and Prince Harry, the Duke of Sussex tackle mental health and emotional well-being in their AppleTV+ documentary series The Me You Can't See, out next Thursday. An apt title as Harry's Royal life has played out for all to see, a front he recently demolished in his interview with Winfrey, alongside his wife, Meagan. they admitted to having had personal issues and, given her influence, partnered to spread the message of inclusion, hope and wellness. Celebrity guests include Lady Gaga, Glenn Close, San Antonio Spurs' DeMar DeRozan, Phoenix Suns' Langston Galloway, Mental Health Advocate and Speaker Zak Williams, Olympic Boxer Virginia "Ginny" Fuchs, Celebrity Chef Rashad Armstead. Says Winfrey "Now more than ever, there is an immediate need to replace the shame surrounding mental health with wisdom, compassion, and honesty. Our series aims to spark that global conversation." Prince Harry adds "We are born into different lives, brought up in different environments, and as a result are exposed to different experiences. But our shared experience is that we are all human. The majority of us carry some form of unresolved trauma, loss, or grief, which feels—and is—very personal. Yet the last year has shown us that we are all in this together, and my hope is that this series will show there is power in vulnerability, connection in empathy, and strength in honesty." The Me You Can't See was created in partnership with an advisory board of mental health professionals and experts across a variety of specialties. Pre-release parties both in-person and online begin Wednesday.

One of my favourite comedies from last year is back for another kick at the comedy can. Rafe Spall and Esther Smith star in S2 of Apple TV+ Trying a delightfully funny, wry and honest look at a London couple trying to have a baby. Season 1 found then learning they can procreate, so a decision is made, finally agree to look into adoption. Season 2 goes there with heart-tugging and hilarious results around their hopes, preparations, and attempts to ditch bad habits to become good parents. Friends and family ask the wrong questions and the anxiety returns. the chemical frisson between the leads is a joy to witness. They get into awkward scraps, lie, sabotage one another, mess with the other, sure, but these two are truly in love, matched spirits. Even as they go from room to room in their small flat their hips seem to be joined together, to move as one. But they're having Eight wonderful episodes the key6 to the success of this series is its likeability. It's witty, fast-paced and poignant and we like it, we really like it! and I've never missed a show the way I missed Trying between seasons.
Mads Mikkelsen stars in the Danish action thriller / black comedy with a twist, Riders of Justice, from Anders Thomas Jensen. Mikkelsen's Markus is a soldier stationed in Afghanistan who calls his wife and daughter in Denmark to say he must stay a further three months. A few hours later, his wife is killed when the subway in which she and her daughter are travelling explodes. Markus returns home and is approached by a trio of statisticians who tell him the explosion was deliberately set so his wife was murdered. One of them had a brief exchange with her and noticed a man behaving strangely. He can prove, numerically speaking, that the man was responsible and that and was connected to a violent street gang. Turns out one of the dead was the lawyer for a gangster turned informant. Daughter Mathilde's (Andrea Heick Gadeberg) bike is stolen – is there a connection? She's suffering following her mum's death, but Markus offers no real affection or love or therapy, telling her to get on with it. She acts out, tensions rise and the situation becomes entangled in the murder case. Turns out Mathilde is also a student of probabilities and joins the statisticians to solve the case. But then the gang shows up on their doorstep. I'm not exactly sure why it's called a comedy, there are light moments at the expense of the statisticians, but overall this is dark, dark and dark. TVOD. 
Documentarian Luke Holland had a mission, to pull together interviews with ordinary Germans who took part in Adolf Hitler's Third Reich to discover why they did what they did. There's a sense of urgency as all the subjects are elderly. There are shocking, surprising and time-worn ideas expressed, and an overall feeling that they "didn't know" what was happening in concentration camps, sometimes right next door. The subjects' ages inspired the title Final Account and Holland's last-ditch effort to understand what they were thinking. From SS soldiers, concentration camp staff, housewives and members of Hitler Youth, a military-like prep club for young Nazis, that the subjects seemed to enjoy a lot, guns, anti-Semitic songs, learning hate, reading Mein Kampf. One woman discovers that her father as an SS officer, horrifying anecdotal info that they deliver with no real understanding, or concern. There are those who admit "Jews were not popular", a Nazi officer who discovers his parents were Jewish, therefore officially '"not worthy of life". A woman holds her Nazi officer husband in hiding after the Americans liberated the camps. And holocaust deniers, ordinary people who somehow "missed" what was plain. TVOD
Veteran Danish filmmaker Anders Refn, the father of Nicolas Winding Refn, looks at a wealthy family during World War II in Into the Darkness. Denmark is neutral and has nothing to fear from Hitler but as the war in Europe rages on, the spectre of the Third Reich gradually crept into Danish life and overcomes their supposed high morals. The Skov family owns a major electronics company that's prospering during the war. Karl Skov is confident that his family and business will be fine, but a national day of celebration is interrupted by Nazi propaganda leaflets falling from German planes. The family is divided on the Nazi question, his wife is fearful, a son joins a resistance movement, and his daughter marries a Nazi officer. Skov is forced to collaborate with the Germans to save the family and his employees and prop up the crumbling economy. A Jewish couple appears at the Skov home, endangering themselves and the Skovs, looking to get into neutral Sweden. They're captured and sent to a "model camp" in Germany. The housekeeper's son returns from the front fired up about Bolsheviks, Sweden is forced to transport armaments for Hitler, and the Danes are told London will fall soon and the war will end with Germany the victor. It's interesting to see this side of history and where neutral countries' loyalties lay, how the moral fabric of Denmark was nearly destroyed and concessions made against better judgment and moral standards. It's an ambitious film, the first of a planned trilogy. It lacks urgency and fire given the subject matter and takes its time. TVOD.
Interesting timing for HBO and HBO Max's fact-based film Oslo, and the secret backchannel meetings that took place between two Israelis and two Palestinians in 1993, a private top-secret endeavour set up an idealistic Norwegian couple. Mona Juul, Norway's foreign minister (Ruth Wilson) and her husband sociologist Terje Rød-Larsen (Andrew Scott) managed to pull off the impossible, convincing warring factions to "come halfway around the world" to see if they could reach a peace deal regarding Israel, Jerusalem, Gaza and end the war as old as memory. It was a top-secret undertaking, cloak and dagger and extraordinarily dangerous. Neither side had ever met a person from the 'enemy" state. The possibility of a leak would have worldwide consequences The hosts didn't take part just waited outside and wrote up drafts. Tensions were extreme but with time and will, plus whiskey and waffles, progress was made. It feels like a play because it's adapted from the Tony Award®-winning play of the same name; we are up close with the principles for every second over the course of a few days as the men open their eyes and minds. Co-stars Salim Daw, Waleed Zuaiter, Jeff Wilbusch and Igal Naor. Plenty of fun jibes at the US, which knew nothing of the event for years. Gripping, timely and educational. Mark your calendar for May 29th.
A strange offering from disgraced producer Joss Whelan. The Nevers starring Ben Chaplin, James Norton, Laura Donnelly, Ann Skelly and Olivia William, is an offbeat sci-fi series about female superheroes set in London in 1899 during Queen Victoria's reign. A heavy steampunk vibe telegraphs its rebel attitude and these ladies, The Touched, are rebels. They don't care much for white male patriarchy and social domination, or the demeaning and sexualization of women. They're a team The Touched, and live together in The Orphanage where they can protect one another and plot their moves. They have powerful enemies and a mission to accomplish. As I said, it's a strange one. One of the Touched, Maladie, is a serial killer (that term is modern, not Victorian), and about to be hanged in the public square; she gains her superpowers from pain (really, Whedon?) she also built a machine no man could. This series puts women up as heroes but at the same time, indicates an antipathy for them. Oh, and the scenes of a man spying one of them bathing. There's also talk of a certain person as "moral compass" a phrase unheard of until the 1994 release of William Bennett's book bearing that title. And the crowd at the hanging goes all Maga shouting in unison "Drop the bitch". This is really unpleasant, and that is all I have. Crave
Now you'd like to relax after all this excitement, eh? Well HBO Max has A World of Calm to mark World Meditation Day. Half-hour eppies offer journeys inside to calm the pulse and brain, as HBO says "Building on the record-breaking success of Calm's Sleep Stories TM – bedtime stories for adults with more than 250 million listens – each relaxing tale is designed to transform how people feel". Science-based stories, music and stunning visuals make this an inner life line to peace. Kate Winslet, Idris Alba, Mahershala Ali, Nicole Kidman, and more stars with soothing voices narrate the tales.