By Anne Brodie – We have Toronto International Film Festival – TIFF to you! – capsule reviews to help make your viewing choices in person or on https://digital.tiff.net/ Danis Goulet's premieres her extraordinary drama Night Raiders at TIFF, a disturbing story paralleling the traumas of the residential school system for generations of First Nations. Elle-Máijá Tailfeathers is a Niska, a Cree mother living in the bush with her daughter Waseese (Brooklyn Letexier-Hart) to evade government forces coming to steal her. The Academy, a prison/training camp brainwashes the children to forget their heritage and families and do the state's bidding with promises of a nice life. Mother and child escape surveillance drones and canoe into the city where life is brutal but can hide them. Sadly, Niska's convinced to let her daughter go, then joins a secret movement of Cree who believe she's been sent as a guardian who will shepherd children they're fleeing under cover of night, and take them up north to salvation. Academy propaganda is everywhere and so are the drones, backed by armed troops of Academy graduates. A dismal situation that may trigger victims of the residential school era in Canada in Goulet's well-told tale and a worthy watch.
The Electrical Life Of Louis Wain stars Benedict Cumberbatch as an eccentric artist fascinated by the "electrical" mysteries of the world with a focus on cats, in this fact-based period piece. Wain suffered from schizophrenia which may have contributed to his wonderfully original art. He falls in love with Emily (Claire Foy); she becomes ill and he paints their cat to lift her spirits. The results are dazzlingly psychedelic, and bright colours and fun cat-esque shapes. We follow them from the late 1800s and into the 1930s as he tries to discover how electricity and his state co-exist.
Barry Avrich' loving documentary Oscar Peterson: Black + White offers a rare portrait of the Montrealer considered to be the greatest jazz pianist in the world. Co-produced by this widow Kelly, we're taken behind the scenes of the man's life and legacy. A musical who's who speaks of the way Peterson influenced and inspired them – Quincy Jones, Jackie Richardson, Jon Batiste, Billy Joel, Measha Brueggergosman, Ramsey Lewis, Herbie Hancock and the trusted members of his trio. Their stories are wonderfully intimate and often astounding. Peterson's parents insisted each of their children master a musical instrument and it soon became clear that Peterson was a child prodigy. He was celebrated in the greatest music halls in the world – and it appears Queen Elizabeth was a big fan. His music is genius, calming, exhilarating, hypnotic, everything great music can be. What a marvel was this man. TIFF and thereafter Crave.
The Other Tom written and directed by Rodrigo Plá and Laura Santullo, starring Julia Chavez and Israel Rodriguez Bertorelli is an utter heartbreaker. A fiery single mother who has lost her welfare payments and is minimally employed is raising a young son with ADHD. His condition deteriorated when his parents split and his father moved away and it's taking a toll at home and at school. He's acting out, hostile, doesn't hand in his work and threatens a man his mother has spend the night with; she can usually comfort and calm him. He mentions the "other Tom" and one day throws himself out of a moving car and is seriously injured. Social workers warn her that he must take medication for his condition or she will lose custody; friends tell her to let him "be normal" forget the meds, so she does. They are then essentially on the run and desperate. Tough stuff, and points to the problems of poverty and misinformation while shoring up family love.
Nuisance Bear, Jack Weisman and Gabriela Osio Vanden's wrenching 14-minute documentary short raises important issues – is eco-tourism as disruptive to wildlife, how to act humanely and respectfully towards polar bears while protecting citizens, preventing interference with the bears' annual migrations and how not to traumatize bears by shooting at them, chasing and confusing them with trucks with horns, helicopters and co-existing without harm. Churchill, Manitoba is a popular spot for eco-tourists who greet bears with cameras, flashing lights while posing threat from their big trucks. This nuisance bear is under siege and forced into a raging, icy river before being knocked out and airlifted out. Makes its world premiere in TIFF's Short Cuts programme.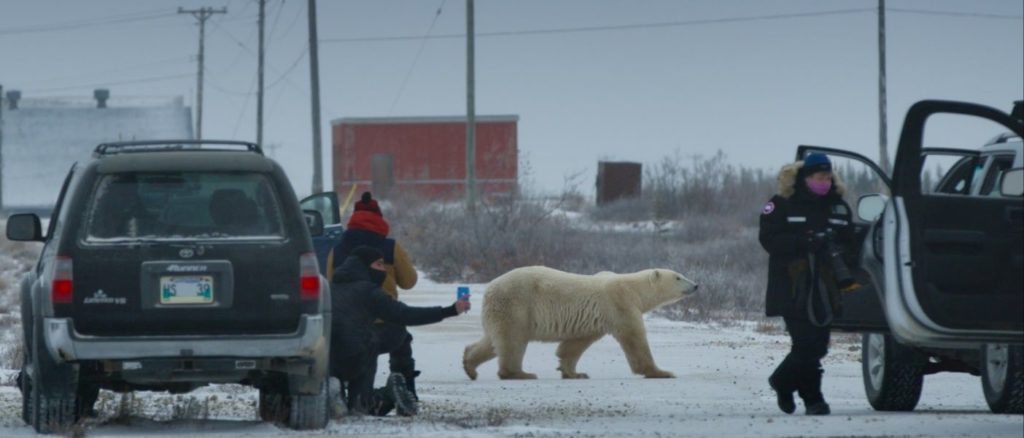 Director and co-writer Thyrone Tommy's Learn to Swim makes its world premiere at TIFF. It follows a contemporary jazz musician whose life and emotions are taking on hallucinatory qualities no thanks to a stalled romance and an agonising dental abscess. Thomas Antony Olajide is Dezi; he's in a private hellscape weighing what it all means; he doesn't quite fit in to the lively comradeship of his bandmates, and his relationship with singer Selma (Emma Ferreira ) is only adding chaos to his current unmoored existence. Spanning time and space, it feels like jazz, we can't know what is coming but we hear the high notes and low notes and a search for order and meaning. Mesmerising debut feature.
In general release is Paul Schrader's mournful meditation on guilt, The Card Counter, finds a man with a past he wants to forget but can't. Oscar Isaac is Willam Tell, or so he says he is, a professional gambler with a winning formula that has accrued him some wealth. But money can't protect him from traumatic memories of carrying out his former occupation – capturing and torturing American soldiers under ex-military turned private solider of fortune Gordo (Wm Dafoe). And there he is, Gordo, in the US lecturing on facial recognition techniques. Tell sees him and stops in his tracks. A young man (Tye Sheridan) approaches Tell to say Gordo was the cause of his soldier father's suicide after the hellscape in which he and Tell served, and he wants his help to kill him. But why does Tell cover everything in his rooms with fabric? Tell seeks redemption from his guilt by taking him under his wing and supporting him. Tiffany Haddish' (who can handle any kind of role she tackles beautifully) manager LaLinda forms a travelling trio and they travel from tournament to tournament until the past rears up to change everything. This is a chilling portrait of many bad things, US foreign policy, blackened souls and the futility of plans.
Want some inspiration and joy? Want to sing? We have just the film for you. Twenty years after the devastating 9/11 attacks, Apple TV+ presents a filmed adaptation of the celebrated Broadway musical Come From Away. Seven thousand confused and frightened airline passengers, rerouted from closed US airspace (with the exception of high ranking Saudi nationals being flown out of the US on President Bush' orders- see 9/11 Unfinished Business below) to tiny Gander Newfoundland were beside themselves, having been stuck on the tarmac hour thirteen hours, not knowing why until terrifying news started to get through. Residents of Gander, now outnumbered by the passengers, rushed to their aid, providing food, hurriedly made by volunteers, places to sleep and some comfort. This is their story. The actors play dual or triple roles as passengers and locals, with perfect Newfie accents, as order is shaped from confusion, nerves are calmed and a sole young reporter provides the world with video news updates. There were 19 animals aboard including two chimps, that needed to be cared for and Gander cared for them. The songs are wonderfully contagious and rousing and include sea chanties, of course. Come From Away is a grand experience!
Speaking of Broadway did you know that the historic theatre district was in danger of being torn down and replaced by parking lots in the '70s? Yikes. But it wasn't. The pandemic closed it down again and we wondered if it was the end of live audience shows. It wasn't. As resilient as she is dear to theatre lovers' hearts, Broadway reopened after 18 months! Producer-director Oren Jacoby examines its recent history in On Broadway a feature-length doc with appearances by Helen Mirren, Christine Baranski, August Wilson, Hal Prince, James Corden, Alec Baldwin, John Lithgow, Tommy Tune, Hugh Jackman and Ian McKellen. Bradway survived thanks to innovation, inclusion, and finding ways that commerce and art could co-exist and thrive. Broadway essentially reinvented itself. Scenes front and backstage from A Chorus Line, Angels in America, Hamilton and more, On Broadway is an energising, warm tribute to this unique place, this "main street of American show business". Sept.10 at the Fox Theatre in Toronto.
'Moonshine's the name of a picturesque seaside town in Nova Scotia, home to the Finley-Cullens, a raucous bunch who run a down-on-its-glam motel. The Finley-Cullens are a family of oddballs, soon to be joined by members. architects from the big city for a reading of a will. Felicia has died and left the motel to one of them. The behind-the-scenes chicanery, snooping, tale-telling and general malaise around the get-together is palpable and really fun to watch! One of the girls is a radio deejay and marriage cheat and she and another disparage the family on a hot mic, setting the tone firmly in cement. Rhian boxes to vent when she learns she didn't get the place, and knocks Daniel out, little sister frees a trap of lobsters, Brother's magic mushrooms business goes to pot when the crop is stolen – plus there's a plant in the place working on behalf of a real estate developer. So the idea is for new owner Lidia to hold a grand reopening party, a Goddess Fest with chaos and hilarity, which Rhian the "one-woman terrorist organization" scuppers. It's funny, fresh, fast and a tad challenging but be assured these people are way worse than your family. Stars Jennifer Finnigan, Anastasia Phillips, Emma Hunter, Tom Stevens, Alexander Nuñez, Tom Stevens, Erin Drake, Jonathan Silverman, Peter MacNeill and many many many more. On CBC and CBC Gem Sept 14.
The family saga series American Rust on Crave stars Jeff Daniels as Sherriff Del Harris of a forgotten, economically challenged town in rural Pennsylvania. He is in a tough spot as he has had dealings with just about everyone in the area as he's known them all his life, but sometimes he must bring down the law. He's in love with Grace (Maura Tierney) who is about to be evicted from her trailer with her son, the school's popular football star and coach Billy (Alex Neustaedter). It's fine till her violent, hard-drinking ex shows up. The town's failing – an auction of homes, including Grace' trailer, is blocked by rifle-toting citizens, but Sherriff Harris won't move them along for the realtor – he stands with longtime citizens who have fallen on hard times. Meanwhile, the town's sent reeling when a man is found murdered, Billy saves a friend who has attempted suicide under a frozen lake when Billy rebuffs him. There is much to consider in this grey place and a wedding celebration that recalls The Deer Hunter's long-memory searing party, in the same vein. Backhills Noir, complicated relations, shared history and shocking revelations make this a winner.
Murdoch heads- your favourite detective series is back for, can you believe it, its 15th season. On Monday return to old Toronto and rejoin the cast of Murdoch Mysteries for another series of brainteasing, smart and always unique adventures with Canada's leading solver of murder most foul, Det. William Murdoch played by Yannick Bisson. With their lives in danger, Murdoch searches for Anna Fulford and her son in Montreal in the first of two parts, to be continued Sept. 27, following the election. CBC and CBC Gem.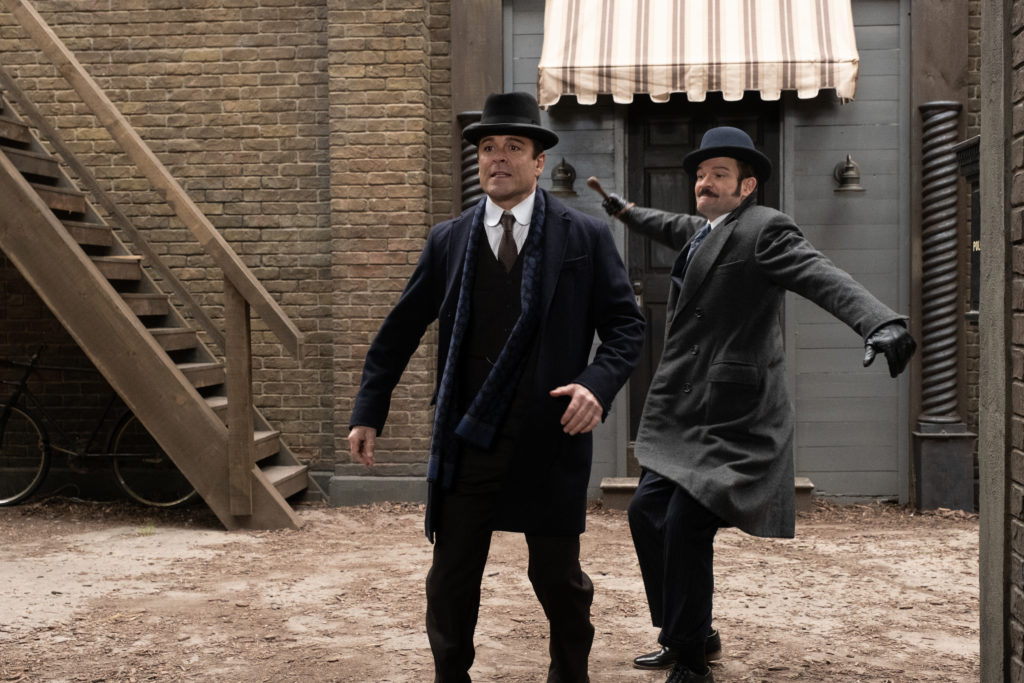 Also, the CBC has two 9/11 documentaries tonight and tomorrow, the 20th anniversary of the terrorist attacks on America. Tonight 9/11: Unfinished Business with Peter Mansbridge on CBC TV and CBC Gem, examines the shocking role the Saudi government played in the worst terrorist attack on US soil in its history. Go inside a group researching that question and the unwitting role the US government played. Peter Mansbridge speaks with retired government agents, the FBI and victims' family members seeking truth and justice. Tomorrow night, the British doc Surviving 9/11 premieres on The Passionate Eye, at 8 p.m. follows thirteen people haunting every day since that day of infamy in a society that that chosen to move on. WE see the impossibility of moving on, of forgetting. Survivors, first responders and family members of victims take us through that day in real-time.