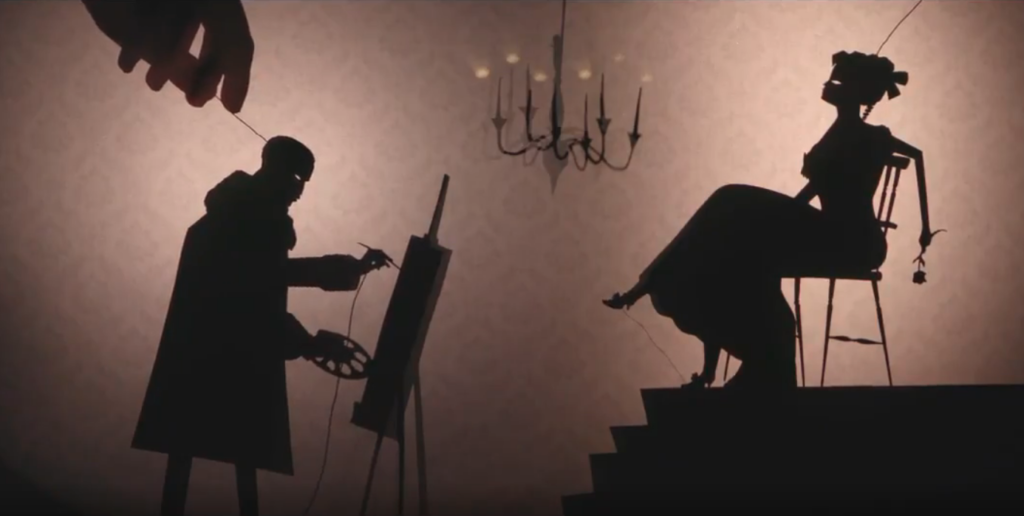 By Anne Brodie
Jordan Peele has earned a spot at the top of the modern horror canon as a creator of intelligent, elegant and provocative, Black forward stories that get into the brain as much as under the skin. He's created a new genre of horror, steeped in social and cultural history, a Black voice that demands to be heard through astonishingly creative screenplays. Candyman plays off the terrifying 1992 original set during the grisly events at Chicago's now-demolished Black slum Cabrini Green. Today it's gentrified by upscale artists and creators where we find our protagonists, played by Yahya Abdul-Mateen II, Teyonah Parris, Colman Domingo and Vanessa Williams. The Candyman urban legend survives, the entity that butchered and drove mad residents back in the '70s, the spectre that may still be in the walls. Abdul-Mateen's Anthony McCoy is a rising artist haunted by the Candyman, he paints him in ever more terrifying portraits. He's the darling of the critics but he's becoming dangerously trapped in his new mindset; he summoned the Candyman. Reporters, critics and school kids toy with repeating Candyman into a mirror and don't live to regret it. The stunning sequences of the Black experience through American history told through cutout paper puppets will chill and horrify and reveal the origins of the myth. Beautifully directed by Nia DaCosta with an equally beautiful, pulse-pounding score, Candyman sets the standard for post-modern horror.
Together, the story of a man and woman and their son braving the pandemic in their smallish middle-class home is a corker. Their brutal honesty towards one another, constant assessment of each other's intentions may resonate with many viewers who've been sharing space with someone all these months. James McAvoy and Sharon Horgan are flawless in Stephen Daldry's claustrophobic and engrossing study. Will couples withstand the pandemic? When he says to her right off that bat that he hates her face, the tone is set. It's his truth at that moment and strangely such honesty bonds them, connecting more authentically. She's not angry and gives as good as it gets, "Sex with you? Ugh". Chapters are captioned with the current number of COVID dead in the UK. The aubergines incident speaks volumes on mounting tension not just inside the house but out in the world. She hasn't seen her mother in the nursing home and she's aware that staff isn't being told to wear masks; she is their son's only one grandparent. What holds it together is their undeniable love for one another, freedom of expression and agency, the freedom to be real. Superb performances make it hard to look away because it feels like we are watching reality. Meanwhile, they're not paying much attention to their little boy Arthur; he hears everything they're saying despite speaking in clenched whispers. Daldry does it again, bringing us characters in an elegant slice-of-lfe worthy of attention and long remembered, that reflects the zeitgeist of being alive in 2020 – 2021.
The Lost Leonardo is a dizzying documentary on the highest echelons of the art world – those collectors who will pay any amount of money to own a piece. A breathtaking example is the story of an oil on wood discovered at a New Orleans flea market, purchased by an art hunter for $1155. It may or may not have been Salvator Mundi, a never-before-seen piece by Leonardo Da Vinci. The fifteenth-century polymath was only known to have produced fifteen oils, and dealers' suspicions were raised; it was examined and restored but no conclusion was reached. The painting became a cause celebre and began its head-spinning voyage across the globe, valued-added as it was sold on from owner to owner in various countries. The price went up exponentially, and then to quote an interviewee it was "exponential upon exponential". It sold in Russia for 127.6 million (the dealer who sold it to the buyer made a $44.5 million profit in less than two days). And still no final conclusion as to whether it was a real DaVinci. The characters, the richest of the rich, reveal their fragile egos and greed and entitlement. So what if it isn't a real Da Vinci? "The painting has real power", we're told. "You stand in front of it and you feel it. It glows". Real or not it would provide an owner with "social capital". Doubters deemed it problematic and "too controversial for a serious museum". Christie's got a hold of it and dubbed it the Male Mona Lisa and the price went up some more. So do collectors hang their captures in their homes? No. Many are stored underground in high-tech vaults in a "freeport"; we visit one in Geneva where some of the world's finest treasures are covered and locked up, depriving the public of gazing at the best of the best. And then it sells again. I won't ruin the surprise for you, but the final price will blow your mind. The Washington Post reported "no object, item or substance in the known universe has ever risen in value so fast and by so much." The trophy to end all trophies. Now, THIS is an exciting movie by writer-director Andreas Koefoed.
Don't know about you but I miss Martin Short and Steve Martin together – and here they are reunited as Charles and Oliver in a delightful, brainy and fun comedy series Only Murders in the Building. Take a wild guess who is the female member of the star troika? Selena Gomez! She's Mabel and they all live in the same tony old-world apartment building on the Upper West Wide but don't know each other. Paths cross when a young man is found murdered. The three, a writer, an off-Broadway producer on hard times and a mysterious single girl share a common passion, true crime, throw in their lots to solve the grisly affair, looking for clues, comparing notes and ideas! So why not start a podcast on this true murder and more in the future but only murders in the building. Charles will provide the theme music on his concertina, Oliver will produce and Mabel will do her bit, she's a bit secretive. They visit fellow resident Sting to gauge his interest and find he's an odd duck. But he's off on an Amazon tour and all is hunky-dory. And by hunky-dory, I mean, a mess, egos clash, resentments build and a message is received "End the podcast or I will end you" and Oliver's Winnie is brutally murdered. Turns out Mabel knew the murder victim ("She's Cassandra and Lady Macbeth Rolled into one"). Then there's the Gut Milk payoff, Amy Ryan on bassoon, a hellish trip to New Jersey, a friend thrown off a roof, the Chris Maloni standee, it never ends. Hilarity, imagination, old-world brocade and silk Manhattan and a great sense of National Enquirer-worthy revelations make this sing. On Star on Disney+ as a Star Original and on Hulu.
Whelm means "to submerge; engulf, to overcome utterly, overwhelm, whelmed by misfortune" which describes Skyler Lawson's Depression-era crime drama/character study. A pair of brothers, Dylan Grunn as Reed, and Ronan Colfer as August are whelmed by larger-than-life Alexander Alesky, played by Delil Baran, an eccentric. The men are at cross purposes wandering the fields and forests of Indiana looking for answers, revenge, money and meaning while awakening one another's violent streaks. The story's told in thirteen chapters beginning with Aleksy demanding a hotelier take him to the safe. He refuses. Alesky presents with a large chunk of ice on a wheeled tray, before knocking him out and tying him to the ice. He then presents a well-dressed group of men in the dining room a special bottle Jimmy the leader uses to threaten him. Alesky works on the naive brothers and tortures them while spinning interesting stories and then it's his turn to be tortured by Jimmy. The characters' relationships go deep and further and as snares and lures heap up, it seems impossible to pin anyone down. Its images are nature-based, its dangerous beauty. The story's convoluted but interesting, it's a challenge but it's reeeaaal pretty. That gorgeous natural colour palette intensified through the use of 16mm film in forests, cornfields, old brown houses and shady hotels hides the men who dress in brown Depression drab. There's no denying Nature's wiles. TVOD.
Marie Kondo, the tiny clearing genie is back with a new series on Netflix. Sparking Joy begins in her enviably ordered, pastel home, decluttered and captured to the nines. There are no dust bunnies under her couch and there are exactly the things stored and things storing them, that are needed. It is the essence of discipline, imagination and deceptive simplicity, gleaned over a lifetime of Kondo's admitted obsession with cleaning. The best-selling author, guru and folder extraordinaire shares her knowledge with American dreamers, people who have lost control of their homes, lives and their contents; she guides them with simple steps and unique philosophy. Kondo believes objects are companions, so choose and keep them wisely; she believes tidying up is fun and joyful. Her optimism and smile are highly contagious – even the most stubborn clients fall under her cleaning fairy godmother spell. It's fun to watch a space transform from dive to divine and her clients welcome that change. Sometimes they resist but it's futile; she is always right. A business owner and mother's personal life falls into chaos because work takes all her time, space and nerves. Kondo to the rescue! Separate life and business and attend to both! Another woman gives her time to church, community and her trans and gay sons, and she's overwhelmed with rooms of blousy printed tops. Calling Marie Kondo. The new series trades heavily on emotional displays, high drama, tears and sad stories, but my takeaway is that it is a pungent indicator of the tyranny of living in a consumer society.
Are you watching Mr. Corman on Apple TV? The original comedy series created, produced, written and directed by and starring Joseph Gordon-Levitt is a worthy showcase of his vivid imagination and refusal of conventional television. He's Josh Corman, an artistically inclined fifth-grade teacher whose dream of making a career as a musician is well and truly dashed. He lives with a funny roommate in a crap apartment, eating pasta with oil in the San Fernando Valley, not what he envisioned, and his fiancee has vamoosed. He's depressed, anxious, his students don't respect him; he's having physical manifestations and nightmares. Debra Winger plays his acid-tongued mother who's relieved he gave up music but knows he's unhappy. He has a bad date and is slapped when he tells the woman she's going to die alone. He's concerned about a meteor rocketing to earth, it never ends. He can't afford medical help to stop the hallucinations. His ex (Juno Temple) suddenly appears. They visit her mother (Linda Lawless as a frump) and he spies a fireball in the sky and envisions his own funeral. Gordon-Levitt's nimble imagination and performance raise the tenor and you'll find you've binged the whole series.
Jason Momoa's wasted in Sweet Girl, now on Netflix, a standard revenge actioner that starts from a good place but devolves into endless shoot 'em ups, mano-a-manos and waka-mole assassins popping up. But first, Momoa's Ray's wife dies of cancer; she may have been spared had the experimental drug she was to begin hadn't been pulled from the market the day of her treatment. Ray sees the pharma bro on the news justifying the move, and calls in to threaten his life saying he'll kill him with his own "bare hands". He's grief-stricken but that's an actionable statement. If he's put away who will look after his daughter (Isabela Merced)? Oh, well, He's a man of passion and a trained fighter; soon it's Ray versus the FBI, thugs working for Pharma Bro and other stakeholders as father and daughter go on the run. A Vice reporter promising to get him justice is murdered in front of him. She's secretly calling an empathetic FBI agent explaining that her father's a good man. It's chaos everywhere, there's no place to hide and the final chapters are all about Momoa's manly grief revenge. Not deep. Awkward dialogue and narration, but nice cinematography. Directed by Brian Andrew Mendoza
Strap yourselves in for the sexiest, most flagrantly fabulous film ever to emanate from Disney – Cruella! on Disney+ now. It's the gobsmacking origins story of the classic Disney character, the wicked Cruella de Vil who kidnaps Dalmatian puppies to skin them for fur in the 1961 animated film, based on Dodie Smith's 1956 novel The Hundred and One Dalmatians. What a devil! Emma Stone plays Cruella in a bold rethink, with fire and brimstone lapping coming out of her eyes. But she didn't start that way. Estella is an unfortunate street thief who lost her mother in tragic circumstances when she was young; she's lived on street smarts, a nice girl who shares a hovel with two fellow thieves. Her dream is to become a fashion designer, and via the force of her personality and resourcefulness, she's hired by the much-feared designer Baroness (Emma Thompson), a real piece of work. Baroness inspires deep resentment and rebellion in Estella and sparks a total personality change. She is now Cruella, a woman capable of great wickedness – she builds a dress embedded with actual danger – taking the idea of female empowerment to comic, bizarre, bracing heights. A scene from Hitchcocks' Lifeboat tells us Cruella will be the last one standing. She's a dangerous foe. The art direction, insane 70's soundtrack, art is war vibe, and intricate detailing is hypnotic; it's arresting, fast, an eyeful and a dangerous dream. Stone's 47 costume changes alone are worth the price of a ticket! Just wow. Waiting for the next one. Thanks, Disney and Stone for carrying this ambitious project so lightly.
Vera fans, Brenda Blethyn's back on BritBox in the eleventh outing. One of my favourite mystery series of all-time focuses on the take-no-prisoners veteran detective, the strange murders she investigates and the twisting and often dangerous paths her investigations take. The writing is superb, the cases unforgettable and Blethyn is determined, caustic, laser-focused and oh, so experienced. The season makes its North American Premiere September 1st with six feature-length mysteries.
So whatever happened to Carl Fredricksen and Dug the Dog after their Up by Pixar adventures back in 2009? Well, they have a new home in the 'burbs, (full of Easter eggs) and a new backyard. Dug the talking dog shares his heroics and misadventures over a series of shorts Dug Days now available on Disney+ that he likes to interpret in his own special way. Carl's still his patient and loving human who mostly indulges him and once again finds himself the fall guy! Writer-director Bob Peterson recently walked media through the film process doing all the voices – what a hoot! His magical humour and dogsense are all over these lovely shorts and you'll fall in love with a man and his dog all over again. The animation is superb, war, colourful and the characters simply fly off the screen with life and energy.