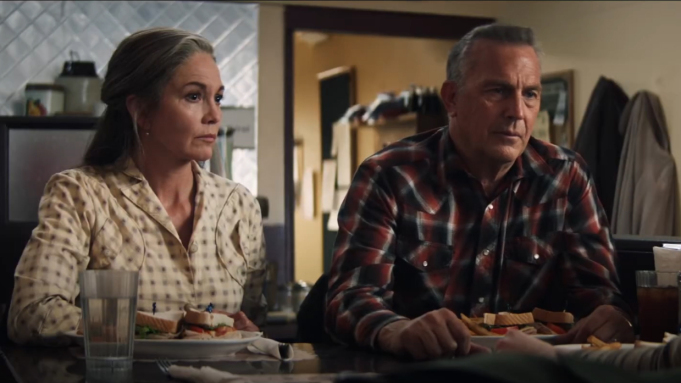 By Anne Brodie
Two Rural Noir Thrillers, Two Major Ron Howard Projects,
Kevin Costner and Diane Lane have tremendous chemistry and realism as farmers George and Margaret Blackledge in Let Him Go. They're grieving the double loss of their son in a riding accident and, out of the blue, the disappearance of their daughter-in-law, their grandson and the woman's new husband. The crime thriller, shot in the vast and beautiful Drumheller, Alberta region, is operatic in emotional scale, as the Blackledges carry out a mission to restore balance in the world. Little do they know what they're up against. Margaret saw Donnie Weboy, the new young husband repeatedly hit their daughter in law and grandson before they disappeared, so she sets out to find them, retrieve and raise the boy and George reluctantly joins her. They're led to a remote old Victorian where the Weboys live under the sadistic thumb of Blanche Weboy. Lesley Manville's cunning, manipulative, black-hearted Blanche sets the Blackledges up for a fall, from which they may never recover. Greek tragedy plays out under the huge western skies, with only a local hermit (Booboo Stewart) and a horse to help; police are on the Weboy payroll. Gothic elements highlight the Weboys generational brokenness in this shocking depiction of evil and the will to battle it. Written and directed by Thomas Bezucha based on Larry Watson's novel. In select theatres.
The rural noir Hillbilly Elegy, in theatres Nov 11 and on Netflix Nov 24, concerns another disturbed rural family, based on the autobiography of J.D. Vance. He grew up in poverty, the family splitting its time between Appalachia and a mid-sized city. Gabriel Basso plays Vance, who somehow rose above his upbringing to become a Marine, then a graduate of Yale Law School. On the eve of a major job interview, he's called back to hill country because his mother (Amy Adams) is in hospital after another heroin overdose. It's the latest of her self-inflicted crises and he's tempted not to go but relents under pressure from his burdened sister (Haley Bennett). He thinks about his life during the ten-hour drive home, how his mother's selfishness, violence, neglect, and cruelty nearly destroyed the family on many occasions. The tough as nails MaMaw (an unrecognizable Glenn Close) is the roughhewn anchor that holds them together. While he's not comfortable in the upper echelons of Yale, he and his academic girlfriend (Freida Pinto) hope to achieve a future outside hill country despite its strong hold on him. The film follows three generations of Vances to for clues as to what went wrong as J.D. attempts to avoid being sucked into that maw again. Glenn Close and Amy Adams could easily win nominations for their work. Director Ron Howard says his family has roots in Appalachia and that's what drew him to the story.
But Howard also has family in Paradise, California, site of the devastating Camp Fire that tore through the rural community in 2018, the deadliest and most destructive wildfire in California's history. 85 deaths and one person reported missing. Howard partnered with National Geographic to document the events leading up to the fire, the fire itself, and the aftermath through news footage, home movies, conversations with officials, and residents that will break your heart. The result is the documentary Rebuilding Paradise airing Sunday, Nov. 8. The horrifying reality that the fire could not be contained, that strong winds and clear skies were driving it, came down hard on the people of Paradise. A mandatory evacuation was ordered as residents reported they couldn't breathe. A grandmother confined to a wheelchair was unreachable, the hospital was 100% surrounded by fire, and roads were choked. Aerial views show white ash everywhere, vanished swaths of residential homes. Then the hospital was lost. Five people died in their cars from heat. Stunned wildlife, unable to move. Howard takes us through the following days and weeks, pondering the five-year drought, the inescapable conclusion that climate change is responsible for the fires that still burn in California and further north. Town officials wonder if it's safe to rebuild there, doctors leave the area, and on and on. The area had been deforested by logger barons, but the fire spark came from faulty, neglected equipment belong to Pacific Gas and Electricity. There is much to unpack in Howard's excellent, unsentimental look at the disaster. Look up Paradise, California on Google Maps and you'll see what's left and signs of rebirth.
Canadian marine life warrior Paul Watson doesn't go to sea to battle eco criminals anymore, but his 40-year campaign to save marine life has inspired new generations to take his place. They are protecting whales, sharks, tuna, and the ocean itself from those who would destroy them and threaten the very air we breathe. Documentarian Lesley Chilcott reveals Watson, the man in her powerful new film. Captain (Courageous) Paul Watson, co-founder of Greenpeace and founder of Sea Shepherd, is still educating the world on the oceans' importance in the chain of elements needed to sustain human life on earth. He and his volunteers today face existential dangers from criminals determined to shut him down (at least 40% of the fish we eat is illegally caught), from corporations that rape the seas, governments that look the other way and come after him.  Watson speaks joyfully of massive whales that sleep upright together, and calmly about the times his life was literally on the line. He got between nine Russian whaling shops off Mendocino and the whales, a heroic and dangerous undertaking, repeated these days by Watson's followers. He says it was his moral obligation to stop criminals from destroying the rich treasures of the earth. Trust me, the doc is hard to watch at times, and the lessons are hard to accept but it shows that there is hope as long as brave people fight for our air, water, and place on earth. Watson is part of the Impact Series www.theimpactseries.net and will be in select theatres Nov 7 and 10th prior to streaming on digital services.
A Teacher with 10, 30-minute episodes premieres Nov. 10 exclusively on FX and then on FX on Hulu. You may remember the case of the married 37-year-old Texas high school teacher who was imprisoned for an affair with her student, a leader in sports and academics. Kate Mara plays the teacher and Nick Robinson is Eric – she subtly grooms and seduces him, manipulating the situation to appear he was the aggressor. Her control increases as they take foolish risks, but looking back the signs were there, her hesitation in breaking their glances, spending time alone with him to tutor, leading headlong to their full-blown affair. They texted each other leaving a digital trail for investigators to follow. What she did was illegal and unethical. Her arrest shocked the community, his mother, her husband, and as the news spread, the country. She loses her license, serves time, and tries to re-establish herself, knowing hers is a familiar face, tied forever to her breach of trust.
FX offers the following resources for people finding themselves in difficult positions. A public service announcement from Kate Mara.
RAINN https://www.fxnetworks.com/shows/a-teacher/resources
Canadian documentarian Jason Loftus' Ask No Questions takes a hard look at the 2001 self-immolation of three protesters in Tiananmen Square a protest that barely made international news because the Chinese government cracked down on media coverage on the spot. A CNN reporter managed to secure footage used in this doc in her bra and to safety. The protesters were allegedly practitioners of the Buddhist spiritual and illegal group Falun Gong. Its members were being harassed, imprisoned in labour camps, tortured, and killed by the government. Falun Gong was the second most popular group in the country and threatened to overwhelm the Communist Party in top spot. Prisoners were forced to watch propaganda TV eight hours a day propaganda and have the government line drilled into them, forms of brainwashing. Loftus reports that they broke and admitted their "crimes". However, a Chinese media executive claims the fiery protest was staged and offers video proofs. Loftus reached out to Western journalists who had been onsite; they refused to comment or insisted on reporting anonymously. Loftus lays out the horrifying details gleaned after years of investigation. On Digital and On Demand.
Orla Brady stars in a new Acorn TV Original series The South Westerlies and her character is an enigma wrapped in a mystery. Kate's a single mum, hired to infiltrate a seaside village on the southeast coast of Ireland, where she grew up. Her mission is to convince the locals the wind farm a Norwegian corporation wants to build offshore is a good thing, without letting it be known she's working for them. The village and the company are at loggerheads, the residents depend on tourism and the sight of windmills just off the shore would be disastrous. The Norwegians say clean energy is the only way forward and besides, they'll pay. Tensions rise, fisticuffs in the local pub, and a deeply divided population. Thing is, Kate has a secret history in town, and that's why she escaped years earlier. Even we don't know till the time's right. Kate has a lot of secrets. And then she runs into the very person she ran from so she's feeling the heat. Kate is a rare lead character because she doesn't share her concerns with us, we learn as we go, which is tonnes of fun. The South Westerlies premieres Monday on Acorn.tv.
Recently I compared two comedy series separated by fifty years and found a world of difference on just about every level, so the world is working as it should (US election antics excepted). BritBox digs into the archives for the sixties British satirical comedy sketch show Do Not Adjust Your Set, a cult favourite that gave later life to some of the UK's most enduring satirical comic influencers, Monty Python, with Michael Palin, Terry Jones and Eric Idle as well as David Jason and sole female staffer Denise Coffey. Terry Gilliam's wonky animations and musical accompaniment by the insanely wacky Bonzo Dog Doo-Dah Band take it to the next psychedelic level. Sure, it's black and white but that was the Swinging Sixties, man. Skits are off the wall – watch shopkeeper reduce his customers to tears, stoolpigeon crime gangs, a godawful rendition of The Sound of Music, aliens in your lunchbox and the following insanity. This is a tease, you'll have to wait until Nov 28th!
Cut to 2020 and the politically fired performance art of comedienne in her Netflix comedy special Sarah Cooper Everything's Fine. The premise is that Cooper is an upbeat morning talk show anchor who doesn't believe a word of the feel-good pap she's told to say. Cooper's the one who famously and hilariously subs her image for Trump's voice and fires shot after shot at him, in his own words. Cooper's joined by bold type names who tackle gender, elections, social movements, and all things 2020. Watch for Jon Hamm, Jane Lynch, Winona Ryder, Whoopi Goldberg, Ben Stiller, and Dame Helen Mirren as Billy Bush to Cooper's Trump.