By Anne Brodie
A psychological thriller out of Teheran explores the ideas of multiplicity, climate change, and coping with a life-changing event that can't be explained. Subtraction from Mani Haghighi at TIFF Bell Lightbox, and Vancity is a gripping story of inescapable doom. that unfolds during a never-ending rainstorm. The repeated phrase "the North Pole is melting" sounds the alarm, setting what happens in a collective, tragically inescapable milieu. Farzaneh (Taraneh Alidoosti) follows a man she believes to be her husband Jalal (Navid Mohammadzadeh) on a city bus. She's stunned to see him there because he's supposed to be out of town; she follows him to an apartment building, watches him go in, and meet a woman. She confronts him at home, but he insists he was out on a delivery. They're both rattled and he tells his father he's concerned because she's acting crazy and off her meds. She finds the man once again and confronts him, only to discover that he is not her husband but his double, Mohsen. She will discover that she is the very image of his wife Bita in a freakish, inexplicable revelation. The foursome has difficulty accepting the reality of their situation, Farzaneh becomes sicker and the rains keep falling. We feel something bad is going to happen; it's an effectively suspenseful couple of hours as these doppelgangers try to retain their earlier lives, knowing they've changed for all time. Extraordinary.
British Writer/director Georgia Oakley's dour, layered drama Blue Jean shows the filmmaker's real promise. She explores a situation in which an 1980s national policy under Margaret Thatcher, may have devastating results for Manchester high school gym teacher Jean (Rosy McEwen). The Conservatives announced Section 28 to prohibit the "promotion" of homosexuality as a "pretended family relationship", which meant a gay person, like Jean, who has influence over young people could lose their position. And that in turn meant living a strictly closeted life. Jean's dilemma is real – she has a lover Viv (Kerrie Hayes) who pushes her to be more honest about who she is, even as the shadow of homophobia hangs over their community. A new girl Lois (Lucy Halliday) comes to class and is immediately bullied for being a "dyke". Jean realises it's so when the girl appears at her lesbian bar hangout, a dicey situation. She must retain teacher-student separation but also wants to signal to Lois not to out her at school. Things come to a head when a student sets Lois up for exposure. The performances are outstanding particularly McEwan who carries the heavy weight of this internal struggle. All about being true to oneself. Brave and capable debut feature. TIFF Bell Lightbox and select Canadian theatres.
Netflix breaks the animation mould with its thematically cutting-edge feature Nimona. Chloë Grace Moretz provides the voice of teenaged Nimona whose chaotic personality becomes a tool for bringing a threatened, ancient yet sleek kingdom through a terrifying threat and a series of challenges. The Knight Ballister Boldheart (Riz Ahmed) is formally recognized by Queen Valerin (Lorraine Toussaint) to carry on the proud legacy of the wise and powerful Gloreth (Karen Ryan) but something goes wrong and the Queen dies. The populace attacks him, based on the exhortations of a jealous, bullying soldier. His trusty, mouthy sidekick Nimona, a shapeshifter (a pink rhinoceros, a bear, etc) vows to stand by his side and saves the day again and again; but still Ballister doubts her. Their struggle to survive becomes ever more difficult as his uneasy feelings about her grow. His lover warns him against her, so she ramps up the pressure. But why? A wink and a nod in the character names BTW. Ballister's lover, Ambrosius Goldenloin (Eugene Lee Yang) brings a smile, there's Alamzapam, Kwispy Dragon, Sir Thoddeus Sureblade, I mean, come on. This engaging tale dares to enter the gender equality movement, it feels ancient yet immerses itself in today's zeitgeist. Directed by Nick Bruno & Troy Quane based on the award-winning graphic novel by ND Stevenson. Wonderfully original, winningly inclusive, merry, scary, and wise. In theatres now and on the streamer June 30.
Kim Cattrall is having a moment. She's a quirky, comic socialite in the new De Niro film About My Father, she's recorded a single scene for the S2 finale of And Just Like That… (without crossing paths with former castmates Kristin Davis, Cynthia Nixon, or Sarah Jessica Parker). And this week, she launches Glamourous on Netflix as powerhouse makeup magnate Madolyn Addison whose eponymous product line needs a bit of a rejig. Her son isn't cutting the mustard but Miss Benny (Marco Mejia) whom Madolyn hired on the spur of the moment, guided by instinct, turns out to be the force to save the line. Miss Benny is a young non-gender conforming queer whose life is makeup. Mejia has a BIG personality – and who better to match his energy and brilliance but Cattrall? A few misfires, misunderstandings, and awkward moments later, and despite losing product profiles in an Uber, Miss Benny rises to the top of Madolyn's respect list. And of course, he's immediately the subject of jealousy and plotting. The series is affirming for young non-binary people, with a message of optimism, and encouragement to live one's best life, recognise the good around us, and move forward without apprehension. Be yourself! Substitute any group outside the norm and you have a winning showcase for success.
The three-part docuseries Liv Ullmann – A Road Less Travelled makes its North American premiere on Viaplay today. Dheeraj Akolka's second doc on Ullman (Liv & Ingmar) shows us a woman whose unique beauty and spirit intrigued people. Ullman was Ingmar Bergman's muse and lover; he gave her some of the most important female film roles in the age of cinema, some calling her the greatest European actress of all time. Her face lent itself to extraordinary expression, placid yet alive. Cate Blanchett remarks "Her eyes show unconditional love … she goes soul to soul, speaks directly to the soul". Among Ullman's stellar admirers /coworkers on record are Jessica Chastain, John Lithgow, Jeremy Irons, Sam Waterston, Pernilla August, and Lena Endre. Her refusal to wear makeup ("I'm Norwegian") in the usually artificial medium of film, her early feminism, her careful choice of roles and her seeming overall contentment with life are inspiring. Ullman's interviews reveal a tender soul, a person with intellect and a deep well of emotion. She did make an action film with Charles Bronson! but is celebrated for her ethereally intimate screen presence. Those famous pregnant extended closeups? "I pause and think". To great effect. The film verges on hagiography but it's hard to imagine her setting a foot wrong. I had the great pleasure of meeting Ullman and watching her kneel before an ageing Ruth Gordon, take her hand and converse in low tones, speaking of her admiration for her. She goes for the soul, and she goes for the heart.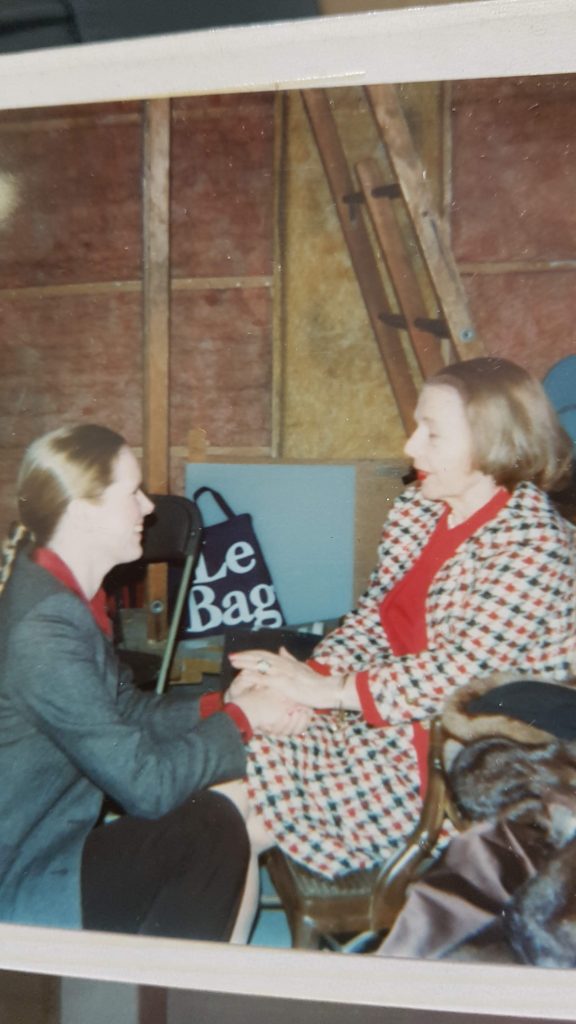 Just caught up with Carpool Karaoke: The Series on Apple TV+, the Emmy Award-winning in its fifth season, featuring two stars per eppie, one driving, one in the passenger seat, zooming through Los Angeles, singing. In related travel/music news Avril Lavinge skateboarded from her home in Malibu to the downtown LA production location – thirty miles! She meets YungBlud, a friend of fifteen years and they have a whale of a time dueting on each others' songs, sharing British and Canadian slang, and finishing with a rousing game of not falling on the ice at a hockey rink. Yungblud fell, and Avril skated like a pro and slapshot a goal. Another fun pairing, Cedric the Entertainer and Sheryl Lee Ralph, once of Dreamgirls, now known for her roof-raising sung Emmy acceptance speech. Turns out Cedric is handy with Gregorian chant while Ralph delivers a soul-stirring Ave Maria. Of all the eppies, theirs is the most musically diverse. Another Canadian Alanis Morissette meets superfan supermodel Cara Delevingne who close their music-heavy car session with a bang, and a couple of sledgehammers. The series is doing fine in its new format with guest pairings – Lea Michele and Darren Criss, the casts of Girls5eva and Ghosts, plus Alison Brie and Danny Pudi.
Tramps! doc from Canadian director Kevin Hegge Tramps! spotlights London's post-punk scene took subsequently took the opposite direction and the kids decorated themselves had a fun, glamourous and sexualized lifestyle, as the New Romantics – fancy dress, dance that married ballet, electronica, runway style, and abstract movement, big dramatic sound, and art as major influences. London in the 80s was a hotbed of artistic expression, with a strong queer vibe, artworks as dresses, and more than its fair share of colourful characters. Hegge interviews surviving members of the scene whose names aren't well known here except for John Maybury and Derek Jarman, on the movement that inspired Duran Duran, Spandau Ballet, Marilyn, and Boy George. He appears in the doc as a young performance artist, model, and aspiring singer who worked in cloakrooms in order to steal from purses. The New Romantics loved a bit of makeup, extravagant gender-fluid presentation, and outfits with holes to expose the rear end and breasts, made from new-fangled lycra, no holds barred, larger than life, and youthful. Sadly the New Romantic era was cut short by overdoses and AIDS. In theatres.
To whet whistles for the upcoming Mission: Impossible – Dead Reckoning Part One, Canada's free, no subscription streamer Pluto TV ("affordable price of $0 per month") launches all six, count 'em, six prior MI outings. It's a "programming stunt" viewers will welcome as they will run all summer featuring Tom Cruise' stunning stunts. He'll be 61 on July 3! He does them all himself. So plan your mission to sit in your nice, safe chair and watch Cruise go! Mission: Impossible (1996), Mission: Impossible II (2000), Mission: Impossible III (2006), Mission: Impossible – Ghost Protocol (2011), Mission: Impossible – Rogue Nation (2015) and Mission: Impossible – Fallout (2018). www.pluto.tv