By Anne Brodie
Toronto actor/stuntman Simu Liu made the leap from Kim's Convenience to the Marvel Universe nabbing the lead role in Shang-Chi And The Legend Of The Ten Rings. It's finally landed, our hero entering the fray and saving the world, one great feat and one great leap after another. Director Destin Daniel Cretton creates a place in which physical skills and wisdom can save the day – not guns. Liu, also a stuntman and athlete is nimble and fearless, gracefully, effortlessly lifting the fight choreography. Liu's character Shang / Sean has daddy issues, part of an emotional life that's key to who he is, that's more developed than most superheroes. The rings have been the source of power for his family for ages, and his father tests him to see if he has the power to carry them. Shang escapes to the U.S. for a better life, away from his father, but of course, family has a way of finding us. Way to go Simu Liu! Also stars Awkwafina, Meng'er Zhang, Fala Chen, Florian Munteanu, Benedict Wong, Yuen Wah, Ronny Chieng, Zach Cherry, Dallas Liu, with legends Michelle Yeoh and Tony Leung.
Wild Indian begins on a reservation in the 1980s as the lives of two bored young boys, M'kwa and Teddo (Phoenix Wilson and Julian Gopal) are forever altered. M'kwa, who's introverted and angry and under caution by the priest at his school, is haunted by his parents' abuse and neglect. He's had it rough. The priest tells him the nature of being human is to suffer and offers him no hope. A girl he likes has a fella, nothing goes his way and he's reaching a boiling point. Teddo's a likeable kid with a big smile, always there to help cheer him, his only friend. The boys go to the woods with a gun to let off steam, and M'kwa inexplicably shoots dead a third boy. He keeps the bullet and it becomes a constant reminder of what he did and that he got away with it. Cut to decades later and M'kwa (Michael Greyeyes) is unrecognisable, a successful, worldly businessman and golfer with a beautiful wife (Kate Bosworth) and baby. Teddo (Chaske Spencer)'s festering in prison, covered in tattoos that cry for help. No longer the likeable kid with the smile he glowers at the world and dreams of a reckoning; on release, he crosses the country to California to confront M'kwa. They are utterly transformed one with a good life occasionally interrupted by his secret guilt, the other with nothing, and desperate for justice. Wild Indian has the classic good versus evil structure of a Greek myth in which people become other in suffering. A fascinating emotional thriller, informed by the laws of nature and what happens when they are broken. Written and directed by Lyle Mitchell Corbine Jr., and co-starring Jesse Eisenberg, who produced, Lisa Cromarty and Hilario Garcia III. In Select Theaters and TVOD now.
For more Michael Greyeyes, TIFF presents Wildhood from filmmaker Bretten Hannam, the Two-Spirit odyssey as part of the Discovery Programme. Filmed in English and Mi'kmaw and set on a reservation in Nova Scotia, its the story of two damaged young gay men, Link (Phillip Lewitski) who escape abusive homes and itinerant pow-wow dancer Pasmay (Joshua Odjick) and Link's little brother Travis (Avery Winters-Anthony) are running away. Link is searching for the mother who abandoned him, while Pasmay doesn't say much. He's attracted to Link and the three set off in his truck, no money, no prospects and living hope against hope. They cross Mi'kma'ki in search of better lives. Smokey (Greyeyes) comes to their rescue and offers a ride and wisdom when the truck breaks down. Desperation eventually gives way to hope and love, but not without harsh life lessons. TIFF Digital and in-person Scotiabank Sept. 11. https://tiff.net/events/wildhood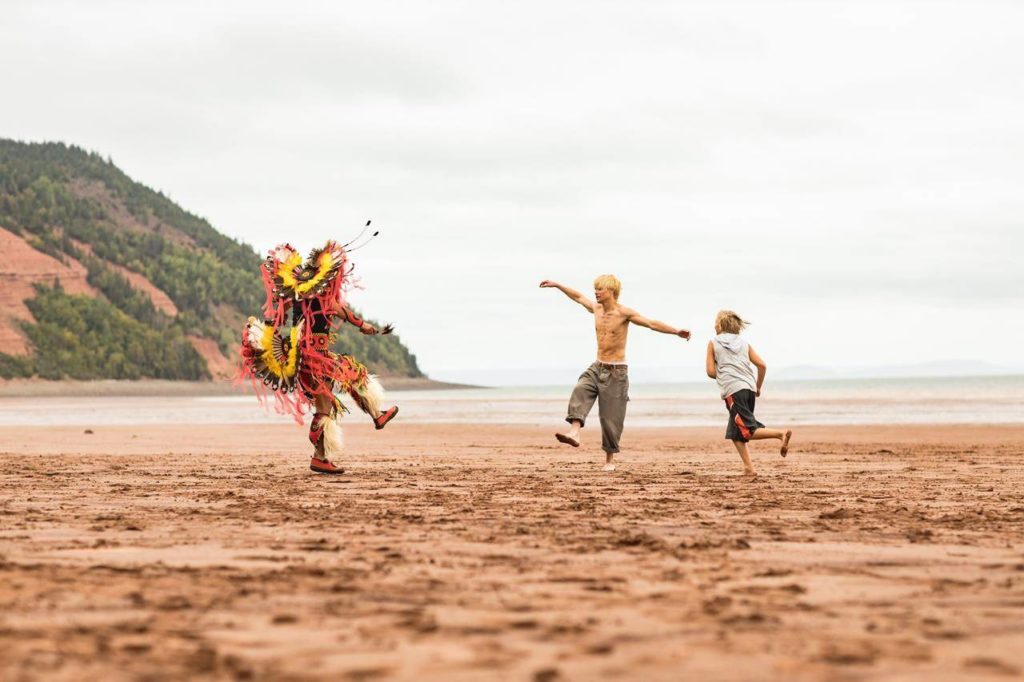 Mélanie Laurent directs and stars in a magnificent film adaptation of Victoria Mas period piece The Mad Women's Ball premiering at TIFF before hitting Amazon Prime Video on September 17th. Laurent plays Geneviève, head nurse at La Salpêtrière, a 19th century French sanitarium for women. Her strict use of traditional methods of dealing harshly with patients is tested when she encounters Eugénie, a lively, headstrong member of the upper-middle class, considered mad by her father. She claims to see and communicate with spirits and it seems she does have a gift of "seeing" living people in danger of dying. Eugénie is tormented by a sadistic nurse as the patients prepare for the annual Bal des Folles, a ball attended by curious upper-class types when she reveals to Geneviève something that will set a rebellion in motion. Brilliant and gorgeous to look at with stunning historical detail.
Riz Ahmed, hot off the success of Sound of Metal once again plays a performer facing life-altering health limitations in Mogul Mowgli. He is Zed, a Pakistani British rapper (Ahmed is also a rapper) on a journey like Ruben's. He's an outsider in many ways and at odds with his traditional family; he gets into street fights and raps about Partition and Bengalis and has a hot temper. He's losing the girl he loves, but he's on the cusp of potential professional success when he begins to feel unwell. He's forced to cancel his first European concert tour when he's diagnosed with a disabling auto-immune illness. His feet, hands and body no longer obey him. His mother says there is a strong Evil Eye on him and a fat man with flowers appears in hallucinations. Zed is at the nadir of his life. It's tough to watch this young man wrestling with everything that he is, knowing the outcome no matter how hard he tries to deny it. It's a highly personal film for Ahmed who says "It's a journey towards self-love rather than running away from who you are or where you come from." The multi-award-winning film is directed by Bassam Tariq, co-written by Ahmed and Tariq, and also stars Alyy Khan, Sudha Buchar, Nabhaan Rizwan and Anjana Vasan.
Billie Eilish makes her Disney+ debut with the concert special Happier than Ever: A Love Letter to Los Angeles, filmed at the legendary Hollywood Bowl. Robert Rodriguez and Patrick Osborne direct this intimate experience which includes animation, a virtual journey through Eilish' beloved city and features appearances by her brother and musical partner and rock FINNEAS, the Los Angeles Children's Chorus, the Los Angeles Philharmonic conducted by Music & Artistic Director Gustavo Dudamel, and world-renowned Brazilian guitarist, Romero Lubambo. Available now.
The deadly, three-day terrorist assault on the Paris-based political newspaper Charlie Hebdo on 7 January 2015 is seared into global memory; the siege spread to other areas of Paris and France, as the world watched in horror. Two French Muslim brothers, Al-Qaeda soldiers Saïd and Chérif Kouachi shot 12 dead and injured 11 others to protest cartoons mocking the Islamic prophet Muhammad the paper published in 2012. The brothers were shot dead. Europe was in shock but eventually, life moved on. Writer-director Ole Christian Madsen's Powder Keg looks at real-life events that followed, a terror attack on Copenhagen on Feb 14 and 15, 2015. Charlie Hebdo continued mocking Islam and more pockets of unrest popped up around Europe. Omar, who served time for five knife attacks was released from a Danish prison. Meanwhile, a group of Danish friends at dinner are at odds over what approach should be taken with terrorists. A policeman dedicated to his job is told he can't continue due to serious injuries in a drug bust. Omar tells an associate he wants to establish a Caliphate in Europe because Muslims aren't respected, as he stockpiles weapons. Tensions rise as what's about to transpire becomes clearer. Madsen builds the case through each characters' experience, and draws it out slowly, methodically, surely. It's not a Powder Keg, it's subtler than that, and a reflection of the fractured political world we're in right now, and the powder keg that is Europe. Stars Nikolaj Coster-Waldau, Lars Brygmann, Albert Arthur Amiryan and Adam Buschard.
It's called the third film "based on a meme". Karen, written and directed by Coke Daniels, is a tabloidy exploitation thriller about suburban white privilege and anti-Black racism. Community activist Malik (Cory Hardrict) and his blogger wife Imani (Jasmine Burke) move into a gracious home in an historically white enclave called Harvey Heights Plantation. I kid you not. Plantation. Karen Drexler (Taryn Manning) President of the Home Owners Association is Karen, the meme of social media culture, in full flower as a manipulative, raging bad neighbour to end all bad neighbours. She tells the couple to move away after extending empty overtures of friendship to collect information. The film hits all the notes you'd expect as Karen bursts forth; she casually says the wrong things when she invites herself to the couple's housewarming party, asks them awkward questions and watches them on a wall of security cameras pointed at their home while gleefully munching popcorn. Karen arranges for her secret racist society member cop brother to plant drugs on Malick not once but twice. The outrages continue when Karen calls her brother to entrap three Black teens walking near her home. Imali videos the event and things begin to turn around. It's pretty straightforward, bullet-point style storytelling, and frankly, how on earth did they get Taryn Manning or any actor to play that vile character? Yikes. A BET+ Original in theatres and TVOD now.
Impeachment, the third edition of FX' excellent anthology series American Crime Story dedicates itself to one of the biggest and far-reaching scandals to hit the White House, a situation so loaded that President Bill Clinton was impeached and its ripples were felt for decades to come. Clinton was proven to have lied when he stated he did "not have sexual relations with that woman" meaning WH staffer Monica Lewinsky, the intern he'd invited into his private WH chambers and seduced. Lewinsky played by Beanie Feldstein, was moved from the White House to the Pentagon as she and Clinton spent too much time together. in the Department of Defense, she meets Linda Tripp (played by an utterly physically transformed Sarah Paulson) a widely disliked staffer/gossip/ extreme right-wing/troublemaker who was also in exile. Tripp, always keen for leverage, groomed Lewinsky to share secrets about her affair with the President and planned to go public in a book and get her due. There's much more at stake as the right-wing, smarting from Clinton's Democratic win, begins to be what it is today and the genesis of some of its most notorious figures Rush Limbaugh, Ann Coulter, Roger Stone and Ray Cohn. Lewinsky comes off as a tragic figure, from 1993, as a wide-eyed intern with a crush on the President through the outing, her media excoriation, the impeachment and denouement. Margo Martindale's icily fab as dialled in publisher and tastemaker Lucianne Goldberg looking for a gossipy book that Tripp wants to offload. It's pretty heady stuff, this decay and mistrust in D.C. and the people it transforms. Impeachment was executive produced by Ryan Murphy and Lewinsky. Premieres September 7.
Shawn Mendes' girlfriend Camila Cabello stars in a fiercely modern spin on an old tale. Amazon's Cinderella is a heat-seeking missile out to destroy the old ideas of the put-upon girl without power, the victim of a classist, sexist society, cruel stepmothers and empty-headed Handsome Princes. Cinderella lives in a not-unattractive basement room in the house of her stepmother (Idina Menzel) and her foolish stepsisters (Maddie Baillio and Charlotte Spencer). Sure, Cinderella sweeps and sews and lays the fire, but the stepsisters do laundry as mother looks for rich men to take them off her hands. New Cinderella unlike her predecessor, has a passion for sewing, for designing beautiful dresses and plans to open her own business, unheard of for a woman in her kingdom. Meanwhile, the Prince (Nicholas Galitzine) is under orders from the King (Pierce Brosnan) to find a wife asap whether he loves the woman or not. Mother (Minnie Driver) sees he's wrong but is shushed when she speaks up. So he throws a wife audition Ball. Cinderella's made a dress but mother throws ink at it .. but all is saved when Fairy God Person Billy Porter Shows up to wave his wand and whoosh, she's on her way to the ball. Lots of modern messaging – "How do you feel when you look in the mirror?", it's ok to have a big personality, everyone is included, women can run a business, all-female brass bands are awesome, and a woman may have a crack at ruling a country and institute an anti-poverty initiative. Plenty of humour and nutty zingers, wonderfully diverse characters, stadium hits for the soundtrack and pizzaz on every level. It feels like it's trying too hard, but at least it tries. Written and directed by Kay Cannon.