By Anne Brodie
Sarah Polley's achingly poignant Women Talking, based on the book by ex-Mennonite Miriam Toews tells the fact-based story of women in an ultra-conservative religious colony in South America. They are victims of daily rapes, unwanted pregnancies, and physical and emotional abuse at the hands of their fathers, brothers and sons. The men, in prison, until they're to be bailed out, say it wasn't them, it was Satan. The women have precious little time to decide what to do, whether to do nothing, stay and fight or leave. Its time. Polley's star-studded cast of Rooney Mara, Buckley, Claire Foy, Frances McDormand, Ben Whishaw, Judith Ivey, Sheila McCarthy, Michelle Mcleod, Liv Mcneil, and Kate Hallett gather in the hayloft to discuss their generational, violent abuse. They are condensed, considered, and clear but rushed. August (Ben Wishaw), an educated member who was ex-communicated takes minutes as the women can't read or write. Some refuse to forgive ("forgiveness is permission"), going against their teachings. Their keen intelligence (never encouraged), desperation to escape, and understanding of the fallout make it clear. What happens in the conversations and the moments outside, the memories of the savagery of men and boys enforce them. Polley's excellent adaptation from the novel including the "narrator" gender switch is judicious, her direction down to the grey palette indicating faded brokenness and the need to be fixed, essential. Taking on a film with a huge cast like this, capturing the personal and community moments in balance, in the time of #MeToo had to be an extraordinary job of work. You'll be stunned into contemplative, deeply sad silence and work through it for days to come. In theatres.
Tanya Tagaq and Chelsea McMullan's shattering NFB documentary Ever Deadly spotlights Taqaq's performance, throat singing in concert, intercut with the harsh, otherworldly environs of Canada's Cambridge Bay (Iqaluktuuttiaq), Nunavut where she grew up and remains today when she's not on global tours. The Inuk performance artist's concert is something to behold. I've seen videos and single performances but never a full concert and I'm not sure my heart could take that emotional spiritual and a cultural grand slam. But I'd like to try. Her music and personal, daily life on the shale shores of our northern Arctic coast are the primary focuses, but we learn of her activism from MMIWG to defending the seal hunt – a tradition and necessity for people living on the land. But it is ever deadly, extremely dangerous, she says, walking over the shale and expressing her appreciation of the shimmering sound it makes, promising to add it to her next album. Through her elders, we learn of the Great Relocation when the Canadian government lured the Inuit population to new locations, promising food, education, and care only to find none of it. The government took ownership of their land for its natural resources. Taqaq is a member of the Order of Canada, and won the Polaris Music Prize and JUNO nods for her singing, avant-garde compositions and songwriting, although "song" seems too tight a definition for the ecstatic, pain-filled, gorgeous soundscape she produces. What an experience. In English, Inuktitut select theatres.
The fifty-year working relationship between renowned political writer Robert A. Caro and his editor Robert Gottlieb is the professional relationship I want. How marvellous to take seven years to write a book, part of a series of four thick volumes on U.S. President Lyndon B. Johnson, and have an "intelligent and sympathetic" editor you've trusted for most of your life. It doesn't mean they are close friends but they are happily dependent on one another to give shape and meaning to the work. There is a certain intellectual buzz between a writer and editor – I had editors for 26 years and now I'm on my own wishing for one. Lyndon Baines Johnson, the progressive liberal from conservative Texas was pressed into the US Presidency on the assassination of John F. Kennedy in Dallas Texas in 1962. Johnson is a fascinating character to Caro, as seen in his books The Path to Power (1982), Means of Ascent (1990), Master of the Senate (2002), The Passage of Power (2012), and the final book the duo is working on. It is a race against time given their advanced ages. Gottlieb, Caro's editor, who when he is not editing, works with two ballet companies, is another "Titanic" personality, like Caro, whose painstaking edits have led to "disagreements, but always in service of the work. Daughter Lizzie Gottlieb produced and directs the doc Turn Every Page: The Adventures Of Robert Caro And Robert Gottlieb. They wouldn't allow her to video them working but captured them well. Note: Gottlieb actually moved to LBJ's childhood hometown for three years to get a feel for Caro's subject matter; if that isn't a stunning act of respect and dedication to accuracy and imagination, I don't know what is. Just extraordinary, these two. Theatres.
Global launches Accused, a terrific new prime-time drama Jan 22, and following that, Wednesdays, a nerve-jangling, tightly-plotted anthology of strange crimes and ordinary people. Michael Chiklis and Jill Hennessy star in the premiere episode, Scott's Story, as parents look on with concern, and in her case, denial, as their high schooler (Oakes Fegley) exhibits alarming tendencies. The girl he likes dropped him and they put his strange demeanour down to that – he's disrespectful, dark, and obsessed with violent video games. The school tells them of his anti-social behaviour and threats of violence. As a child, he tortured animals, brandished weapons and more, and the proof is in the family archives. The neighbour's dog goes missing and he says he killed it. His mother dismisses and ignores the increasing signs of disturbance and feels relief when father and son go hiking. The son is strangely well-behaved, they get home and he says it was all a ruse, he'd meant to push his father off a cliff. Things get really real fast. Malcolm Jamal Warner stars in Kendall's Story about a father who takes justice into his own hands when he learns the identity of the person who sexually assaulted his little girl when her babysitter turned away. His friends advise him not to go to the police, just get the attacker. They gather and kill the person they believe is responsible. Creator Jimmy McGovern's series' directors include Chiklis, Marlee Matlin, and Billy Porter, with stars Wendell Pierce, Keith Carradine, Laila Robins, Rachel Bilson, Rhea Perlman, Abigail Breslin, Molly Parker, Margo Martindale, and more. Fifteen episodes.
BritBox's fact-based three-parter Stonehouse profiles the notorious Lord Lucan, aka John Stonehouse, played by Matthew Macfadyen, a British Labour Minister whose bizarre behaviour cemented his place in history. He served under Prime Minster Harold Wilson and held the decisive vote in an equally split Cabinet, making him an irreplaceable asset. Well, he was a bit quirky. Not only was he cheating on his wife (played by Macfadyen's real-life wife Keeley Hawes), he was scheming with his mistress to stage his own death, and meet in Australia which could cause Wilson's government to fail. Think this sounds odd, wait till you see what else happened, including an awkward Downunder threesome. Then he's recognised. Macfadyen adds a comic spin to this crazy story, creating a Stonehouse blissfully unaware and uncaring of anything or anyone outside himself, apt to say too much, and a bit of a fool. Oh, and he was spying for the Czechs. Yup. On BritBox now.
And a reminder about Bill Nighy's incredible performance in Living in theatres now. I reviewed it last week and was greatly moved by his character, his portrayal and the story of a British government worker who realises late in life that he never really lived and sets out to do so. Bring the tissues.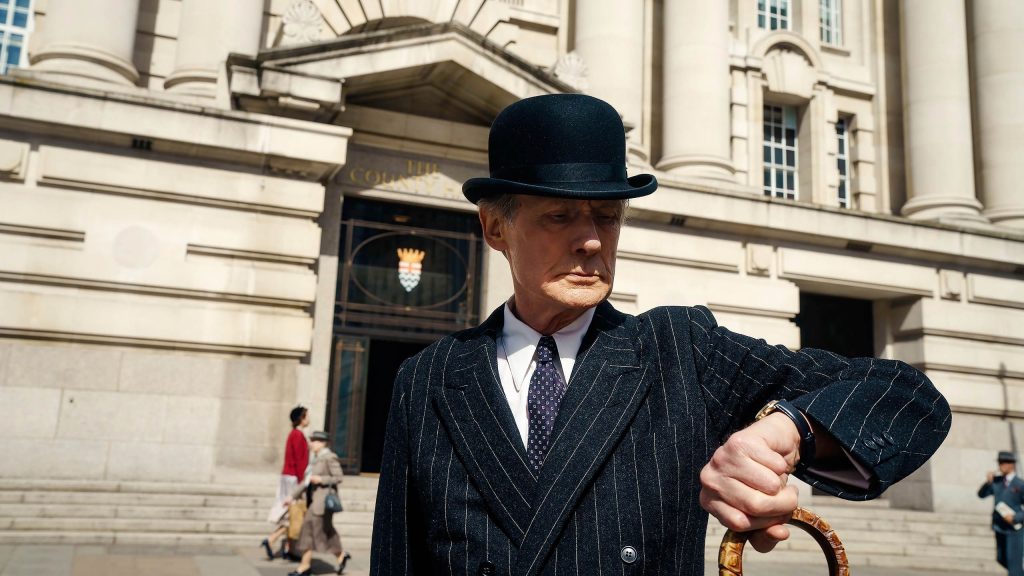 Also, The Son, starring Hugh Jackman as a father who finally realises the disruptive, tragic effect his affair and ultimately his divorce has on his young son. Devastating. In theatres.