By Anne Brodie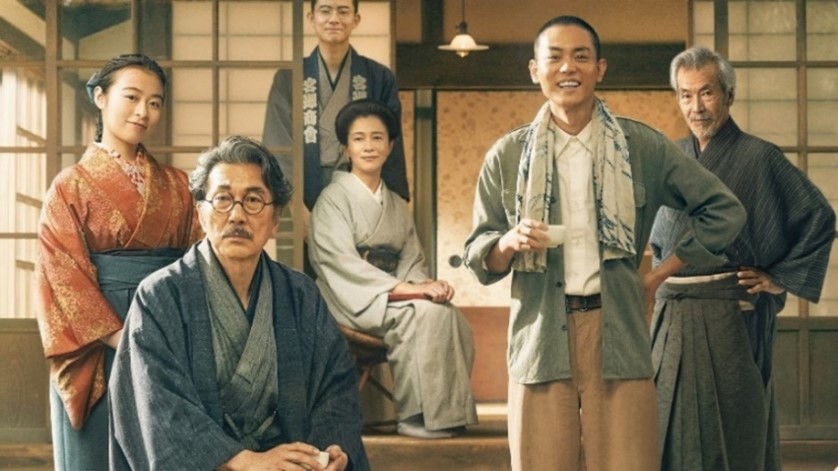 The Toronto Japanese Film Festival, one of our premiere film fests, drawing international films, fans and creators to town begins its 12th annual edition at Kobayashi Hall at the Japanese Canadian Cultural Centre, June 8 to 22. The Centre offers top current and premiering films, visiting filmmakers, musical performances, art exhibitions, and of course, Japanese food. A quick peek at this year's bounty:
FATHER OF THE MILKY WAY RAILROAD. TJFF's Opening Night International Premiere stars Cannes 2023 Best Actor Koji Yakusho. A heartwarming portrait of a father and son in the late Meiji era shows the loving bond between a literary genius from the point of view of his father. It is based on Kenji Miyazawa's Naoki Prize-winning novel. Director: Izuru Narushima Starring: Koji Yakusho, Masaki Suda, Nana Mori June 8.
WANDERING Intrigue and forbidden love and revelations are part of an unconventional relationship. Based on Yu Nagira's best-selling novel, and nominated for six Japanese Academy Awards, including for Best Film, Best Actor, and Best Actress.Director: Sang-il Lee Starring: Tori Matsuzaka, Suzu Hirose, Ryusei Yokohama, Mikako Tabe. June 9.
AS LONG AS WE BOTH SHALL LIVE Follow the trials and tribulations of a young woman searching for love in her marriage with a seemingly cold-hearted military commander in the highly stylized 19th Century restoration era. Director: Ayuko Tsukahara Starring: Ren Meguro, Mio Imada. June 10.
FRAGMENTS OF THE LAST WILL A heart-warming testament to the strength of the human spirit and the love between a husband and wife. Based on a true story. Director: Takahisa Zeze Starring: Kazunari Ninomiya, Keiko Kitagawa, Tori Matsuzaka, Kento Nakajima, Akira Terao, Kenta Kiritani, Ken Yasuda. June 10.
ANIME SUPREMACY A heartfelt comedy-drama about pursuing dreams without compromise provides insights into the competitive world of anime. Director: Kohei YoshinoStarring: Riho Yoshioka, Tomoya Nakamura, Tasuku Emoto, Machiko Ono. June 10.
BL METAMORPHOSIS This heartwarming film adaptation of Tsurutani Kaori's popular manga depicts the friendship between two women fifty-eight years apart in age. Director: Shunsuke Kariyama Starring: Mana Ashida, Nobuko Miyamoto, Kyohei Takahashi, Kotone Furukawa. June 11.
THE LINES THAT DEFINE ME North American premiere of director Norihiro Koizumi's sumi-e film. A fast-paced, and engaging love letter to the art of sumi-e, based on the novel "Sen wa, Boku o Egaku" by Hiromasa Togami. Director: Norihiro Koizumi Starring: Ryusei Yokohama, Kaya Kiyohara, Tomokazu Miura, Yosuke Eguch. June 11.
LONELY CASTLE IN THE MIRROR The latest from anime director Keiichi Hara (Colorful, Miss Hokusai). Kokoro is a junior high school girl who is ostracized at school and retreats, adapted from Tsujimura Mizuki's bestselling Young Adult novel. Director: Keiichi Hara Starring: Voiced by Ami Touma, Takumi. June 11.
OFFBEAT COPS -Naruse, a workaholic detective working on homicide cases, is strict with his subordinates and violent. Yet it is a comedic caper and a chronicle of failure and second chances, starring Hiroshi Abe. Director: Eiji Uchida Also stars Nana Seino, Hayato Isomura, Mitsuko Baisho. June 12.
SMALL, SLOW BUT STEADY Keiko, a hearing-impaired young woman, dreams of becoming a professional boxer, inspired by Keiko Ogasawara's autobiography and Winner of the Kinema Junpo Awards for Best Film and Best Female Performance. Director: Sho Miyake Starring: Yukino Kishii, Tomokazu Miura, Masaki Miura, Shinichiro Matsuura. June 13.
SILENT PARADE Yukawa is a brilliant physicist who helps the police crack unsolved cold cases through science and instinct. A box-office smash based on Keigo Higashino's popular series of novels featuring a stellar cast. Director: Hiroshi Nishitani Starring: Masaharu Fukuyama, Ko Shibasaki, Kazuki Kitamura. June 14.
A MAN From Keiichiro Hirano's novel, this searing investigation into the themes of identity and the nature of happiness won the Japanese Academy Awards for Best Film, Best Director, Best Screenplay, Best Actor, Best Supporting Actor, and Actress. Director: Kei Ishikawa Starring: Satoshi Tsumabuki, Sakura Ando, Masataka Kubota, Nana Seino. June 15.
YUDO [THE WAY OF THE BATH] In this light-hearted celebration of Japanese bathing culture, two estranged brothers inherit Marukin Hot Springs, a small-town bathhouse. Funny, heartfelt and occasionally surreal, it proves we are all equal in the bath! Director: Masayuki Suzuki Starring: Toma Ikuta, Gaku Hamada, Kanna Hashimoto, Fumiyo Kohinata, Akira. June 16.
ROLELESS Miyamatsu divides his modest life between jobs as a cable car operator and an extra in Japanese gangster and samurai films. Through a chance meeting, he is confronted with a different life – his own. This is a quiet, consistently surprising, and artful film with a superb central performance from Kagawa.Director: Masahiko Sato, Yutaro Seki, Kentaro Hirase Starring: Teruyuki Kagawa, Kanji Tsuda, Noriko Nakagoshi. June 17.
THE THREE SISTERS OF TENMASOU INN Ryohei Kitamura's huge swooning fantasy on the nature of love and loss is based on the popular manga by Tsutomu Takahashi and features a stellar cast. Director: Ryohei Kitamura Starring: Non, Mugi Kadowaki, Yuko Oshima, Shinobu Terajima, Kengo Kora, Hirayuki Masatoshi Nagase, Ko Shibasaki. June 17.
The Zen Diary A man lives alone in the mountains and still mourns his wife who died 13 years earlier. He forages food and cooks, writing about it in essays. He feeds his editor/lover while pondering determines what is worthy in life. June 17.
LESSON IN MURDER A seductive thriller about a diabolical serial killer on death row who contacts a young law student for help. Filled with shocking twists, unbearable tension, and an unforgettably chilling lead performance. Director: Kazuya Shiraishi Starring: Sadao Abe, Kenshi Okada, Takanori Iwata, Miho Nakayama. June 18.
RAMAYANA: THE LEGEND OF PRINCE RAMA This legendary Japan-India co-production tells the epic tale of the Hindu god Rama and his quest to rescue his wife Sita from the demon king Ravana. With stunning visuals and a captivating story that has been cherished for generations, this new 4K Digital re-master of the timeless tale will enchant audiences of all ages—winner of the Best Animation Feature at Santa Clarita International Film Festival 2020. Director: Yugo Sako, Kouichi Sasaki, Ram Mohan. June 18.
WE MAKE ANTIQUES! OSAKA DREAMS Japan's favourite fine-arts conmen – antique dealer Norio and potter Sasuke – are back so get ready to laugh! Nakai and Sasaki bring their great comic timing to another great yarn about the Japanese art world. Director: Masaharu Take Starring: Kiichi Nakai, Kuranosuke Sasaki, Shota Yasuda, Yuri Nakamura. June 18.
PLAN 75 Nearly one-third of Japan's population is over the age of 65 and with the lowest birth rates in the world, the country faces a historic economic and healthcare crisis. This thoughtful, beautifully acted inquiry into how we value our seniors won Caméra d'Or Special Mention Award at the Cannes Film Festival.Director: Chie HayakawaStarring: Chieko Baisho, Hayato Isomura, Stefanie Arianne, Yuumi Kawai, Taka Takao. June 20.
WE'RE BROKE, MY LORD! TJFF Closing Night – North American Premiere, precedes Japanese debut Based on Jiro Asada's seminal historical fiction novel Daimyo Tousan, this samurai comedy-drama follows a peaceful young man and his salmon-dealing father. A light-hearted, fast-paced slice of screw-ball samurai entertainment with sumptuous costuming and an all-star cast. Director: Tetsu Maeda Starring: Ryunosuke Kamiki, Hana Sugisaki, Kenichi Matsuyama. June 22.