By Anne Brodie
Beloved Apple TV+ phenom Ted Lasso returns for a third season, at long last! The multi-award-winning series for both earlier seasons continues the magic brewed from a winning cast and superior writing and plenty of goodwill. Lasso (Jason Sudeikis) the American, cornpone southerner, continues to run the bottom-of-the-heap Premier League AFC Richmond near London. He and his team, composed of players from around the globe and bombshell boss Hannah Waddingham) are cruelly mocked across the media; their star coach Nate (Nick Mohammed) is gone, now working for Rupert (Anthony Head) owner of arch-enemies, West Ham United. So how to inspire the lads? In true Lasso style, he takes the unconventional route, a team tour of the London sewer system. His take? Look at the sewers, 1200 miles of connected tunnels and sewers as hooking up to one another's internals and the rest is just … poopy. Let it flow". This is the kind of unexpected, hilariously easygoing kinda guy he is; the lads absorb the message of healing. Stuff like this with its imaginative, unconventional bent has captured our hearts and imagination. With its great warmth, bracing wit, dialogue and pacing, the idea of overcoming obstacles with a true animate heart; a global moment together is endlessly appealing. His team is enchanted by Ted and his spirit as we are. Like you, I just like spending time with these people. Eleven Emmy wins so far. March 15.
A heart-tugging, film-loving smartypants with a wicked tongue rules! Isaiah Lehtinen is Lawrence in I Like Movies a comedy-drama about a high school cinephile who gets a job at Sequels Video in Burlington, the true-ish story of filmmaker Chandler Levack. She worked at Blockbuster in Burlington. Lawrence is a bright, unpopular kid, a poor student obsessed with films. He realises that hard work could make him a successful person, like those kids getting diplomas onstage, so he applies himself and becomes one of them in order to study film at NYU's Tisch School of Arts. He has difficult relationships with his bestie Matt, his widowed mother, and everyone else. He's scathing, dropping verbal bombs without considering the feelings of those bombed. For instance, he tells his only friend Matt (Percy Hynes White) that he is a placeholder friend and is surprised and angry when Matt gets a girlfriend and abandons him. Lawrence's long-suffering mother refuses to pay for his overdue debt at Sequels so he charms his way into a job there. His boss Alana (Romina D'Ugo) feels sorry for him. Turns out his verbal sparring and showing off is his hard impenetrable exterior under which lies a confused, lonely guy. This character study, tell-all and comedy-drama seems fun 'n' games to start but develops complexity and emotional power in deep ways. Terrific stuff. I Like Movies opens on March 10 in Toronto, Vancouver, Montreal and Burlington, and throughout the spring in other cities.
Takeshi Kushida's Woman Of The Photographs opens with a young woman (Toki Koinuma) entering a photographer's storefront and asking for a picture of herself for a matchmaking site. She's young and attractive; the proprietor's not surprised when she insists that he retouch the photo entirely. Kai (Hideki Nagai) has a box filled with before and after shots of women, meant to deceive and mislead. He doesn't speak much, avoids women, and is obsessed with insects; he keeps a pet praying mantis. While in the forest photographing bugs, a woman falls out of a tree. Turns out she's Kyoko, a dancer, (Itsuki Otaki) and social media influencer with sponsorships driven by her social media presence.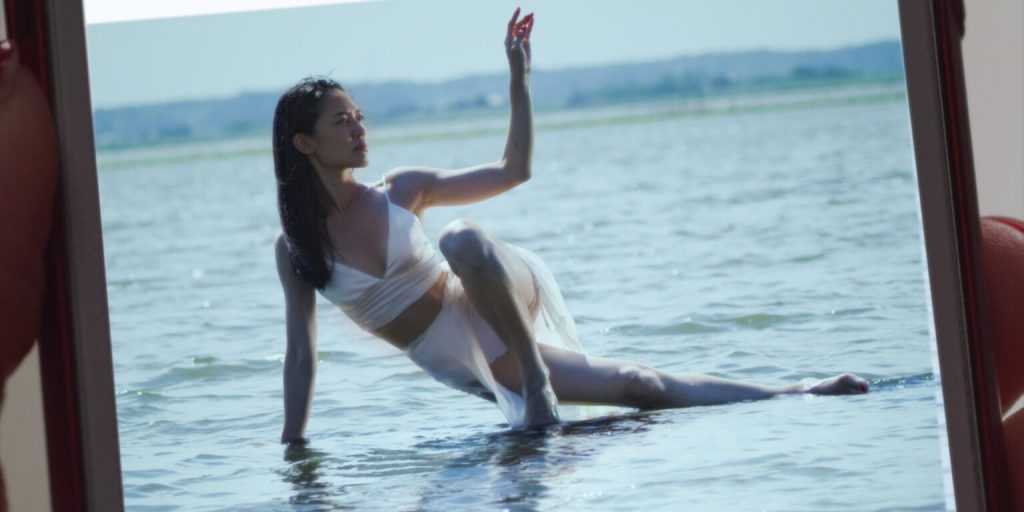 Kyoko sustained big bloody cuts in the fall and didn't get the shot she'd wanted, so he takes her to various locations and to his home to pose for him. Theirs is a quiet, tit-for-tat relationship, she looks after him and he provides her with artful photos. But one day her sponsor calls to say her contract's cancelled because she's lost followers; they've tired of her perfection. She posts a shot with her bloody wounds visible and the fans go wild. Now she has to prevent the wounds from healing. This strange little number's seductive; it depends on quiet so we can see inside their thoughts, ponder parallels between humans and bugs, and the tyranny of social media and realise that yet another woman has succumbed to body dysmorphia. TVOD.