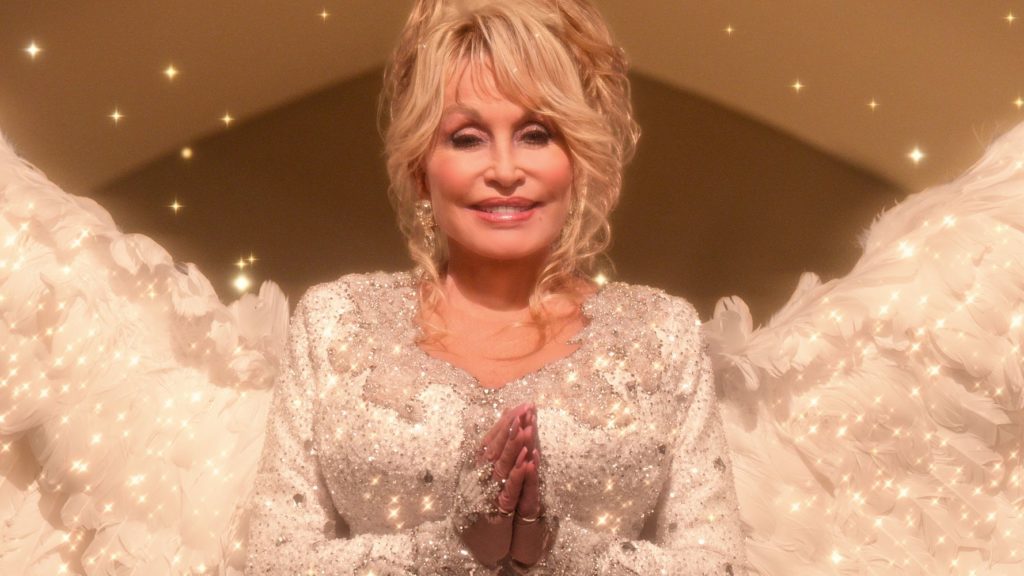 By Anne Brodie
I can't say adequately describe how extraordinary is FX' new three-part series Black Narcissus. Based on Rumer Godden's 1939 novel about British nuns setting up in an abandoned castle in the Himalayas, it's a stunningly beautiful psychological, even spiritual look at the results of too much beauty, religion, and too much desire. Charlotte Bruus Christensen's outstanding adaptation starring Gemma Arterton, Alessandro Nivola, Dipika Kunwar, and in her final screen performance, Diana Rigg was filmed in Nepal, so those landscapes are breathtakingly real. Under beautiful skies and mountain shadows, symbols of the natural world we can barely comprehend, Sister Clodagh (Arterton) leads the young nuns of St. Faith. They will convert the locals, introduce time by ringing their bells every hour in a place where time is non-existent, and fulfill British imperialistic imperatives. Teach and reform the savages. They pay a price for their arrogance, as a previous group of Catholics found. The tragic air of the place sits side by side with its beautiful intensity as the nuns question their faith and the place. Mr. Dean, (Nivolo) an escapee from western culture is to be their caretaker but he's not down with what they're serving. The nuns look askance at the ancient erotic drawings on the walls while little by little lose their grip. It's a slow burn. Just three episodes begin Nov 23 and the following day stream on FX on Hulu. My favourite new series this year.
English actor Riz Ahmed's mind-bogglingly great as a heavy metal drummer turned inside out when he suffers sudden, irreversible hearing loss in The Sound of Metal. The nuances of Ruben's journey "illustrated" via a remarkable audio and soundscape shows us what it must be like to be hearing impaired or a deaf person imaging hearing. The sounds of conversation, leaves rustling, birds chirping, car horns honking – are close captioned and we hear what silence to him is. We viscerally feel the silence that engulfs him. It's terrifying; he's angry and helpless, and he's four years clear of heroin, so there is this tension of potential backsliding. Ruben makes quick decisions that often derail his purposes as his mind is clouded by everything he's been through. His caring girlfriend (Olivia Cooke) leaves him in a deaf community home where he begins the struggle to stay sane and alive, The exhilarating, exasperating and ultimately beautiful story will linger, and perhaps encourage some to learn sign language. Ahmed is phenomenal, especially as he's using an American accent. Unforgettable feature début from writer-director Darius Marder. Oh, and Ahmed will play Hamlet in an upcoming film set in contemporary London. In select theatres Nov 20th and On Demand Dec 4th
Mohawk filmmaker Sonia Bonspille Boileau looks at Murdered and Missing Indigenous Women and Girls in the hard-hitting, heartbreaking drama Rustic Oracle, winner of 26 national and international awards. The film opens with a trigger warning and numbers to reach MMIWGM and no wonder. Four thousand Indigenous women and girls' lives have been lost in Canada over the last forty years; the population is just 4% but one-quarter of murders of Canadian women have taken place on unceded land. A single working mother of two girls (Wet'suwet'en actor Carmen Moore) is distressed by her rebellious elder daughter Heather (McKenzie Deer Robinson) and her acting out. Eight-year-old Ivy (Lake Delisle) sees a white man approach her sister in the schoolyard and she doesn't come home that night. Mother is frantic as she tries to calm Ivy, but it is soon clear that Heather is missing. We watch events, emotional and otherwise unfold from Ivy's point of view – the unkind blow against her innocence, their desperate fight to find out what happened, and a road trip to the Montreal MMIWGM offices for help. The tension is almost unbearable at times. Ivy knows now that the world is cruel, and it's painful to know she knows. But her spirit is fighting for air. The film's authenticity, through skilled direction and performances, shows us that there is always the possibility and gift of hope. Rustic Oracle was shot in Oka, in Kanesatake Mohawk Territory with an Indigenous cast and crew. Available on VOD.
Claes Bang stars with Guy Pearce in the fact-based art thriller The Last Vermeer. It's May 1945, the Nazis have left Amsterdam and Bang's Cpt. Piller is investigating the sale of stolen precious Dutch-owned artworks to Nazis. He will return them to their rightful owners, mostly Jews, and punish those who collaborated with the Nazis. Pearce' Han van Meegeren, an eccentric painter and society favourite, known for his bacchanalias stands accused of selling Vermeers to Hermann Goering, a treasonous offense punishable by death. Piller is convinced that Meegeren is innocent, and examines every piece of evidence, bill of sale, and statement to prove it; he has his word. Pearce is hypnotic as a pixie-ish, narcissistic charmer with a deep understanding of human nature and an ability to use it for his own purposes; on the other hand, he's generous and gives his estranged wife everything he owns including hundreds of properties and billions in currency. He's a fascinating character but hard to pin down. The simpler Bang isn't immune to Meegeren's wiles but finds himself in a dangerous game of cat-and-mouse that puts into question our most basic beliefs. It's fairly standard but the tension grips nicely in this, the directorial debut of Dan Friedkin, executive produced by Ridley Scott, and based on the book "The Man Who Made Vermeers" by John Orloff. In select theatres.
Writer-director Alexander Nanau's Collective reveals the nightmare that is public health policy in Romania. We may not have been made aware of it if it hadn't been for the fire at the Collective Disco in 2015 that killed 27 and injured 180. There was a single entrance/exit in the building when sparks ignited equipment on the stage, causing a deadly rush, as victims writhed on the floor in agony. That was one horror. The next came at the hospital where survivors were treated. Their conditions worsened rapidly from the moment they arrived. A sports reporter got wind of this and followed what transpired over the next fourteen months. Patients weren't dying from burns or smoke inhalation; they were dying from bacterial infection from the hospital's septic environment. No hospital in Romania was safe; they used sanitizers diluted to as little as I % strength and bred the most aggressive bacteria in Europe. The filmmakers traced the disinfectants to Hexl Pharmacy and disocvered a conspiracy between hospitals, government and Hexl. Hexl's owner dies under surveillance, the health minister resigns suddenly and is replaced by an idealist who tries to hold back the tide. Things only get weirder. Riveting thanks to the excellent storytelling abilities of Nanau and his investigators. Collective is available Nov. 20 on Apple TV+ app and the iTunes store, and select theatres Nov 27.
Sundance Now has Cold Call, a series about a woman's revenge on telephone scammers who victimised her. Sally Lindsay plays a single personal care worker just laid off from a Manchester care home who receives a phone call from a man who seems to know her personal situation. He's reassuring and wants to help with her finances and because he's so compassionate and knowledgeable, she hands over her ID and passwords. She loses everything. Her ageing mother confesses that she'd spoken to the man on several occasions and shared family info. In her guilt, she commits suicide so her daughter can at least have insurance money, which is then denied. She joins a victim support group and meets a private citizen waging a seven-year war against scammers; together they plot to bring them down. He knows who targeted her. The plan is for her to take on a job caring for the head scammer's elderly mother. She must go through his papers, find evidence, and report him. It's not too hard as his wife and children don't have much use for him and he's rarely home. And so, it begins in dramatic style.
American Thanksgiving, 1971, a man aboard a 727 jet from Portland to Reno hijacks the plane, demands, and receives $200K and a parachute, and jump out into driving rain and darkness into mountain bush country. He was never heard from again. HBO and HBO Max' release The Mystery of D.B. Cooper from John Dower Nov 25 and it's a heck of a tale. The deeper Dower and his crew dive, the more mysterious Cooper becomes. There is a suspect, backed by solid evidence pointing to him, then another, and another and another and so on. People claimed to be Cooper, who by then had gained cult status, and convinced family and friends it was true. In 1980 a boy on a Columbia River beach found a bag with a stash of cash that was traced to the hijacker, a trans woman confessed all to friends who owned an airplane hangar – they said she was an excellent pilot. Emotion runs high in people the team interviews who claim Cooper as family. A copycat hijacker is sentenced to 45 years in jail, escapes, and is killed by law enforcement. This is the nuttiest story you may hear in a while, all of it documented in archival footage and current-day interviews. A woods hermit is keeping track of the case via a gerry-rigged intelligence center in his trailer. And a compelling walk with a man who has combed for years the bush where Cooper may have landed. He says there is zero chance Cooper lived. . An excellent doc that forces engagement, I wasn't that interested but was made to care but the sheer volume of twists. It remains the only unsolved airplane hijacking in United States history.
I promised doggies and Amazon Prime Video has 'em! The Pack is a new global reality show in which a group of dog owners and their charges travel the world together to compete for the big prize. Gold medalist Lindsey Vonn, a serious dogger, and her co-host Lucy, lead twelve teams. Among the challenges, the dogs "serve" dinner to guests aboard the Queen Mary, zipline, swim, surf, navigate waterfalls, rope bridges, ride a Ferris wheel, watch the Vienna Boys Choir, ski, serve Bratwurst in a four-hundred-year-old bar, and so on, in Austria, Costa Rica, Mexico City, Venice, Italy, and Switzerland. There is a LOT of yelling "Woo Hoo!!" and I worry about the dog's stress levels, but it's kind of doggone cute.
Netflix has interior designer and lifestyler Benjamin Bradley to help you make this Pandemic Holiday a warm and wonderful, tasty, and beautiful time in easy ways. Home Makeover with Mr. Christmas brings together a family to celebrate under one roof. He starts outside, with tips on lighting and décor that isn't out of sight or ridiculous – but invitingly seasonal. Then its inside to mount a holiday tablescape, set up interior lights and decorations, the tree – mind you, he has a builder, decorator, detail gal and to help, but I'm sure you can rope in your quarantine bunch with the promise of gingerbread lattes, and a lighted fireplace. Here is his recipe for a special dough destined to become tree ornaments. Mix 1 cup each of flour water and sugar, roll out and punch a hole for hanging string before baking at 250 for 2 hours. Then paint bedazzle, go nuts. Trim the mantlepiece, put lights in and around, and enjoy.
And now for Dolly! The enduring and quasi-magical icon plays an angel – just like in real life – in Netflix' holiday film Dolly Parton Christmas on the Square! On the night of the US election, I calmed myself by tuning in and it carried me away from the nonsense, and as Pandemic Christmas is a certainty, it's is also the balm for distracting from that too. Parton plays the Angel who keeps watching over the town square and its citizens, and she wrote all the songs and lyrics. You can't have too much Dolly. I was fortunate enough to interview her and felt an overwhelmingly positive vibe that I'll never forget.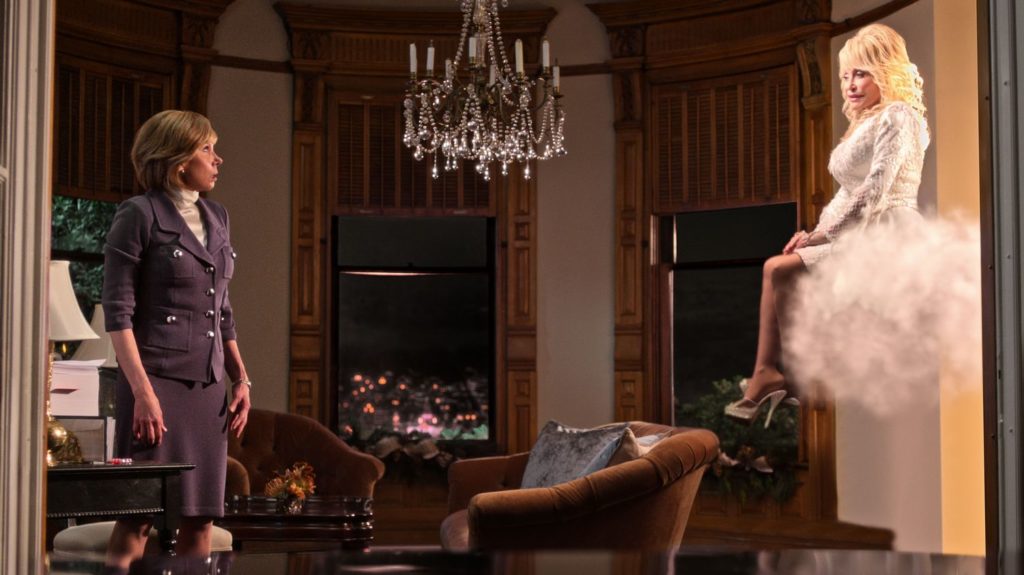 Christine Baranski on the other hand plays the local unofficial boss of the town with problematic local relations. She has a biting tongue and little patience for the regular folk and she a secret plan to sell the town to the Cheatemall developers. Her high school beau Treat Williams sings and stars as an antiques merchant on the Square who protects the town's memories, and we get to know the locals and their concerns. Like an old-fashioned TV special, there's plenty of singin' and dancin'. Crammed with festive décor, sentimentality, and loose ends coming together and that's no crime! This year alone, Dolly Parton has donated $1M to Moderna's COVID-19 vaccine research, millions of books to children, launched a bedtime reading series for children during the pandemic, and released Songteller, a new album. Dolly says she just "wants to do good". (me weeping softly)