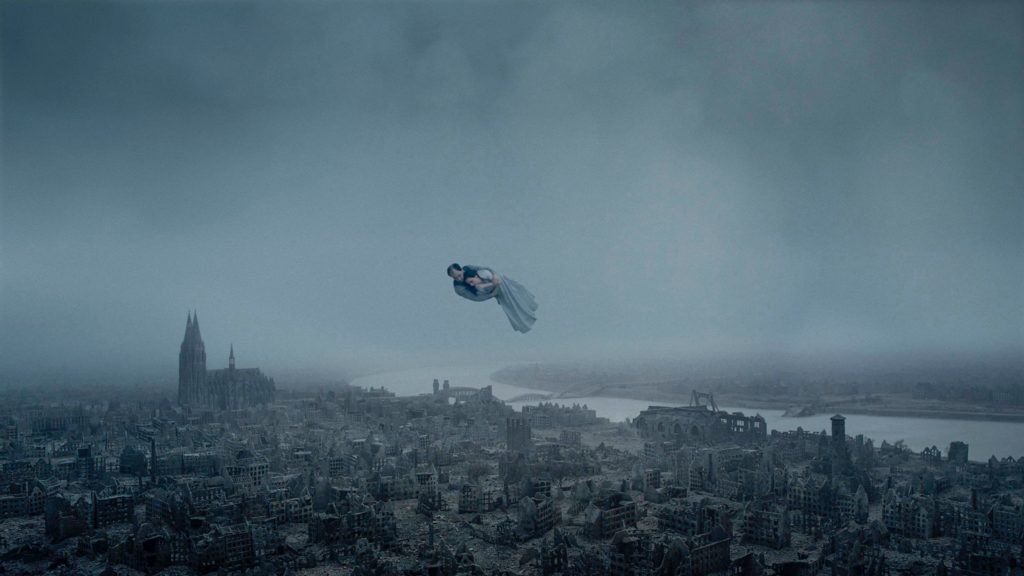 By Anne Brodie My pick this week is the Apple TV+' Mosquito Coast, a remake of the Harrison Ford / Helen Mirren / River Phoenix drama of 1986, both based on Paul Theroux's novel about a family on the run. The original was shatteringly intense and it was the first time I interviewed River Phoenix. Theroux's nephew Justin Theroux executive produced and stars in this eight-part series re-up, timed for the 40th anniversary of the book. It tells the story of radical idealist and brilliant inventor, Allie Fox (Theroux) and his wife Margot (Melissa George) and their children played by Logan Polish and Gabriel Bateman. They've lived as survivalists off the grid for nine years, under six different identities, the children have been trained to be watchful, resourceful, competent and smart and avoid society. No TV, no cell phones, video games, no friends to the house. The kids have never been told why but are now old enough to ask questions; unfortunate timing as the feds are onto them. The family has moments to escape an approaching convoy of cops and moves with practiced pre-emptive, strategic skills. Allie is arrested, but his 15-year old daughter kidnaps him from police custody, then it's off to cross the border into Mexico and that's when the cruelty of what the parents have done to their children becomes clear. They are in mortal danger playing cat and mouse with border officials, the FBI and armed local militia, plus the terrain is treacherous. Beautifully written, directed and photographed, Mosquito Coast is addictive. Phoenix' family lived as radical nomads as they moved about the US and abroad. They were tight. Parents were always present at interviews with the young actors River, Leaf (Joaquin), Rain and Summer. There's an omnipresent Monarch butterfly following the family in the new series and I like to think it's a tribute to River.
Tom Clancy's Without Remorse takes up his character Navy SEAL John Clark (Michael B. Jordan) as he vows to wreak vengeance on the four men who broke into his home and murdered his heavily pregnant wife. He killed three but one got away. Finding the fourth is his sole existential mission because, without his wife and daughter, nothing else matters. His search for intelligence and justice takes him into various hellscapes in Afghanistan, Syria, Moscow, under the Barents Sea, and worst of all, Washington DC where he uncovers a conspiracy with far-reaching tentacles. His family's murder and the murders of his team members' families on American soil was payback for a SEAL mission against Russian fighters. Jamie Bell plays Ritter, a government operative with a chip on his shoulder against Clark may be part of the problem. Incredible danger scenes, including being shot down by a Russian fighter jet, extended underwater sequences and constant firefights raise tension and there is little relief but we're with Clark whose need for payback supersedes his need to survive. That single passion drives the film set against the backdrop of political manipulation. It's interesting given Clark's state of mind and various timely elements but otherwise, a pretty standard actioner. Amazon Prime Video.
Film festival favourite, Scott Abramovitch's Eat Wheaties! stars Tony Hale as a Sid Straw a regular middle-aged schlub with a job, a girl and little ambition. But when he's made co-chair of the U of Penn West Coast division reunion and Elizabeth Banks may be there, he leaps into action. Sid was friends Banks in college and he hopes to re-up their friendship, not as a star but as a person. he shows a photo of them together and subjected to mean, unthinking ridicule -no one believes him. Sid uses social media to contact her but overdoes it, unaware that his revealing posts are public. Banks don't respond but her agency does, filing a restraining order against him. The posts go viral, he loses his job, reputation, girl, home and car and moves back in with the 'rents. He's a well-meaning guy who wouldn't hurt a fly, but he's also an optimist. He keeps sending her harmless notes, unaware he's now a "stalker". He hires an almost-attorney (Paul Walter Hauser) who actually takes him seriously and together they hope to reinstate him as a good guy. The opening chapters are gently downcast and get darker as Sid struggles to maintain dignity even with his family, in the face of his cluelessness. But after a long hard slog, the final chapters come roaring back to life. Co-stars Robbie Amell, Elisha Cuthbert, Sarah Chalke, Danielle Brooks, and Alan Tudyk. This adaptation of Michael Kun's 2003 novel The Locklear Letters is updated for the social media era when things happen a lot faster. And Hail to hale who handles a delicately balanced role with endearing soul. TVOD
I'm a Brian Tyree Henry fan, and he shines in the intimate feel-good / character study The Outside Story. A guy who lives alone due to a recent painful breakup buries himself in his work as the In Memoriam obit editor for Turner Classic Movies; he's on edge as legendary star Gardner St. James is ill. He's working on a pre-emptive obit to be banked or used depending on St. James' fate when he locks himself out of his Brooklyn brownstone. Lucky for him it's a nice day because he's shoeless, and his cell battery's also dying. A bit of a recluse, he's forced to interact with neighbours, a snippy upstairs resident who offers limited help as he's busy in a three-way, brats outside throw water balloons at him, a young girl takes him on fun rooftop adventures then visit an elderly lady next door where the girl plays a stunningly piano piece that moves him to tears. Sounds simple, and it is simply delightful, but there are deep issues and emotions felt simply by breaking routine and doing the unexpected. It refreshes his soul; he finally feels a connection with his community and he's able to lend a hand to people while they do their best to get back inside. His enemy parking cop becomes his friend and they find a superlative sandwich. It has tremendous charm and as promised, raises spirits. His day of transformation and awakening feels magical at times. Tyree is as usual, outstanding, as is the cast – Sonequa Martin-Green, Sunita Mani, Olivia Edward, Olivia Edward, Asia Kate Dillon, Maria Dizzia and Michael Cyril Creighton. TVOD.
Roy Andersson's stunning meditation on human nature is one-of-a-kind. About Endlessness is 76 minutes of sequences, some with dialogue and many without, moments savoured and despised, describing human behaviour. The between-worlds colour palette of clay browns and beiges shaded whites and misty blues permeates the scenes and wardrobe, an effective to guide our eyes without distraction. "I saw…" begins most vignettes but there are no conclusions or debate. A man in an all grey apartment doesn't trust banks and keeps money under his mattress, a couple floats over a city destroyed by war, a crucifixion parade turns through a curved street, a woman waters a plant in a row of beige storefronts, Hitler enters a room of exhausted confederates, a priest is losing his faith, a woman who thought no one was waiting for her at the train station, an open coffin in the desert, an honour killing, a man crying on a crowded train car, a defeated army marching to prison in Siberia. just a few of the many rich details in this study of us. This is a major work of art by any measure, an authentic look at what we do. TVOD including digital TIFF Bell Lightbox.
The late great civil rights activist Senator John Lewis is a touchstone in Son of the South, a fact-based story of a remarkable young Alabama man who stands up against his southern upbringing and culture to serve a greater good. Lucas Till (McGuyver) plays Bob Zellner, a college scholar who gives up his full scholarship to an Ivy League university to join and the civil rights movement in 1961. Writer-director Barry Alexander Brown takes us to small-town Jim Crow south where white supremacists don hoods at night and set flaming crosses on lawns of those sympathetic to the nascent Black rights movement. Zellner sees the evil of racism and joins the cause and the Black Student Non-Violent Office. He's subjected to violent harassment even from his grandfather (Brian Dennehy) who promises to kill him if he joins the integrated Freedom Ride of young idealists including Lewis. So why was Zellner different from the racist townsfolk where he lived? His father, a Lutheran minister and Klansman happened to run into a gospel choir from his hometown while visiting Moscow; he quit the KKK and gave his son new values. He joins forces with the Durrs a wealthy Communist husband and wife to move the issue forward, along with Rosa Parks and a brilliant young Black woman (Lex Scott Davis) and love interest. The FBI and the media, following the Freedom Riders, come to town where tensions reach a head, a mess in ways only hate can make a mess. But the seeds of freedom are sown. Spike Lee executive produced the film and the late Maya Angelou gave the project her blessing in the film's earliest days. TVOD
Writer-director Grégory Magne's Perfumes peers into the sensual world of scent and observes disparate characters – a professional "nose" and her down-on-his-luck chauffeur – who go on a journey that binds and transforms. Anne Walberg (Emmanuelle Devos) is – or was – an internationally renowned nose – perfumer creator – until she lost her sense of smell and faked an inferior perfume. She's climbing her way back, she hopes, doing odd jobs, like removing a raw stench from luxe handbags, recreating the smell of a prehistoric cave to scent a fake cave for tourists – btw – oak, moss, mineral, camphor, earth, orris. Wahlberg is pretty high and mighty and a driver she hires (Grégory Montel) takes it because he is desperate for money. Little by little she comes to depend on him and he tones down her hard streak. He's fascinated by her occupation, learns, and goes to great lengths to help and protect her and they are honest and blunt with one another. This lovely tale of friendship, set in a world foreign to most of us, soothes the soul, piques imagination and compassion. And hey, a mini-course of nature's perfumed gifts. A real pleasure. TVOD
A wonderfully witty and groundbreaking new sitcom has launched on Showcase and StackTV, focusing on a small New England town dominated by the hugely successful indigenous-run casino and the local founding fathers' faction seeking to maintain traditional Puritan /settler values. Rutherford Falls, from Ed Helms, Michael Schur and Sierra Teller Ornelas, has fun with these clashing cultures in witty, funny and respectful ways. First of all, who knew Canada's own Michael Greyeyes, known for drama and dance, is effortlessly funny? And who is this wonderful young actress Jana Schmieding who steals all the scenes? Greyeyes plays the casino owner, an astute businessman who knows what time it is, Helms plays the founding father-in-charge and Schmieding is the indigenous college grad who works for the opposition, i.e., the founding fathers' Rutherford Museum and shunned in the rez. Her love interest is Schitt's Creek's Dustin Milligan. An appealing transgender actor plays her assistant with plenty of charm in this beautifully inclusive series. The starting point is the statue of a Rutherford Puritan founder that stands in the middle of the Main Square. Should it be ripped out? The series is rich with potential and what I saw in the first few episodes has me hooked!
Sundance Now offers The Bad Seed, an intriguing New Zealand police procedural based on the books by Charlotte Grimshaw; this one focuses on generational evil. Brothers Ford and Simon Lampton came from the same broken home and took different paths – Ford, the underemployed moocher lives with Simon, a well-to-do obstetrician whose family seems just about perfect. Simon controls his image and wife and daughters but allows himself a mistress. Next door neighbour Julie Stevens is found stabbed to death, sending shockwaves through their exclusive enclave but not particularly shocking her ex-husband. Roza is the spoiled, image-conscious wife of a candidate for Prime Minister who seems fixated on the Lampton family. The female detective investigating the murder has good instincts, and something tells her there may be a crack in the Lampton's facade. As Ford, an occasional arborist says "Something is rotten. Things rot from inside and then one day everything collapses". Sho' 'nuff. Lots more twists and turns add up to an engaging whodunnit.
Acorn has Bäckström, a nifty new detective series from Sweden, featuring a snarky, self-satisfied middle-aged detective who doesn't care if you like him. Evert Bäckström is endlessly disdainful of others, arrogant, sure of himself and not above mocking anyone inferior to him. Which is everyone. He manipulates legal procedures to get the outcomes he wants and while he gets results, he makes a lot of personal and professional enemies. However, his other persona is a vibrant, fascinating TV commentator, who parses current cases for adoring audiences. One day a woman's skull pierced by a bullet, is found on Ofards (Misfortune) Island. No one has lived there since two milkmaids were burned to death generations before. And even stranger, evidence points to the woman's death five years earlier, but further DNA testing reveals the woman actually died in a Thailand tsunami 13 years prior. Various oddballs like the Aryan-styled Scout leader with anger management issues, a Croatian refugee boy in Sweden who has a head for forensic detail, and more. Bäckström's off to Bangkok, Thailand to speak with the dead woman's family. Bäckström's hidden talent, believe it or not, is empathy. While in Thailand he "sees" the tsunami, and "feels" the pain and fear of those caught in it and those left to grieve. He "feels" situations that sometimes lead him to clues. Maybe that's why he keeps people a bay, too many feelings. Fascinating. Premieres Monday, April 26, based on Leif GW Persson's book Can You Die Twice? and shot in Gothenburg, Västra Götalands län, Sweden and Thailand.
The Smithsonian Channel, available across Canada, has launched a new series called Murderous History, looking at infamous international cases that remain in the public consciousness long after they happened. The May 2nd episode looks at Chicago's White City Devil, the gruesome tale of H.H. Holmes, an entrepreneur, con artist, and Bluebeard responsible for at least 27 and perhaps 200 murders, the first documented case of a serial kller in the US. In 1893, Chicago was host to the World's Fair and it built a neo-classic "white" city featuring exhibits and innovations from every corner of the globe. Twenty million tickets were sold as visitors streamed into the city; Holmes saw easy pickins. He built a three story business building to house various enterprises – factories, offices and a hotel, but had no intention of using them as such. It was what the papers called a Murder Castle with secret compartments and walkways, trapdoors, peepholes and other dark details. There he is believed to have killed two sisters, a mother and young girl and his business partner. There was no forensic science, just skeletal remains for police to investigate. Holmes took his show on the road, burying two children in the basement of a house in Toronto and others in various American cities. Erik Larson published his historical non-fiction book The Devil in the White City: Murder, Magic, and Madness at the Fair That Changed America in 2003. Tom Cruise purchased film rights and was to star, but nothing happened, then Martin Scorsese bought them as a property for Leonardo DiCaprio but that too sputtered.

And good news for streamers – and that's most of us! Canada's Mongrel Media, home to some of the best and award-winning independent international films has launched its own streaming channel Mongrel Home Cinema. In honour of Chloe Zhao, the first Asian woman, the second female director and first woman of colour to win Best Director and Best Picture for Nomadland, Zhao's stunning feature The Rider will launch May 4th. Sign up here:
Here's my review of The Rider from April 27, 2018. "The Rider is one of the most powerful, hypnotic films I've seen, and that's saying a lot. Chloe Zhao follows an indigenous cowboy, Brady Jandreau playing himself, as he goes through a season in the Badlands of Pine Ridge, South Dakota. He lives in poverty, dedicated to his horse and those he trains in the area. Zhao documents a profound, unforgettable moment in real-time as Jandreau breaks a wild horse, creating a bond that has it's precedent millennia ago and here it is, played out before us. It is enchanting, primeval and provocative. But the starting point for the film is the concussion Jandreau suffered falling from a horse and the way it limits him. He won't talk about it for fear of being perceived as less-than in the macho world of rodeo cowboys, so he deals with it alone and often unwisely. He fronts tough but we see inside his soul the vulnerability and capacity for love of family and his horses. Zhao's precision and intuition help make this the stunning work that celebrates Jandreau and a way of life the defined the country in so many ways."