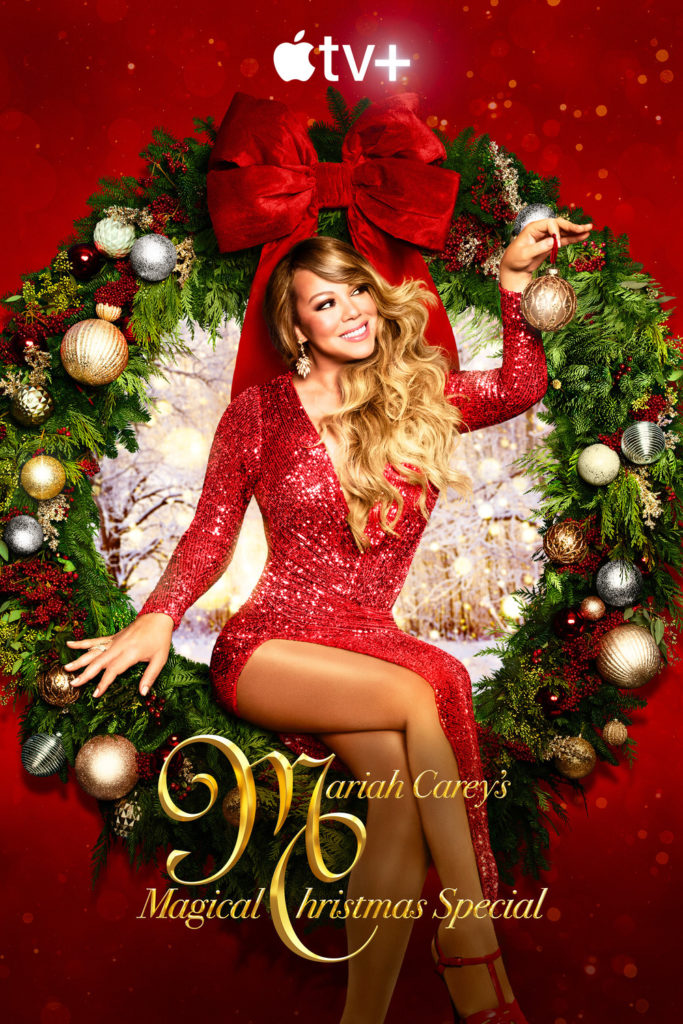 By Anne Brodie
Mariah Carey learned early in her career the wisdom of creating Christmas content – it's a license to be extremely wealthy and relevant for all time; her signature tune All I Want for Christmas Is You returns to the holiday charts for the 26th year in a row! And on Dec. 4th, Carey's latest instant TV classic Mariah Carey's Magical Christmas Special debuts on Apple TV paving the road for reups till the end of time. Tiffany Haddish, Billy Eichner, Ariana Grande, Jennifer Hudson, Snoop Dogg, Jermaine Dupri, Misty Copeland and Mykal-Michelle Harris and Carey's twins Carey's twins, Moroccan + Monroe will join her. Storyline is thus: Santa's having problems at the North Pole that only Mariah Carey, the Queen of Christmas can make right. The special features a soundtrack single and new music video for Oh Santa! co-written by and featuring Carey performing with Ariana Grande and Jennifer Hudson feat, will include cool musical guests. Mariah Carey is the best-selling female artist of all time with more than 200 million albums sold to date and 19 Billboard Hot 100 #1 singles, eighteen of which she wrote herself. I haven't watched it, but you can bet your boots I will.
Don't miss Mank, Netflix' ambitious biography of Hollywood screenwriting legend and character Herman J. Mankiewicz. Gary Oldman is transformed as a fat, boozy, searingly witty Mank as he was writing the script for Orson Welles' 1941 masterpiece Citizen Kane (1941). Director David Fincher doesn't look away from Mank's unfortunate booze fueled meltdowns, some in high-toned, career essential company (Wm Randolph Hearst, Marion Davies, L.B. Mayer) effectively ending their support. Mank spends a lot of time in bed, under guard nurses who watch his booze intake – they miss a lot – trying to work under the overbearing Welles who will not consent to give the man a credit. Mank endured the humiliation because he needed the money, but you know how it turned out, Welles' juggernaut changed the movie landscape for all time. Mank won the Academy Award for best Screenplay, the only award of nine Citizen Kane nominations. Fast paced, mature, black and white and heavy on the old Hollywood stories and nostalgia, this is a fun distraction that I don't take at face value. I'd like to see a more firmly realistic series that takes its time to explore ideas and stories only hinted at. A great line referring sarcastically to Louis B Mayer's "rich Canadian imagination". He grew up in Saint John, New Brunswick. Music by Trent Reznor and Atticus Ross.
Lawrence Michael Levine's mini-Who's-Afraid-of-Virginia-Woolf called Black Bear parses three characters in deep distress in three chapters. The first focuses on the vulnerable marriage of lakeside cabin owners Gabe and Blair played by Christopher Abbott and Sarah Gadon from the point of view of their writer guest Allison, played by Aubrey Plaza. Allison (Plaza) witnesses petty cruelties between her husband and wife cottage hosts that worsen over a couple of days. Knowing that Blair (Gadon) is especially troubled Allison sleeps with Gabe (Abbott). There's a bear rooting around outside. Plaza stars in the last chapter as an actress shooting final scenes of a film in that same cottage. Abbott, now her husband, directs, and Gadon is on the sidelines, as producer. Its Allison's turn to go full on ballistic as she sabotages the final scene shoot with booze, verbal attacks and tonnes of self absorption. The bear's nearby, and the film they're making is called Black Bear, the characters are fluid and its all very meta. As compelling, unusual, fresh, and beautifully as it is, I'm all in. Plaza's searing performance is so achingly authentic, one worries for her post-shoot bounce back. Available in select Canadian theatres and on VOD and Digital.
Have you caught Freaky yet?Its an innovative body swap serial killer story with great sense of humour and awesome performance from Vince Vaughn as you've never seen him. High schooler Millie Kessler (Kathryn Newton) is used to being bullied at Blissfield High by purveyors of underage debauchery. Her home life's repressive and she can't catch a break. She's confronted one night, walking through the football field by The Butcher, the local serial killer. A rip in reality causes them to switch bodies, so she's now a bloodthirsty slasher petite girl with just 24 hours to undo the switch before its permanent. As for The Butcher, he's now Vince Vaughn who talks and acts like a 17-year-old girl and he's danged good at it. Director and co-writer Christopher Landon offers a ballsy, refreshing and not so subtle satirical look at high school, bad teachers, gender identity and the whole slasher thing. Lots to cheer in this cool twist on a tired old saw. In theatres.
Karen Maine's Yes, God, Yes finds another teenager claiming her own life from those who would snatch it away. Alice (Natalia Dyer) attends Catholic School circa 2000 when AOL and boxlike, super slow computers were au courant. School is a grind; almost anything a teenage girl wants to do leads straight to damnation and eternity in hell, eating gummies or Cheetos, lying and masturbation. Father Murphy lectures the on sexual abstinence to mixed classes, which of course, doesn't put a stop to what happens outside the classroom. Alice enters a private sex chat on AOL that leads to her breaking the rules, launching a chain of events that is SO embarrassing. And she learns that they're all hypocrites. The kids, the teachers, her friends. She finally runs away and to a bar – a dyke bar – where a sympathetic middle-aged woman sets her straight on how to comport oneself with authenticity and purpose. Really funny, winning and cringey at times for her sake, but again this is a movie about an innocent discovering the real road to hell is paved with hypocrisy. Dec. 8 on VOD and DVD.
Jane Froggatt's career's on fire since breaking out as lady's maid Anna in Downton Abbey. Her latest series The Commons, from Australia,on Sundance Now, finds her living in the near future, as the climate crisis change leaves no doubt of its destructive power. Her region has run out of fresh water; the temperature is climbing; acid rain stings pedestrians and equatorial insects are bringing new diseases south. The poor class is in greater danger and need than ever while three thousand economic and climate refugees flood into the country daily. And Eadie has never achieved her dream of having a baby. IVF treatments have failed, she's miscarried leaving her traumatised. But she and her husband live comfortably "you one of those people who still own a car?". Her mental state is fragile, she dreams of giving birth to nothing, she's deprived of sleep and life becomes burdensome. As the planet fails and the worlds future seems dark, her desire for a child becomes a symbol of hope. Compelling and timely, and a cautionary tale that is probably too late anyway.
Jillian Bell who charmed our socks off in Brittany Runs a Marathongoes all princess magic as Eleanor in the Disney + Original Movie: Godmothered. Bell's joined by a terrific cast of older women– June Squibb, Jane Curtin, Mary Elizabeth Ellis and Isla Fisher? Bell's naïve young fairy considers Fisher's 40-year-old news producer single mom of two "old}. She's the current version of Mackenzie, a little girl who wrote to her Fairy Godmother decades ago. The letter was lost till Eleanor finds it, and she rushes to fulfill her duty to Mackenzie. Just a few tiny problems. She hasn't completed Fairy Godmother training and only knows life in the Middle Ages so there's fun fish-out-of-water action when she hits downtown Boston C 2020. Mackenzie isn't interested in a Fairy Godmother and long ago gave up on the idea of Happily Ever After, but Eleanor's wacky exuberance gets under her skin; wishes will be granted if Eleanor can prove she's up to the task. After a night in Mackenzie's "dungeon" (basement ) she makes over Mackenzie's house medieval style. Then she finds out Mack's handsome news colleague is Hugh "Prince". Lots of fun not just for kids but for middle aged ladies too! A sweet bit of satire on newsrooms, haughty anchors, young execs who know nothing. Pleasant, funny and warm.
This week's Christmas crush comes via Disney+; its stellar collection of classic holiday episodes of The Simpsons and Disney+ Originals are just what Santa ordered. You know about Godmothered, now here's more on the streamer:
LEGO Star Wars Holiday Special
Once Upon a Snowman
Noelle
High School Musical: The Musical: The Holiday Special
On Pointe
Arendelle Castle Yule Log
The Simpsons Christmas Episodes
Simpsons Roasting On An Open Fire (S1E1)
Marge Be Not Proud (S7E11)
Miracle on Evergreen Terrace (S9E10)
Grift of the Magi (S11E9)
Skinner's Sense of Snow (S12E8)
She of Little Faith (S13E6)
Tis The Fifteenth Season (S15E7)
Simpsons Christmas Stories (S17E9)
Kill Gil, Volumes I & II (S18E9)
The Burns and the Bees (S20E9)
The Fight Before Christmas (S22E8)
Holidays of Future Passed (S23E9)
White Christmas Blues (S25E8)
I Won't Be Home for Christmas (S26E9)
The Nightmare After Krustmas (S28E10)
'Tis the 30th Season (S30E10)
Holiday Movies on Disney+
Big, The Nutcracker and the Four Realms, Home Alone, Home Alone 2, Home Alone 3, The Santa Clause, The Santa Clause 2, The Santa Clause 3, Frozen, Frozen 2, The Muppet Christmas Carol, Mickey's Once Upon a Christmas, Christmas Carol, Mickey's A Christmas Carol, Mickey's Twice Upon a Christmas, Santa Paws 2, Miracle on 34th Street, Winnie The Pooh: A Very Merry Pooh Year, Disney's Fairytale Weddings Holiday Magic, Decorating Disney Holiday Magic, Beauty and the Beast: The Enchanted Christmas, Santa Buddies, The Ultimate Christmas Present, The Search for Santa Paws, One Magic Christmas, I'll Be Home for Christmas, Good Luck Charlie: It's Christmas!, Babes in Toyland, 'Twas the Night, The Christmas Star, Full-Court Miracle, 12 Dates of Christmas, Richie Rich's Christmas Wish, Olaf's Frozen Adventure, Pluto's Christmas Tree.