By Anne Brodie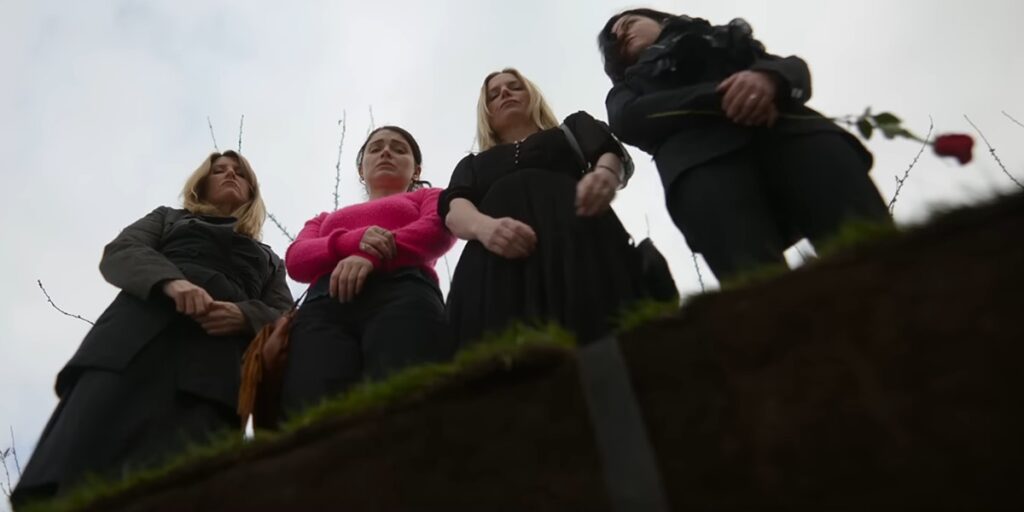 According to the shocking documentary The Territory, Brazil turns a blind eye to the genocide of its previously uncontacted Indigenous Uru-eu-wau-wau People. The tribe has lived in the Amazon rainforest for millennia and numbered in the thousands, but today only 180 remain. Over the course of making this documentary, one was murdered by "landgrabbers" and "settlers" determined to drive them out, and mow down the rainforest for cattle, farming, and free land. The world's largest rainforest is considered the "lungs" of the planet; its loss will accelerate climate change and threaten all life on earth. Filmmaker and producer Alex Pritz and Darren Aronofsky partnered with members of the tribe to make this stunning doc and provided them with state-of-the-art camera equipment, drones, education, and connectivity in their desperate fight to save their traditional homelands. Militant right-wing President Jair Bolsonaro called for their genocide and the seizing of traditional Uru-eu-wau-waus lands and they have been inundated with invaders. Environmental activist Neidinha Bandeira and the tribe's 20-year-old leader Bitaté Uru Eu Wau Wau scout the woods, keep track of deforestation and alert the sympathetic media. Bandeira endures death threats, and in one terrifying sequence, receives an alarming but thankfully fake call from her "daughter" to say she'd been kidnapped. The Uru-eu-wau-wau people hope the film and message will go global, let's help them by viewing and considering activism. In Toronto and Vancouver theatres now, in Montreal Aug 26 with more cities to come.
Marriage stale? Well, you might think to Get Away If You Can, a shocker of a love/hate adventure that challenges our ideas of what love is. Filmmakers, stars, and real-life married couple Terrence Martin and Dominique Braun venture forth on a yacht to escape the humdrum of ordinary life. His plan is hard and fast – as drummed into Terrence by his abusive father played by Ed Harris – to reach a certain island and shake off the modern world. He doesn't care that his wife is unhappy. She's bored living in the boat and insists they go ashore to a nearby island for a while; he verbally abuses her, as his father does him, and refuses. His father also tells him to take hold of "Domi" to intimidate and dominate her and teach her who's boss. His father and brother launched a sadistic campaign of cruelty they call Operation Ditch Domi – she's too modern, a liberated woman. Her experiences with them are nightmarish. Dad promises Terry the business if he dumps her. In her misery, Domi jumps in the dinghy, heads ashore, and sets up camp as he yells and watches helplessly from the yacht. Days pass and he begs her to return, but she won't. He comes to her and they thrash out a Who's Afraid of Virginia Woolf co-existence that's unbearably uncomfortable, and strangely intriguing. The Pacific Ocean is a dominating character, changing and eternal, against which this psychological thriller is set. In select theatres and TVOD.
Bad Sisters is a juicy, funny and dark tale of revenge verging on the Shakespearan as the four Garvey sisters conspire to take the abusive husband of their fifth sister out of the picture. They all live comfortably in an idyllic seaside Irish village and share an extremely tight bond. Just one fly in the ointment – Grace (Anne-Marie Duff) has married a physically, psychologically, and verbally abusive man JP (Claes Bang). He strikes terror in the sisters' hearts including his wife's, but she is unable to take action. Sisters Eva (Sharon Horgan), Bibi (Sarah Greene), Ursula (Eva Birthistle), and Becka (Eve Hewson) are at their wit's end. They do their best to protect Grace but she won't engage. He delights in shaming them according to their weak spots and always hits the mark; then smiles in derision or lets his temper fly; he is their master. Within this context, the series is also brutally funny. The girls have that Irish storytelling gift and are wonderfully entertaining but at the end of the day, he is always around. Bibi says it's their duty to murder him, they laugh it off but one by one join up. They create a scenario to explode his beloved cabin in the woods when he's in it … but can they go through with it? And what about this insurance agent villain? How much more can they take? Bad Sisters is a sprawling family drama grappling with huge moral issues, hilariously funny, black dark and constantly surprising. Huge props. On Apple TV+.
Canada's Tatiana Maslany enters the MCU superhero universe as an ambitious young lawyer who wants nothing less than to be a superhero in She-Hulk: Attorney at Law. She is Jennifer Walters and has her eye on the District Attorney's office. But after a day and with her cousin Bruce Banner aka The Hulk ( Mark Ruffalo), she is 'infected' by the genetic component that makes him a Hulk. And now she's a 6'7″ green Hulk too and there's nothing she can do about it. While driving, a spaceship comes at them, and the car crashes and careens over a cliff where her Hulkness allows her to rescue Bruce. And it helps her when she's threatened by drunks coming out of a bar. She and Bruce are suddenly – and I mean suddenly – in his basement office in seaside Mexico Tony Stark built for him, where she will be trained ("Spandex is your best friend.") to control her anger and how to handle the "mood swings". She must use the power of anger when necessary to save lives and do good in the world. Still, she's determined to get back to her job and pre-Hulk life. We get to know her because she speaks directly to us sharing her frustrations with this new life hiccup. Jennifer sets a high moral standard in her work as a lawyer and we know she'll harness her Hulkness to help in more direct ways but Bruce warns her that regular anger can easily explode into death and destruction. Wait till you see what happens in the courtroom. Also stars Tim Roth as Emil Blonsky/Abomination and Benedict Wong/. The series is based on the 1985 graphic novel The Sensational She-Hulk by writer/artist John Byrne. On Disney + now.
Eddie Marsan and Monica Dolan are John and Anne Darwin, a prison guard and retired teacher living seaside in Hartlepool, UK. They have two sons, lots of expensive toys, and a mountain of debt. John convinces bankers to loan him money he will never be able to repay for things like Range Rovers with all the accoutrements, and twelve rental properties he can't pay for. He just enjoys buying himself luxury items. The BritBox original four-parter The Thief, His Wife and The Canoe begins as John gets an idea to solve their problems and Anne eventually agrees to go along. He will go to sea in his canoe and disappear, and she will collect his insurance money. After doing the deed, Darwin lives in the wild; his appearance changes and he returns home to live in the flat beside theirs that he owns. Adjoining doors divide a normal-looking life from his secret, bare bedsit with a single chair on which he sits to listen to police and insurance agents grill his wife who pretends to grieve when her emotions are more along the lines of terror. Christmas lunch is creepy as he eavesdrops on his wife and visiting sons. He decides they must move abroad under new identities; she resists knowing she won't see their sons again. So it's off to Panama. They return some years later and he's spotted by a prison co-worker, and the insurance company won't pay out because there is no death certificate. But he soon cooks up plans for all that. His depravity and greed are off-the-charts, and Marsan plays him with plenty of wild-eyed gusto.
Netflix's new mystery series Echoes looks at the secret world of identical twins and the things they share. Gina and Leni (Michelle Monaghan), as different as night and day, share a habit. Since they were children, they've successfully swapped lives without anyone catching on. Present-day Gina is a high-powered publisher in LA, hard as nails and married to a therapist (Onye Eme-Akwari) who is equal to her. He notices travel brochures for Lake Tahoe and wonders what she's planning. Leni is a wife and mother running a horse farm in Virginia, she's sweet and empathetic. And yet they are able to slip into each other's clothes and identities to reach certain ends, live in two homes, with two families, and all that entails with incredible ease, after all, they've rehearsed for decades. Gina rushes to Virginia when she is unable to reach Leni; she's greeted by Missing Person posters, a heavy police presence, and a rural community on edge. Her angry brother-in-law Jack (Matt Bomer) puts his guard up. Locals gossip about the family's tragedies. That night after a bitter battle with Jack, Gina walks into the dark woods to a cave, known only to the twins. Leni's clothes are laid out for Gina to wear; she reappears at the farm with a southern accent and soft manner, a relief to the family. Cut to Paris where the sisters celebrate their shared birthday and a memory of one of their great switches. Back home, Jack finds two passports in Gina's room and tension mounts. So who was it that went away? Schitt's Creek's awesome Karen Robinson as the police sheriff offers brilliant comic relief to this florid tale.
Love Nature celebrates International Orangutan Day today with its original three-parter Becoming Orangutan, on the brand's global platforms now – it is a must-see. We travel to the Borneo Orangutan Survival Foundation along the Rangan River where rescuers gather abandoned and displaced newborns and teach them the ways of being orang before returning them to the wild. It's an exacting process that in one male's case took 13 years. Jungle School has three blocs of learners – nursery, junior and senior squads – and daily personalized lessons. They are schooled in building tree tops nests, using tools, foraging for food, cracking open coconuts, learning to avoid Borneo's many venomous snakes and swinging across forest canopies where they will spend 90% of their lives, among other life-saving skills their mothers would have taught them over eight years. All are regularly monitored for health and the staff knows well how to deal with traumatised anxious babies after horrific starts in life. On "graduation", the orangs are sent to Pre Release Island to prove they can fend for themselves and are then choppered back into the wild. This doc is optimistic, charming, and packed with information but let's face it, the main draw is watching these little critters, so genetically close to us with those big eyes and playful, intelligent spirits up close. I watched with an ear-to-ear smile, knowing they are being protected and witnessing the marvel of them. Love Nature Gives Back has teamed up with the Borneo Orangutan Survival Foundation to raise awareness for orangutan conservation against modern threats. https://www.lovenaturegivesback.com Love Nature is available on Prime Video and Apple TV+
Amazon Freevee's new comedy series Sprung concerns jailbirds suddenly released due to the pandemic, who quickly abandon their plans to do good in the free world. Greg Garcia's nine-parter stars Garret Dillahunt as Jack, Martha Plimpton as Barb, Phillip Garcia, Shakira Barrera, James Earl, and Clare Gillies. They're released with clothes and $40 to wander aimlessly wondering what the heck to do now. One fella offers a place to stay for a few days in return for $40 so off to his mother's (Plimpton) where she quickly cooks up a criminal scheme to rob the local black market toilet paper mogul of his paper and money by any means necessary, which leads to constant stacked little criminal deeds to get to the TP and $. Plimpton – an actor who can do it all (Mass) – is an old-fashioned shrew who browbeats them to commit to a criminal life as her own personal gang. Learn to pick a lock, plot a successful heist, steal from a vending machine and you name it. This is as low-brow as it gets. Series guest stars include Kate Walsh, Fred Grandy, Steven Ogg, Susan Ruttan, and David Wells.