Earth Day has passed and Earth Month has come to a close, and the greenwashers have now exited the building. They've made the money they can off us, and are making marketing plans for the next calendar holiday. Am I being harsh? Chances are I'm not being harsh enough, none of us are. The status quo simply isn't going to cut it anymore. We need to embrace the green economy now, shun greenwashing, and be open to new realities. Some of this is going to hurt a little, but it's certainly better than the alternative. Let's first look at a few hard truths.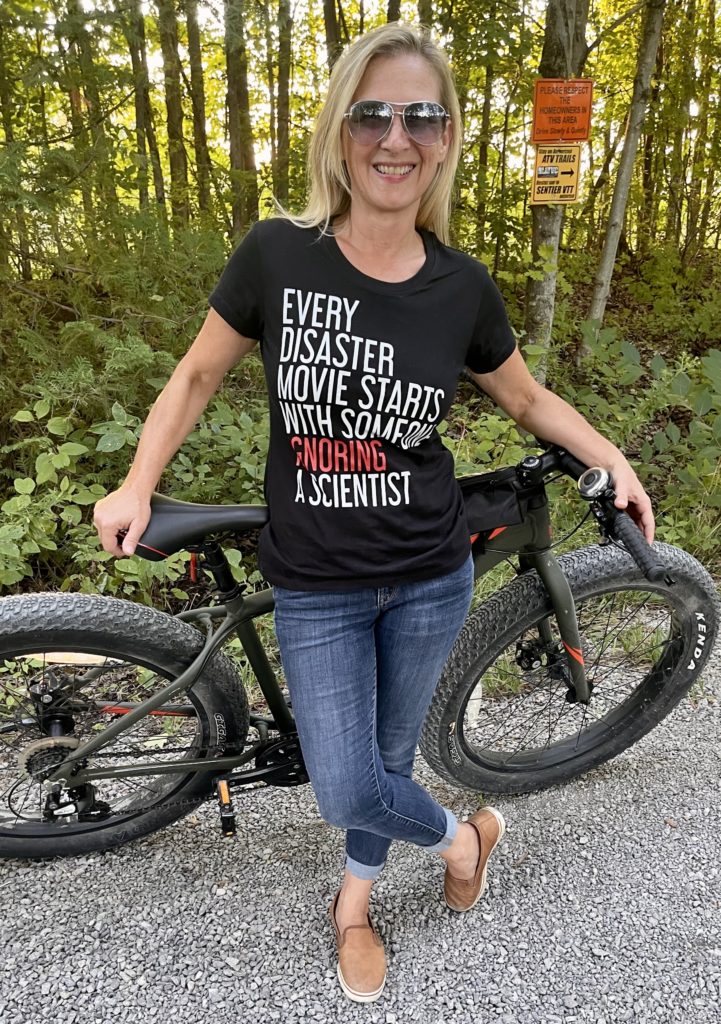 I could honestly go on and on, but those four stats are enough to scare the bejeezus out of me. As individuals we must be doing our part, but that's simply not enough. We also have to start demanding more of the big polluters and of our government. If as a society we can't collectively be motivated to do this for our children and grandchildren, perhaps we can be motivated to do it for ourselves because climate change is no longer a far off event, but rather a growing emergency that is guaranteed to cause us a great deal of turmoil if we don't act now.
Now the good news, there are great companies out there that we can turn to. I've tried to highlight a lot of them on my show over the last year, and am happy to share them with you here. I've also included a few others that I'm come across. Finally, this blog is meant to grow so please, leave your comments and share the companies you've found that are walking the talk.
Tero
I'm not lying, I got a little silly about the Tero when they offered to send me one. I had been secretly watching the Kickstarter videos for months, and was already obsessed with it. The reality is that I have a love/hate relationship with composting. On one hand I want to do everything I can to save the earth, but on the other hand when maggots come out in the summer, my skin crawls.
This is why the Tero is so incredible. I've been using it for two months now almost daily and it's officially moved my relationship firmly to the love side. I simply drop my food waste in daily, turn it on once it's full and walk away. Sometime between 2 and 8 hours later I have dry, rich fertilizer for my gardens. Watch my video with one of the co-founders, Elizabeth Coulombe below and then head on over and order one for your kitchen.
Made With Local
It is estimated that in the US, the average meal travels roughly 1500 miles from farm to plate. It's fair to assume that Canadians have the same or possibly worse mileage on their meals. As the climate crisis intensifies and food shortages become more common place we'll all be looking for more sustainable ways to obtain nutritious meals and snacks. Thankfully, Sheena Russell is ahead of the curve with her business Made with Local.
The first thing you need to know about Made with Local Granola Bars and mixes is that they're delicious. I have personally tried them all, and have a hard time picking a favourite but the East Coast in me naturally leans towards the Blueberry Grunt but the the Peanut Butter Blondie is almost tied for first. No matter what you try first, all you need to know about this company is right on the label; Made in Canadian bakeries with Canadian ingredients, sweetened with honey and no weird stuff, owned by women, and it's certified B corp! Made with Local is a snack you can feel really good about taking home from the grocery store.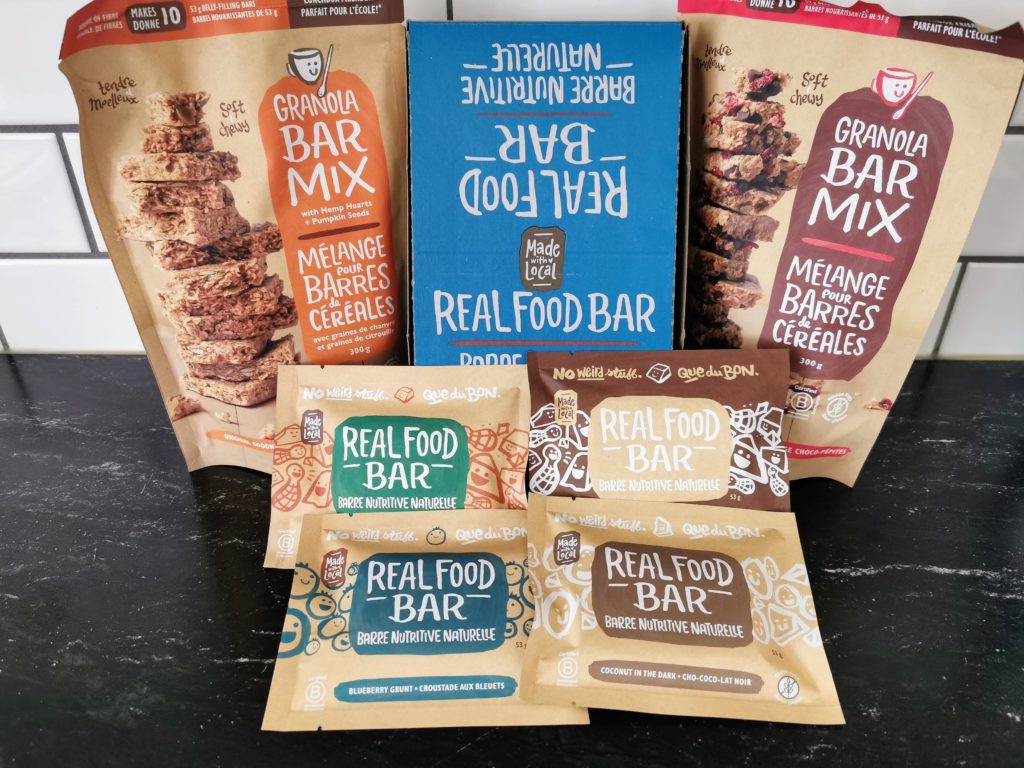 Leaves Bar
I was already obsessed with Attitude Super Leaves Deodorant not only because their deodorant comes in plastic free packaging, but because it really works. Zero smelly pits over here. I also just noticed it in a convenient three pack at Costco the other day, but I digress. What's more important here is that Attitude has now expanded into other products including shampoo and conditioner in bar form, a dry body oil, and lip balm. It comes down to this, what is the point of making an environmentally and people friendly product if you're going to wrap it up in packaging that harms the earth?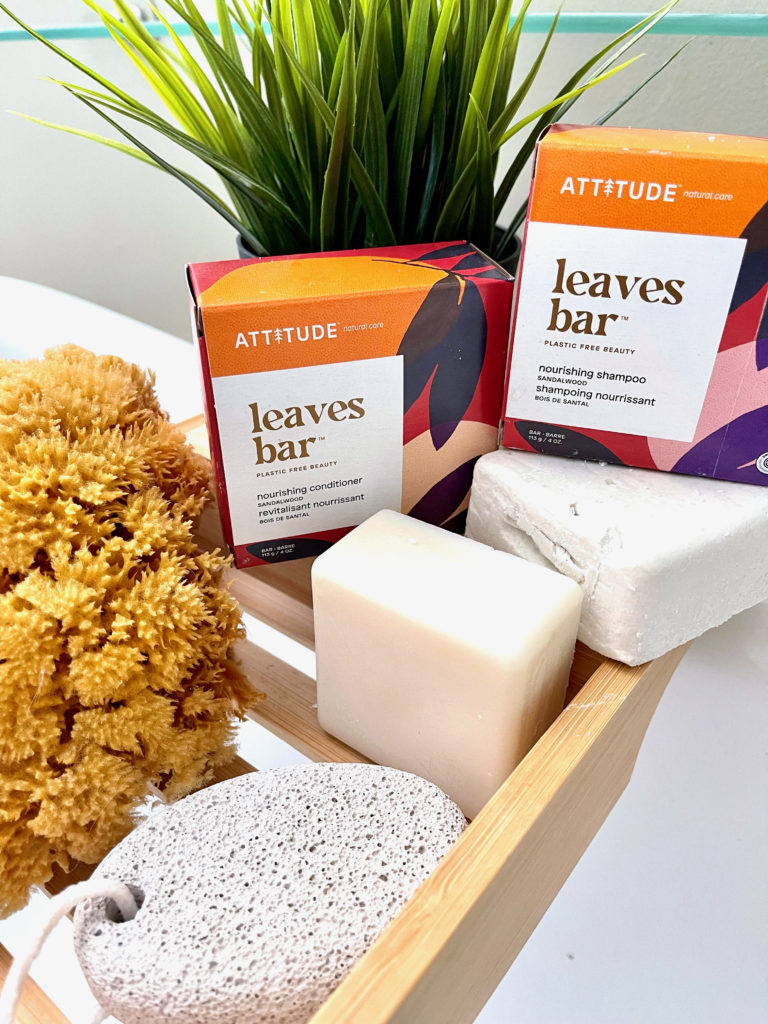 These products really work, and I swear my hair has never looked so good since switching to these bars, but on top of that, every time I purchase a product I plant a tree. Now that is a win/win.
Emiliana Wine
Wine has been around since 8000 BC, so let's be honest, no one wants to envision a future without it. Unfortunately, wine has become an industry, and industries are often big contributors to climate change. Thankfully the power to change this can be made with our wallets.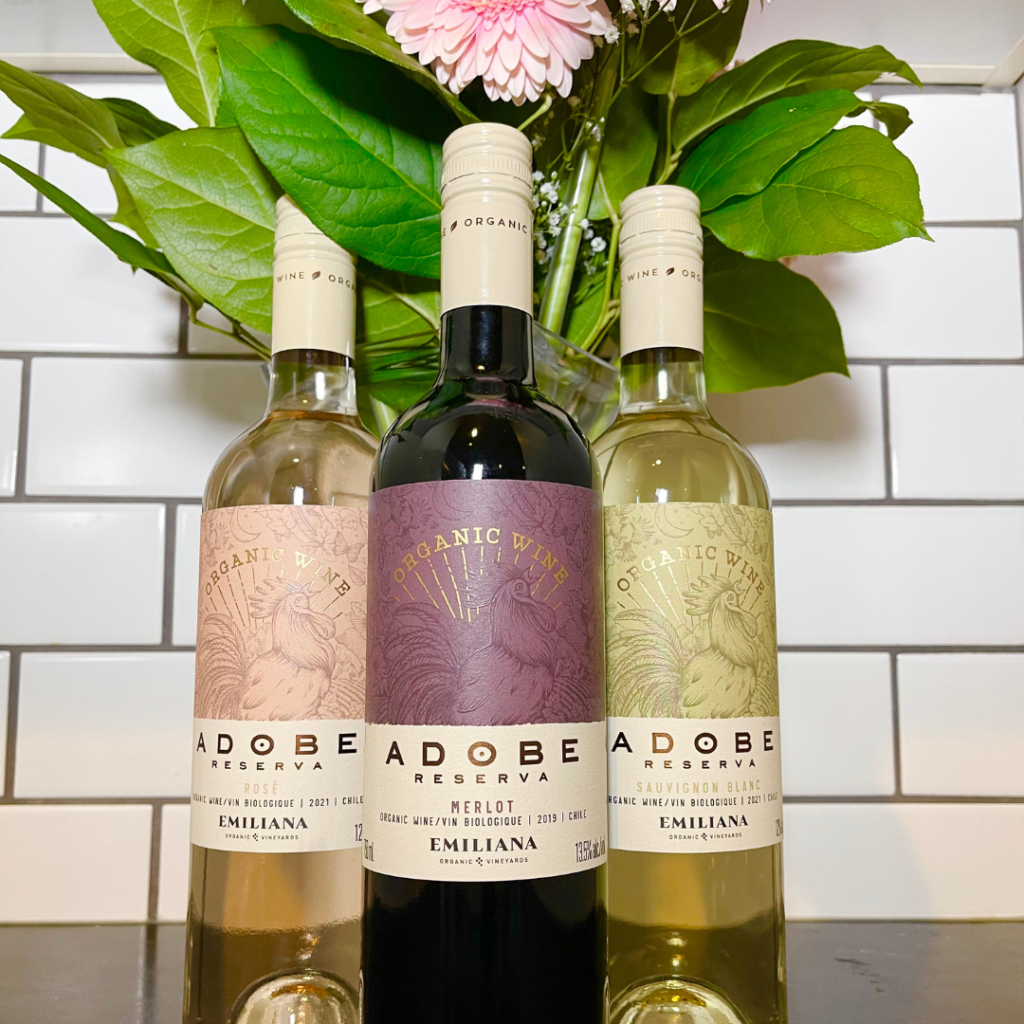 Healthier soils, better water management, and a protected biodiversity are direct beneficiaries of
organic vineyard management. Better farming practices account for 30% greater richness of species, lower soil loss to erosion, and overall lower water consumption. Choosing organic wines helps ensure that wine o'clock never leaves us.
Since 1998, Emiliana has been focused on creating high-quality wines and promoting flora and fauna biodiversity. The world's largest organic and biodynamic winery with more than 1,000 hectares in Chile's most renowned wine-growing valleys, Emiliana is not only keeping the planet healthy but delivering truly great wines. All Emiliana's organic wines are grown in a way that preserve the natural balance of life and helps sustain the environment for the future. Now I can definitely raise a glass to that!
Oak & Willow
I'm a little obsessed with TikTok, largely more as a consumer than a creator, which is what led me to Oak & Willow. It's hard to imagine the kind of success that a viral TikTok can bring for a small business, but once something catches on the influx of business can be profound.
What began as a way to make their home safer for people and pets, Haley Lafontaine and her partner Gryphon, quickly found that friends and family were also loving their products and decided that is was time to share with the world. From solid dish soaps, to single use hand soaps, to soy candles, and laundry pods not wrapped in plastic, Oak & Willow has earth friendly products to cover most of your household needs.
Suppli
Food waste is a massive contributor to greenhouse gases, bigger than oil and plastic. Worse still is that much of our waste hits landfill in containers that only exacerbate the problem. Thankfully there are businesses like Suppli ready to take on the container challenge.
Suppli partners with local restaurants in Toronto's east end, and provides reuseable containers. Here's how it works:
Pick a restaurant from the list on their website.
Order, it's easy! Just tell the restaurant to package your meal in Suppli containers, OR if you're ordering on UberEats, Ritual, etc., add the "Suppli Containers" menu item to your cart.
Report your order – Picking up? Scan the QR code at the restaurant. Delivery? Scan the QR code on the sticker of your lid. If you don't have a phone capable of reading QR codes, you can report your order here.
Enjoy takeout without waste – yumm!
Rinse & return. Check out all our return spots and drop off your container(s) at the one closest to you!
Repeat 🙂
Don't Be Trashy
Being green can be challenging. It's often hard to distinguish between a truly earth-friendly product and something that's been greenwashed. And then there's the guilt and judgement. Yikes. It can be totally overwhelming which is why I found Tara McKenna so refreshing.
Tara's book, Don't be Trashy, is your manual for going forth and finding sustainability without feeling like you're depriving yourself. Loaded with tons of practical, and easy to follow advice, this book helps you make the mindset shift you need to view being green as a joy instead of a burden. Plus you might find you save a few bucks along the way.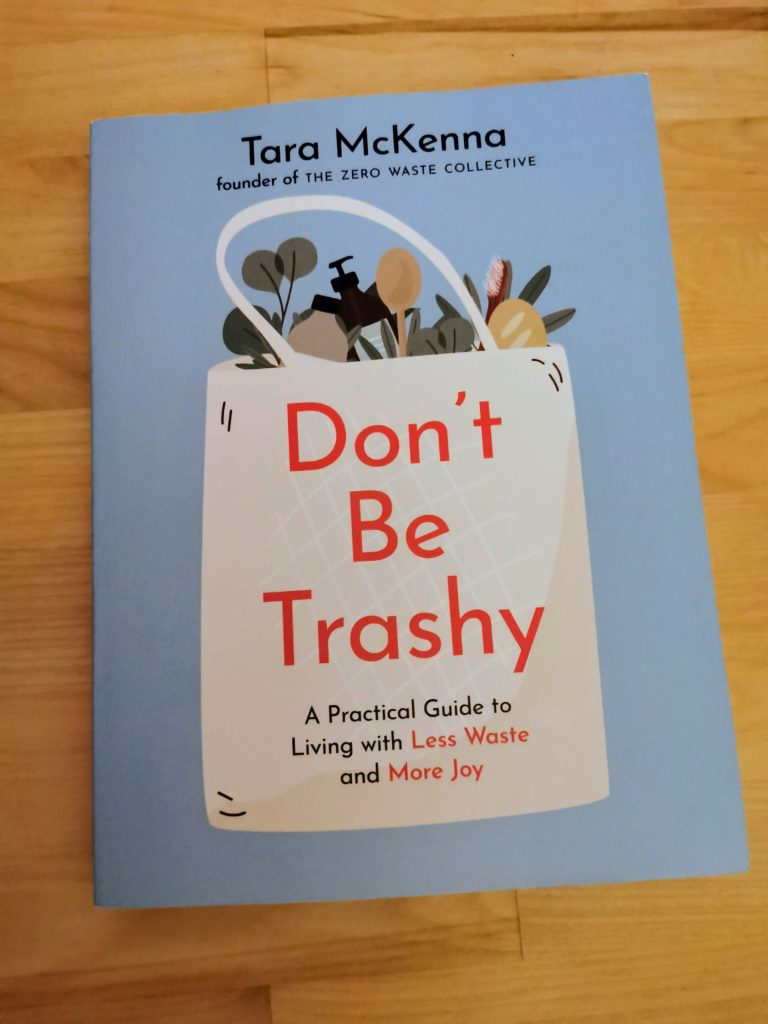 Bruized
One of my favourite guests on my show is Lori Nikkel from Second Harvest. It was Lori who really woke me up to the staggering amount of food waste in this country and turned my shopping habits around. I highly encourage you to go find Lori on LinkedIn and follow along with the information she shares but for the purposes of this post, I'll share these two quick stats with you that I learned from Lori.
If one quarter of the food currently lost or wasted could be saved, it would be enough to feed 870 million people.
Each year in Canada we lose or waste $49 billion dollars worth of food.
8% of our global greenhouse gas emissions come from wasted food. To put that in perspective flying produces 1.9% and plastic 3.8%.
All of this is to say that is why I love Bruized.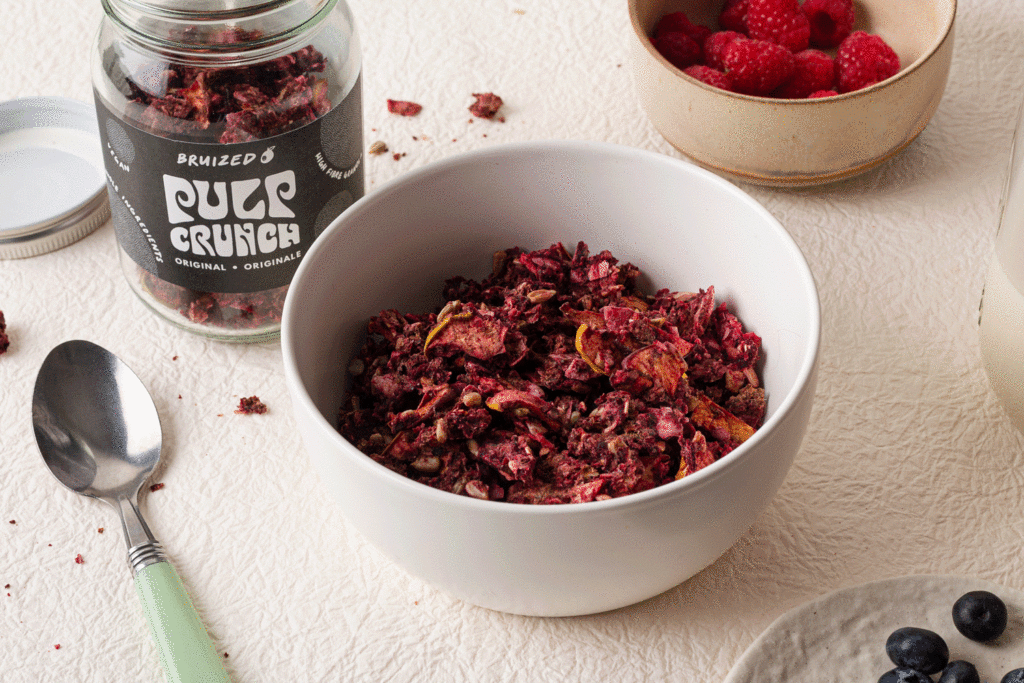 Monique Chan is the founder of this fantastic company that combats food waste through education and yummy eats. Bruized is on a mission to upcycle imperfect produce into healthy eats. They are 100% Plant-based​, All Natural, & Handmade.
Tru Earth
I have been a devoted consumer of Tide for my entire life. My mother used Tide laundry detergent, and I faithfully have picked up that heavy orange jug of detergent for the last 30 years. No longer. In February, I decided to give Tru Earth laundry strips a chance and I'm a convert now.
I honestly didn't think these laundry strips would work as well as regular detergent, but I'm happy to report, they actually work better. Nobody is more surprised than me that my brand loyalty to Tide could be broken after 30+ years, but here we are. There's a lesson in this for me and the brand; I've learned not to be so closed down in my thinking, and I hope that brands are realizing that too.
What's a favourite product or service you've found? Share it below in the comments!