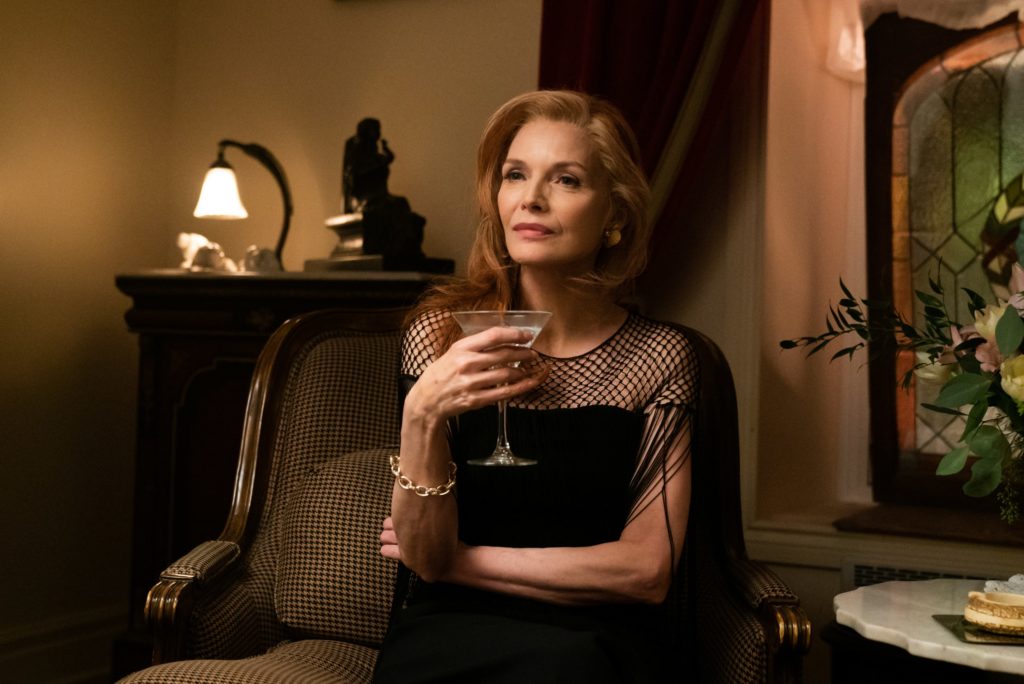 By Anne Brodie Godzilla vs. Kong has earned megabucks overseas in early release and it's clearly going to do the same here albeit with fewer theatre seats available here. But it seems the tentpole is back with a vengeance. I am torn for the usual reasons around fantasy battle films. First, the emotional through-line is there, around our sentimental feelings for the two combatants and an adorable hearing impaired girl whose bond with the big ape extends to communication through sign language. But second, there is the inevitable, numbing sensory overload – but thank the movie gods that it's under two hours. Kong lives free on Skull Island, a beautiful jungle mountain range, where he is King of all he surveys. Turns out, he's not, he's trapped in a human construct/cage. Rebecca Hall, the scientist studying him, whose adopted daughter is Kong's deaf friend, says Godzilla is a threat to him and the scaly beast is on the loose and he is coming for Kong. We like and feel pity for and trust Kong. But don't we also, or didn't we like, pity and trust Godzilla? Can these Alpha Titans just not get along? No? There's a movie to be made? OK. The evil Apex Corporation, run by Demian Bechir with evil glee, is a threat not just to the Monsters but to earth and humanity; something dark is going on behind its green curtain. And a gutsy podcaster/whistleblower (Brian Tyree Henry) who works at Apex is going to get to the bottom of it, meanwhile, the military's prepping to do battle with the great lizard. And what's this plan to breach Hollow Earth in search of an energy ecosystem? The Earth's hollow? There's a lot to set up besides monster battles. but as I say it's concise. And thanks for that because the audio, visual and special effects are at an earsplitting pitch. But back to the good stuff, the emotional elements, Hall's compassion for people and beasts, the girl's capacity for love and her respect for nature. Good sense of fun, excellent landscapes, a great soundtrack, if a little heavy on sensory punches to the head. Also stars Alexander Skarsgård, Millie Bobby Brown, Shun Oguri and Kyle Chandler. Directed by Adam Wingard. In available theatres and on TVOD including HBO Max
Back on regular Earth in French Exit, a fun comedy about family and persistence. Lucas Hedges is a gifted young actor who has stood his ground with Frances McDormand, Meryl Streep, Candice Bergen, Carrie Coon, Shia LeBeouf, and Michelle Williams and not only survived but thrived. That's a lot of presence and talent. Now in French Exit, he holds his half of the screen with Michelle Pfieffer; they are Malcolm and Frances Price, son and mother and they're in a serious pickle. Frances, a force of nature, speaks freely but well which helps the spite go down for victims of her verbal abuses. A once-wealthy widow, Frances is broke due to Frances Logic. She thought she'd die before the money was spent. Her lack of consideration for her son is characteristic of a woman with little regard for anything outside herself. Her beauty, charm and poise have prevented people from actually murdering her. I exaggerate a little, but Pfeiffer's so good at being bad. Malcolm adores her but keeps his distance in their sprawling Montreal apartment. Bills are piling up so they make a French exit landing in Paris where they build a new family of strangers. Crammed into a simple flat with interesting folks helps Frances see life differently, as a place she just might fit. Pfieffer and Hedges and Valerie Mahaffy who plays their eccentric American neighbour are highly entertaining. Pfieffer is rock solid, and what a wardrobe! Yum. TVOD.
It's strange watching Jasmila Zbanic's Oscar-nominated, fact-based film Quo Vadis, Aida? and understanding that the people in it, wearing contemporary clothes and living in modern buildings in a United Nations-protected region are targets of a Muslim focussed genocide. But on July 11, 1995, the Scorpion paramilitary unit from the Republic of Srpska in Serbia invaded the Bosnian town of Srebrenica. Over the next few days, they murdered 8,371 men, under the protection of the United Nations. Zbanic's relentless naturalism, shows the dropping away of law and order, civility and humanity. It defies belief, how could this happen in 1995, under the UN's watch? Jasna Djuricic plays Aida, the focal character, a local teacher who translates for the UN whose husband and two young sons, friends and community are taken hostage, the men and male children separated from the women. Aida moves freely about the encampment and offices as a translater, privy to negotiations between the gutless helpless UN chief and the invaders. Townsfolk beg her for help that she can't give and soon enough, it's her turn to beg. Thousands were separated from their families, belongings and ancestral lands herded into buses and never seen again. It wasn't so long ago, this crime, a product of "serbianisation, Islamaphobia, and anti-Bosniak sentiment", the ethnic cleansing of Muslims. This superior deeply moving tribute to the dead and the survivors. TVOD April 6.
Pål Sverre Hagen played Thor Heyerdahl in Kon-Tiki and plays his second Norwegian explorer in Amundsen The Greatest Expedition. Roald Amundsen was the first person to reach the South Pole, the first to navigate the Northwest Passage, and among the first to fly over the North Pole. He was a high achiever and a difficult person, in bitter rivalries with other nationals attempting to do what he ultimately did. Director Espen Sandberg sets up the conditions in the opening sequence, howling, relentless bitter winds, deep freeze as far as the eye can see, the endless foreignness and danger. A beautiful hellscape. Amundsen attributed his successes navigating such territories to planning, the use of Arctic dogs to pull them and as food if necessary, instead of vulnerable motorised transit like the English. He accepted nothing less than winning; he was driven and took time to study with the Inuit, learning ancient methods of surviving in the extreme landscapes he preferred. He accepted investors' money and deceived them as to what he was planning and built much bad blood. The tumultuous story is told as a conversation between his estranged brother (Christian Rubeck) and Roald's Canadian girlfriend (Katherine Waterston) while he's in the Barents Sea searching for a lost rival. The Arctic and Antarctic "discovery" frenzy at the beginning of the last century became an international, political race, sometimes to the death – Sir James Clark Ross, Sir Ernest Shackleton, Robert Falcon Scott, Fridtjof Nansen, Sir John Franklin. There's a new way of looking at these expeditions today; as part of their journeys, these men claimed lands for their countries, some of which were indigenous hunting grounds for thousands of years. The film's mesmerising, set in places I know I won't visit, in conditions we can't imagine, as the men's strength, crew and leaders, shine through. On VOD/Digital April 6th including https://digital.tiff.net/.
HBO Documentary Films brilliant four-part series Exterminate the Brutes from Raoul Peck is a no holds barred, dizzying examination of the cost of men's greed, of genocide, colonialism, the rise of the Nazis and brutalities in world history we are inclined to forget. Peck scoured film archives around the world and conducted interviews and curated news footage to illustrate hard truths – "there is no such things as alternative facts" and it is really tough to watch. Says Peck "As writers, creators, filmmakers we have no choice but to try and reflect our societies and give some sort of analysis of them the best way we can. As artists, we need to break the limits of our art." Based on Sven Lindqvist's "Exterminate All the Brutes," Roxanne Dunbar-Ortiz's "An Indigenous Peoples' History of the United States" and Michel-Rolph Trouillot's "Silencing the Past" Peck raises issues that have not been resolved and worsened over the last four years under Trump, particularly the rise of the far-right and suppression of the poor. Josh Harnett stars in re-enactments as the symbolic white settler whose cruelty defined our efforts to own. Peck deconstructs hate through history, institutionalised racism, the enslavement of millions of Africans, Christopher Columbus' painful legacy, the Alamo, and the Trail of Tears, human migration, trade, weaponry, and the modern resurgence of white nationalism and fascism, slavery and colonialism. Stunning revelations emerge, provocations, reminders of past misdeeds and crimes against humanity, all framed in stunning cinematography. Peck's truth-telling narration is indeed hard to absorb but there's no denying the thoroughness and power of his series.
In the mid-70's westerners in search of New Age truth, freedom and experience explored Asia, backpacking with friends, or alone. Two girls, a Californian and Brit met at a hostel and went out for a night of fun. One was heading to a Buddhist monastery to become a nun, the other was looking for kicks. After a night on the town, the aspiring nun was found dead in a river. It was one of many murders of "hippies" that occurred there but got little police or media attention. Netflix' The Serpent an 8-part series, based on the case of Charles Sobhraj (Tahar Rahim) the killer, a thief and a seductive master of disguises is intense. He murdered travellers he knew were carrying large amounts of cash for years, with the help of his Canadian wife and a wingman on the so-called Hippie Trail. He was nicknamed "the Serpent" because he eluded police for so long, twisting away from everything. His flashy appearance caught the attention of travellers, he sold them jewelry to determine their wealth, then poisoned them, took their passports, money and effects. There was a "fragility of democracy" in Bangkok police weren't concerned when "long-haired bums" went missing and if not for the efforts of the Dutch embassy, Sobhraj would never have been held to account. He was imprisoned for multiple murders, but a few years later was spied in Paris. Eventually, he wrote a book and became a media darling. Pretty freaky, but its reliance on awkward flashbacks and forwards is annoying. It's a bumpy ride in more ways than one.
The documentary Hysterical on FX, FX Streaming and FX on Hulu Screener shines a harsh light on the world of standup comedy. Run since the beginning of time by men, comedy has always had female performers b on the fringes; theirs was considered a lower form of comedy, they were paid less than men and opportunities were much lower. Filmmaker Andrea Nevins breaks down the inequities of being female in the competitive, discriminatory biz in conversation with veterans Kelly Bachman, Margaret Cho, Fortune Feimster, Rachel Feinstein, Marina Franklin, Nikki Glaser, Judy Gold, Kathy Griffin, Jessica Kirson, Lisa Lampanelli, Wendy Liebman, Carmen Lynch, Bonnie McFarlane, Sherri Shepherd and Iliza Shlesinger. Each describes the lack of respect of being considered "less than" as it affected them individually and as a body. It's achingly hilarious at times, these ladies are really funny, but the constant undertone of active, open, traditional sexism smarts; how do you turn around as stuck-in-the-mud attitudes of present-day make comics who learned from people like Milton Berle, Bob Hope, Lenny Bruce, George Carlin and the rest that comedy is a male domain? Hear about the comedy condos, dives where women would be put up that were dangerous, dirty and crowded, just another brick in the wall.
The British band The Smiths appealed to angsty teens in the '80s; leader Morrissey's dark imaginings and poetic, romantic loner, anti-war, anti-meat POV made the band catnip to troubled adolescents and adults. They identified with its haunting hopelessness. The band broke up in the summer of 1987, and according to the film Shoplifters of the World, named after one of the band's songs, sparked a teen uprising in Denver. Smiths fans took the news hard. Cleo, Dean (Helena Howard and Ellar Coltrane) and friends gathered to mourn and get high, but Dean goes further; he holds the local rock radio station and DJ Full Metal Mickey (Joe Manganiello) hostage with a gun and demands that Mickey play all Smiths songs. It's a coming-of-age story set to the Smiths dirge-like music as disillusioned young fans think about a future without them, their future on graduation, sexual identity, rebellion, their places in the scheme of things – the big issues of growing up that are suddenly, urgently in focus. Interesting asides that set the film in time "Oliver North can suck it!" The Smiths provocative song titles and phrases are worked into dialogue over this 12-hour period during which the kids figure out that they're alright. TVOD.
You could mark down April 20th for 8 Billion Angels: Live Global Streaming Premiere Screening and on TVOD beginning April 23rd. This provocative documentary feature asks us a simple question – do you as citizens of Earth want a world of more people with less or fewer people with more? We are in a situation now in which our demand for resources vastly exceeds nature's ability to supply them. Director Victor Velle interviews thought leaders Jason Hall-Spencer, Katsuo Inaba, Jane Goodall, Vimlendu Jha and more in a no-nonsense look at how our greed is the thing that will kill us and the planet. Learn that poverty ruins the environment through cutting forests to make farmland, brings suffering and extinction to animals and the elements. There is no longer the variety or volume of fish in the sea, through overfishing and disregard, we are increasingly acidifying the waters and removing chalk that keeps marine life alive. Rising temperatures are killing the lobster industry. Part of the cycle that renews water is compromised, soils are diminished, the Ganges is an open sewer emitting methane gas, 200M are starving, in short, we are trashing the planet. The Earth would be fine without people. The main solution is the education of women and reduction of the birth rate, a refocus of human intelligence and will, the reduction of greed, and making change – soon. Persuasive and important, startling and familiar.
The family drama Concrete Cowboys, inspired by the real-life events in Philadelphia gets a bit emotional; but at its heart, a nice redemption story. A vulnerable 15-year-old boy (Caleb McLaughlin) plays Cole, whose mother has had enough of his bad behaviour. She drives him to his long-estranged father's place in Philly and dumps him. His father (Idris Elba) is down at the stables with the horses and his cowboy friends, part of Philly's longstanding history of urban Black cowboy culture. It's a stirring sight, kitted out cowboys riding horses as they've done for a hundred years and sitting around campfires. Cole's grappling with his father issues and having a tough go of it, but a difficult horse takes to him and he starts to soften. His drug-running cousin Smush distracts him as his father tries to keep him on the straight and narrow, Teary and as mentioned a tad too far, but in all an appealing family film. Co-written and directed by Ricky Staub and co-starring Method Man, Lorraine Toussaint, and real-life cowboys. On Netflix.
What? There's a Star Wars Saga Easter Marathon? There is. Showcase brings you a walk down memory lane with the entire Skywalker Saga April 2nd to 5th. To wit-
Star Wars: The Phantom Menace
Star Wars: Attack of the Clones
Star Wars: Revenge of the Sith
Solo: A Star Wars Story
Rogue One: A Star Wars Story
Star Wars: A New Hope
Star Wars: The Empire Strikes Back
Star Wars: Return of the Jedi
Star Wars: The Force Awakens
Star Wars: The Last Jedi
Then, in honour of May The 4th, watch a special presentation of Star Wars: A New Hope at 6:15 p.m. ET and 10 p.m. ET. Visit Showcase.ca for more details soon.