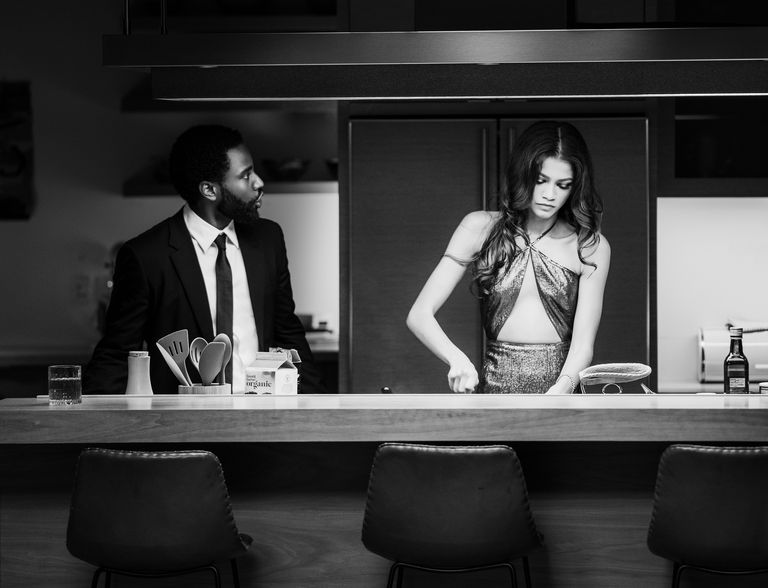 By Anne Brodie
HBO's remarkable anthology Black Art: in the Absence of Light from documentarian Sam Pollard reveals a vivid history of the strong African-American art culture, and the new talents springing up all over the US. The late artist, scholar and curator David Driskell's 1976 Exhibit, Two Centuries of Black American Art, lit a movement as inspiration and hope in art, through colour, a variety of materials and rich history. Leading African American visual artists working today include Theaster Gates, Kerry James Marshall, Faith Ringgold, Amy Sherald and Carrie Mae Weems featured with their works in the film. Executive produced by Henry Louis Gates, Jr. the doc features commentary by Mary Schmidt Campbell, Richard Powell, Sarah Lewis, and the artists. Thelma Golden, Director and Chief Curator of The Studio Museum in Harlem states "Much like the long lineage of artists who came before them, today's Black artists have worked to envision their place in the art world, and in the process, their place in a historically exclusionary canon—their indelible contributions to the fabric of American culture are a result of both their mastery and the very singular nature of their work. 'Black Art: In the Absence of Light' introduces an art history through the lens of Blackness, foregrounding the definitive importance of representation and its scholarship, and in so doing, inspiring generations to come." We watch artists creating huge installations, fine small objects in multiple media, in a variety of scales, expressing ideas of race and collective memory, society and politics via history's lens, the human experience through portraiture, Black community, land development, sculpture, and performance, ethnicity, sex, gender, literature, landscapes, a rich collection of ideas and mediums that describe the Black experience in America.
Sam Levinson's black and white two-hander Malcolm & Marie starring Zendaya and John David Washington (Denzel's his dad), shot in secret during the pandemic) follows a filmmaker and his girlfriend returning from the premiere of his highly anticipated new film. He expects it will make him a star director but she's not so sure about that nor is she sure she can stay in the relationship. A little bickering morphs into an all-night marathon of recriminations, dashed hopes, confessions and accusations. Interesting insights into the business of Hollywood, and the ways it forces those willingly trapped in it to think and behave. The dialogue's well written and smart, and the shifting balance keeps us on edge. The onslaught of dizzying angst begins becomes a tough but captivating slog. Not for sissies. Netflix
Two of Us, France' Best International Film entry, is about love between two senior women that takes us on a devastating emotional journey. They were childhood friends who fell in love and began a clandestine lifelong affair. Nina (Barbara Sukowa) and Madeleine (Martine Chevallier) have maintained a "neighbour" guise living across the hall from one another. The ruse works, no one has guessed. Nina's pushing to move to Rome, and Madeleine will finally tell her adult son and daughter the truth. Their plans are scuppered when Madeleine suffers a stroke that leaves her partially paralyzed and speechless. Nina won't tell them without her. She asks to care for her but Madeleine's daughter definitively rejects her and hires a worker who won't let Nina see her beloved. Nina's desperation mounts as does the pain in Madeleine's eyes. The family turns on Nina, family that allegedly loves her. Director Filippo Meneghetti's emotional thriller is original, subtle and powerful, set in an alarmingly shifting world, in which love is the only certainty. TVOD  and digital.tiff.net.
Catherine Heigel and Sarah Chalke star in Netflix' light and addictive series Firefly Lane that follows two women friends over decades. Kate and Tully (Roan Curtis and Ali Skovbye) were pre-teen friends living across the road from each other in a rural area. They couldn't be more different. Kate's family is strictly traditional – dinner together at a set hour, rules and codes of behaviour that stifles the closeted gay son. Tully lives with her chaotic, drugged up hippie mother who is unable to care for her properly. She'd lived with a loving, concerned grandmother but the mothe wo abandoined her kidnaps her. The girls are soulmates, sharing their dreams and fears and enjoying life riding bikes up and down Firefly Lane. Flash forward to the university years and high end jobs in a TV newsroom, then to middle age; Kate is married with children and Tully is a respected anchor, who prefers anonymous one-night stands. They're as tight as ever. It's light and fluffy, fun to watch and the art and costume design from different eras are sweetly nostalgic. It doesn't ask a lot of viewers and is a guilty pleasure!
Viggo Mortensen makes his directorial debut with the touching, emotionally turbulent father-son drama Falling; he also composed the score. Mortensen stars as John who returns to the family farm to bring his father Willis (Lance Henriksen) to live with his sister and his husband in LA. Willis is failing fast with dementia and requires constant care. His explosive temper and frustrations are getting the better of him and he turns on his son. John calmly and compassionately defuses situations as memories of his father's abuse of him as a child and his mother (Hannah Gross) come to the surface; Willis now rails at John's liberal ideas and homosexuality. Between the harsh words are moments of tenderness and reconciliation. There's a lot to unpack in Mortensen's film, in the now and the remembered past, the ghosts of loved ones and the enduring inevitability of love. A provocative, well-made piece. Mortensen is also a prolific author, with various books of poetry, photography, and painting. TVOD  and digital.tiff.net.
How fitting for our times, and how disturbing. Chad Hartigan's Little Fish starring Olivia Cooke and Jack O'Connell imagines a neurological pandemic, a neurological, a memory loss virus that's deadly as it changes brain chemistry, and people';s judgement. Drivers forget how to drive and crash, pilots forget how to fly, then crash. A ship's captain forgets how to steer, jumps overboard to swim home, and drowns. A woman forgets how to stop running. Alarming symbols of the devastation Mother Nature can cause. Why is it happening? Two lovers are aware of the virus and careful. They mask up to outside, get checkups but soon he can't finish a sentence, and doesn't know who she is. Everywhere is chaos, violence, death. Is forgetting the only way to survive? She must return to the UK to help her sick mother, leaving him alone in a cabin. Still, somewhere inside he knows she's the love of his life and lives for her return. Overseas she's starting to lose her memory. What must it be like to have no memory or context? Millions of aged in mental decline might tell you. The virus is already here. The beautifully fluid cinematography, striking minimalism and moody palette increase our connection to these doomed lovers. Powerful, frightening and unrelenting, and what timing! TVOD
An Australian reimagining of the Icelandic hit Hrútar, Rams is available now on TVOD. Aussie veterans Sam Neill and Michael Caton play the warring Grimurson brothers, sheep farmers living next door to one another. They haven't spoken in 40 years but will silently open a shared gate for one another. Their preferred communication is via notes tucked in the dog's collar. Life continues with their beloved herd but a deadly sheep pandemic appears; they must, like the rest of the farmers in the valley, cull the entire herd. They love their sheep; it's all they have in the remote outback. The Merinos are a rare breed, developed the family over generations and they refuse to end the line. Neill's character has a plan but he must keep it secret from the man who lives 40 feet away. This fine film is about many things, the loss of species, the pain of separation, standing up to The Man and at the end of it, the power of love. Beautiful, refreshing, healing and provocative. And the gorgeous outback landscapes remind us of nature's many moods as the real-life bushfires of 2019 and 2020 approach. Directed by Jeremy Sims, written by Grímur Hákonarson and starring Miranda Richardson as the lead vet and romantic interest. There's hope and as my friend Angie says "where there's a wool, there's a way'.
Nora Unkel's horror-fantasy drama A Nightmare Wakes purports to tell the untold story of Frankenstein author Mary Shelley, as she conceives the idea, to mark 170 years after her death. As part of the liberal Romantic literary tradition with her lover Percy and their friend Lord Byron, Mary sought to create a new story in her own terms, the story of a "monster". Byron, Percy, Mary and her teenage sister Claire gather at Byron's estate to concoct new stories over a night of opium and Mary is inspired to create a monster built from human parts, brought to life by the mad Dr. Frankenstein. She's pregnant adding an underlying fear of physical, emotional and mental intrusions. Hallucinations dog her as she writes her legacy story, overloading us with repetitive images of blood and ink, stained white dresses, dark rooms, faces twisted in madness and creepy ponds. Judicious editing would improve it. Alix Wilton stars with Regan Giullian Yao Gioiello, Philippe Bowgen, Claire Glassford, and Shannon Spangler. On Shudder and the AMC+ bundle.
Heidi Latsky's powerful short film, Suspended Disbelief is wordless, accompanied by a haunting tonal theme, but speaks volumes on the mental fortitude of aerialist Erin Ball, whose feet and lower legs were amputated after severe frostbite. Ball found her way back following two years of rehabilitation is once again an aerialist and teacher at Circus Arts in Kingston. It's an incredible story of heroism that will inspire us to go that extra mile, to become whole. Latsky's beautiful film debuts virtually on Sunday, February 7th and again on Tuesday, February 16th, free of charge. Viewers are asked to register ahead of time here. https://heidilatskydance.org/
The 9th Annual Toronto Black Film Festival featuring 154 films from 25 countries is Canada's biggest celebration of Black film. This year's online edition features performance and films by Lou Gossett Jr., Shaquille O'Neal, Danny Glover, Barbara Lee, Matthew Modine, Van Jones, Rep. Alexandria Ocasio-Cortez, Alice Walker, Rep. John Lewis, Dr. Mutulu Shakur (Tupac Shakur's stepfather), Black Panthers, Elizabeth Stordeur Pryor, Wes Hall, Floyd Kane, Jennifer Holness, Sudz Sutherland, Alison Duke, Elisabeth (Dori) Tunstall, Claire Prieto-Fuller. wow. and many more. Themes include women's rights, mental illness, US politics, the environment, immigration, music, human rights, systemic racism and Black Lives Matter. Also on offer markets, showcases, family events, speakers, Q&As and masterclasses. #TBFF21 begins Feb 10 at 7 EST Get your tickets here www.TorontoBlackFilm.com
Hollywood Suite recognises Black History Month with a select group of films spanning the 50- 2000s. Here's the sked.
Hollywood Suite 70s
No Way Out (1950) Thursday, Feb 11 at 9:00 pm Sidney Poitier
Carmen Jones (1954) Thursday, Feb 18 at 9:00 pm Harry Belafonte and Dorothy Dandridge
Island in the Sun (1957) Thursday, Feb 18 at 10:50 pm Harry Belafonte, Joan Fontaine, James Mason, Dorothy Dandridge and Joan Collins.
Buck and the Preacher (1972) Sunday, Feb 20 at 9:00 pm Poitier, Harry Belafonte, and Ruby Dee.
Hollywood Suite 80s
Hanky Panky (1982) Saturday, Feb 6 at 9:00 pm Sidney Poitier takes a comic turn directing Gene Wilder and Gilda Radner.
Stir Crazy (1980) Saturday, Feb 6 at 10:55 pm Richard Pryor and Gene Wilder.
Clara's Heart (1988) Wednesday, Feb 17 at 9:00 pm Neil Patrick Harris meets Whoopi Goldberg.
The Color Purple (1985) Wednesday, Feb 17 at 10:50 pm Steven Spielberg's 11 Academy Awards. Danny Glover, Whoopi Goldberg, Oprah Winfrey, Rae Dawn Chong, and Adolph Caesar.
Hollywood Suite 90s
How Stella Got Her Groove Back (1998) Friday, Feb 5 at 9:00 pm Taye Diggs, Angela Bassett, Whoopi Goldberg and Regina King.
A Rage in Harlem (1991) Friday, Feb 5 at 11:10 pm Gregory Hines, Forest Whitaker, Danny Glover and Robin Givens.
The Five Heartbeats (1991) Friday, Feb 26 at 9:00 pm Robert Townsend directed and co-wrote the script with Keenan Ivory Wayans.
Hollywood Suite 2000s
Love & Basketball (2000) Sunday, Feb 14 at 9:00 pm Omar Epps and Sanaa
Antwone Fisher (2002) Sunday, Feb 7 at 9:00 pm Denzel Washington, Derek Luke, in his first lead role as Fisher.
The Pursuit of Happyness (2006) Friday, Feb 19 at 9:00 pm Will Smith alongside his son Jaden Smith
The Secret Life of Bees (2008) Friday, Feb 26 at 9:00 pm Queen Latifah, Dakota Fanning, Jennifer Hudson, Alicia Keys, and Sophie Okonedo.
All titles will be available on-demand starting February 1.