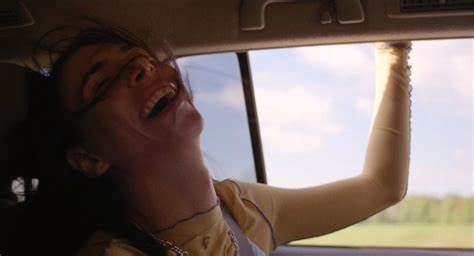 By Anne Brodie
Rising star, writer, director, and actor Devery Jacobs, a Mohawk from Kahnawa, tackles coming-of-age on multiple levels in This Place. Jacobs plays Kawenniióhstha setting out on a voyage of self-discovery that brings her to Toronto after a lifetime on the reservation. She grapples with the opposite of her experiences in the city and feels the separation from her mother, but finds love. Malai played by Priya Guns, is a Tamil from Sri Lanka. They don't consider themselves Canadian or Sri Lankan due to historic government atrocities and genocide against their people; this otherness becomes connection. Meanwhile, Kawenniióhstha is furious with her mother for not telling her father that she was born; she finds him (Ali Momen) and discovers he's dying. These young women experience the crumbling of mountains of stored emotion and resentment which leads them to their truths. Toronto is well-represented. TIFF Bell Lightbox
Something You Said Last Night is an intimate portrait of Renata, a young trans woman (Carmen Madonia) vacationing with her parents and sister, a tight, loving and tempestuous unit. Ren's parents accept and support her unconditionally, and it's a non-issue with his sister Sienna (Paige Evans). Their sibling fights ring true and real as do their difficulties and loving connections with their parents. The vibe is more documentary than fiction from writer-director Luis De Filippis supported by in-yer-face cinematography, a real accomplishment. Ren and Sienna share a bed; one of them farts and the actors laugh hysterically. At other times, they are at war. Their aggressive mother (Ramona Milano) expresses her undying love while constantly hollering the kids and demeaning her milquetoast husband (Joe Parro). Ren has zero body issues and wears a string bikini, while Sienna is ashamed of her beautiful body. Acceptance of Ren's gender choice is established immediately but her manner, eyes, and constant high alert in public hint at past abuses that are never mentioned. It's a day in the life of an extraordinarily courageous and well-loved young woman who is strong but always on the lookout for bias-based problems. Quite harrowing at times, but delicate and deeply intimate. TIFF Bell LightBox
Richard E. Grant's portrayal of mournful bitterness, and bitterness, and his front as being too brilliant for his own good dominate Alice Troughton's The Lesson. Grant's formidable talent and embrace of J.M. Sinclair, a supercilious, manipulative, and vaguely threatening literary supernova is the dark cloud that hovers over his icy wife Hélène (Julie Delpy), and their son Bertie (Stephen McMillan). They've suffered the recent death of their younger son who drowned himself in their pond. Sinclair is annoyed when Hélène hires a tutor to help cement her elder son's chances of getting into Oxford. Liam (Daryl McCormack) a writer who idolizes Grant, joins the household but his presence upsets the fragile emotional balance. He's young, extraordinarily good-looking, and smart – he retains anything he's read due to some kind of neural condition. He's too much for Sinclair who treats him like a servant, as does Hélène, and Bertie's dismissive. It's an uncomfortable situation that spirals into a battle of wills, along class lines, as Liam is roped into re-writing, from memory, Sinclair's latest, highly anticipated book. He neglected to back it up and is made to seem foolish. Liam begins to take advantage. A painful family episode surfaces to haunt the Sinclairs but Liam gets the brunt. Rising anxieties must explode somehow or poison everyone. A darkly amusing, smart mystery and character study of people trapped under the same roof, feeling too much. In theatres.
Ed Asner's final film Tiger Within is a lasting reminder of his versatility and talent as an actor. He's well known as a wonderfully droll comic actor in The Mary Tyler Moore Show and a dramatic actor in the spin-off Lou Grant. Asner won seven Primetime Emmys and remains the most-awarded male performer in the organisation's history. Tiger Within tells the heart-wrenching story of Casey (Margot Josefsohn), a punk adolescent girl in the MidWest whose mother throws her out in order to placate an abusive boyfriend. Casey flees to LA to be with her estranged father and his new family, but bad luck delays her. Her belongings are stolen so she works as a "masseuse", she has no parental consent or papers to work a regular job and sleeps in the Jewish cemetery where Samuel (Asner) comes to be with his wife at her grave. Samuel waits for Casey to wake up and offers her the use of his home to wash up and eat, no strings. She complies but instead of sleeping in the bed he prepares for her, she sleeps in the bathtub, a habit. Her jacket bears a swastika on the back. He asks her if she knows what it means, she thinks it means FO. Then grain by grain he teaches her about his experiences, and the idea of forgiveness and encourages her to return to school and meet her father. It's the beginning of a beautiful friendship between them, the performances of both leads are outstanding, he is gentle and overflowing with love despite his Holocaust experiences, and she finally feels she has a real family and a shot at life. May sound corny, but it's well-written, has a light touch, the courage to show the world and its possibilities if we open our hearts. Solid. Josefsohn is a revelation and Asner shines. Select theatres.
Full Circle Steven Soderbergh's grim new series on Crave July 13 concerns an underworld kidnapping in New York City that reveals a wide web of gangsters, bad deeds, global interests, and the falling apart of a well-to-do Manhattan family. Stars Zazie Beetz, Claire Danes, Jim Gaffigan, Jharrel Jerome, Timothy Olyphant, CCH Pounder, and Dennis Quaid. It opens in a tropical gambling resort and a photo of a young boy whose face has been circled. The circle theme is a constant indicating life's endless wins and defeats and the struggle between good and evil. A high-ranking gang leader (CCH Pounder) meticulously encircles a photo of a man on her office table, sprinkling a circle of rice around his face, is it voodoo, a practice of her homeland Guyana? A chalk circle is drawn at a chess park where key events take place. Quaid's father is called home from the chalk circle park where he's been playing chess with an elderly man eerily connected to the gang leader. Teenager Jared (Ethan Stoddard) had lost his shoes and phone and then went out to skateboard. He doesn't return home, and his parents (Claire Danes and Quaid) call the police. Meanwhile two young, new immigrants/slaves are ordered to kidnap Jared but grab the wrong boy, a case of mistaken identity, taking a homeless teen who has Jared's things. And thus launches a bristling, uncomfortable, and ultraviolent six-parter that seems to feed off the current state of anxiety across our culture. And all the while the gangster boss lady continues her rice circle around the man's face. All dark, tense, and unsettling; if you are inclined to nightmares, best to avoid. Ironically the most dangerous of the gang members is played by Happy Anderson!